Van Cortlandt Park With Kids: 14 Fun All-Season Activities in the Bronx Oasis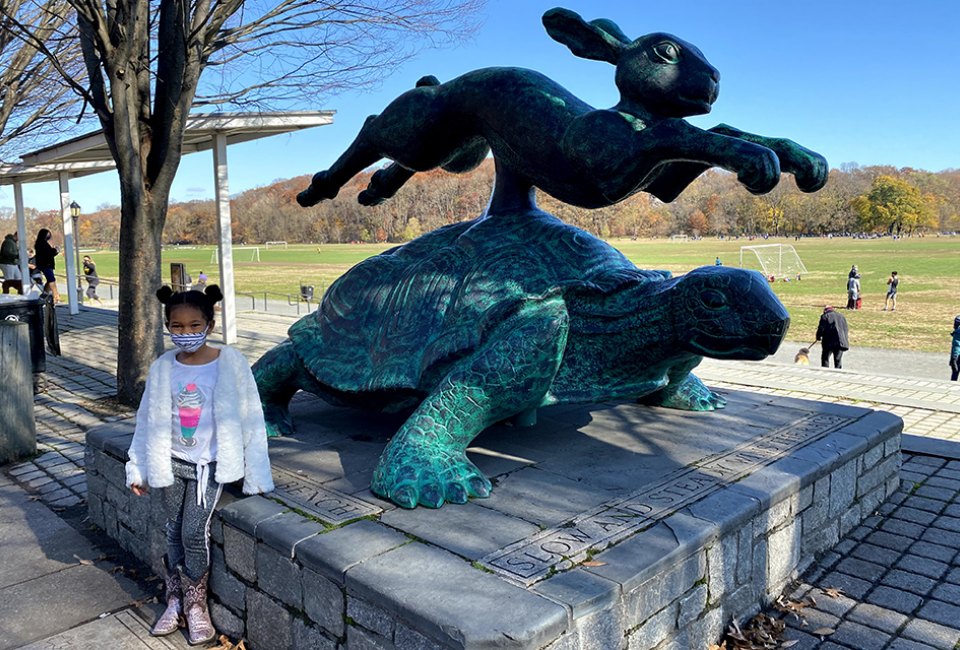 12/7/20
- By
Jody Mercier
Sometimes you just need a break from crowded subways and sidewalks. New Yorkers in search of outdoor adventure and wide-open spaces can find plenty of both in the Bronx at Van Cortlandt Park. At 1,146 acres, the sprawling green space is about as outside of the city as you can get without crossing the border to Westchester, and it offers tons of all-season fun.
An infusion of recent improvements provides plenty of reasons to visit this marquee green space, which belongs in the conversation with Central Park, Prospect Park, and Flushing Meadows Corona Park as one of the city's top outdoor destinations.
Here are 14 of our favorite things to do with kids in Van Cortlandt Park.

John Muir Trail's 4-mile out-and-back winds through the Northwest Forest before crossing over to the park's east side and into the Croton Woods. Photo courtesy of NYC Parks
1. Go Hiking
There are five distinct hiking trails run through the park, each covering 1-1 1/2 miles and varying in difficulty. The John Muir Nature Trail traverses the park's Northeast Forest and includes steep inclines, while the Cass Gallagher Nature Trail, Jerome Wetland Walk, and John Kieran Trail are a bit easier for little legs. The park is also home to a section of the Old Croton Aqueduct Trail, which traces the path water once traveled to reach New York City in the 1800s. The Putnam Trail is fresh off a $4.25 million restoration project that increased the trail's accessibility, added 400 native trees and saplings to its borders, and removed invasive species that had taken over. Keep your eyes peeled when you're on the trails: There is a herd of white-tailed deer that call the park home.
RELATED: Family-Friendly Hiking Trails in NYC to Tackle This Fall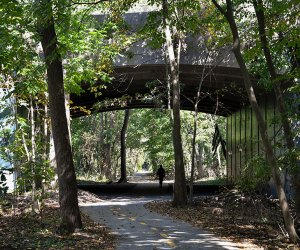 The recently restored Old Putnam Trail offers plenty of space to stroll or cycle in Van Cortlandt Park. Photo courtesy of NYC Parks
2. Ride a Bike
Although the Putnam Trail accommodates pedestrians, it's also the park's official bike path. The mostly wooded 1 1/2-mile route runs adjacent to the now-defunct New York Central Railroad's Putnam Division rail bed, so you can check out cool remnants like old underpasses and steel bridges. Speaking of railroads, be sure to find the Thirteen Stone Pillars monument while you're there. These giant slabs were placed in 1905 and tested for endurance in New York's elements as plans were laid for Grand Central Terminal. Eventually, two of the samples, an Indiana limestone and a Stoney Creek granite, were incorporated into the building's architecture.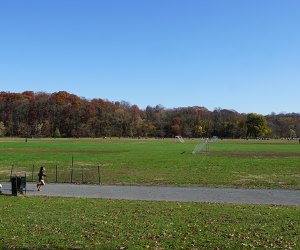 The sprawling Parade Ground has a running track and plenty of sports fields, plus proximity to the cross-country course.
3. Lace-up Your Running Shoes
Van Cortlandt Park is home to a cross-country running course. The 4-mile loop can be modified to accommodate runners of all levels and course of all legnths. It connects to the running track at the Parade Ground, as well as many of the hiking trails. The course regularly hosts high school cross-country meets on weekend mornings. Find inspiration for your journey by locating the Tortoise and the Hare statue on the perimeter.
4. Go Horseback Riding
The park is home to the 21-acre Riverdale Stables. The stables offer a robust array of programming,including afterschool programs, camps, and private or group lessons. Private lessons must be reserved at least a day in advance and are $65-$110 per session, depending on level and length.
RELATED: Pelham Bay Park with Kids: Bike, Hike, Play in the Sand

Go for a swim at Van Cortlandt Park, which boasts a 164-foot long pool, the largest non-Olympic sized public pool in New York City. Photo courtesy of NYC Parks
5. Go For a Dip
Near the park's West 242 Street entrance is its pair of FREE outdoor pools, including a large wading pool and even a sandbox to dig in. Like all city-run pools, they're open seasonally and have strict rules.
6. Hit the Links
Although there's no miniature golf, there are two public golf courses. Run by the Parks Department, the Van Cortlandt Park Golf Course is the country's oldest public course. Although there is a weekday child's rate of $7.75, rates for adults are steep, and lessons aren't offered for kids.
The nine-hole Mosholu Golf Course & Driving Range is a better option for families. The junior rate is $10, and lessons are offered. The course is also home to The First Tee, a nonprofit dedicated to instilling character and education in youth through golf.
7. Get Your Game On
Van Cortlandt Park is a hot spot for neighborhood leagues thanks to its numerous baseball, soccer, cricket, handball, basketball, bocce, football, and rugby fields, which are located in or near the 66-acre Parade Ground. The park also boasts outdoor fitness equipment.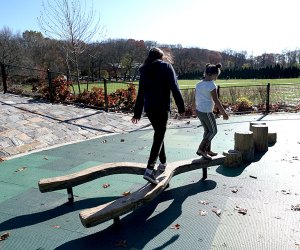 The brand new Northwest Playground brings a nature-themed playground to the sprawling Van Cortlandt Park.
8. Romp in a Playground
Van Cortlandt Park is home to five playgrounds, including the brand new Northwest Playground, which opened in October, and is just north of the Riverdale Stables. Meant for the 2-5-year-old set, it's got a small footprint that's action-packed with a new jungle gym, net climber, water feature, and a swing set. Three more playgrounds are located along Van Cortlandt Park South. The Southwest Playground is near the entrance to the park, the Classic Playground intentionally has the look and feel of a Robert Moses-era play spot, and the golf-themed Sachkerah Woods Playground is near the Mosholu course. Further north and east, you'll find the Woodlawn Playground, which has equipment for kids with special needs.
9. Commune With Nature
The Urban Park Rangers have a heavy presence in Van Cortlandt Park, leading hikes and other nature programs, including a popular annual campout. Bookmark their site and watch for lottery registration come late spring. The green space is also home to a city-run Nature Center, where you can explore its exhibits on urban forests or meet its live animal residents.
RELATED: Parks and Playgrounds Guide for NYC Kids

Older kids can challenge themselves with Van Cortlandt Park's new skatepark, located in the southwest corner of the green space. Photo courtesy of NYC Parks
10. Hit the Skate Park
A $1.18 million investment resulted in a brand new skatepark full of obstacles for skaters young and old. Located near the park's southwestern corner, the recently opened attraction includes a full mound, pyramid corner, quarter-pipe, stairs, handrails, and more obstacles for skaters to conquer.
11. Have a Picnic
Van Cortlandt Park has plenty of open space, plus a pair of designated picnic areas with barbecue grills. The first is near the West 242nd Street entrance adjacent to the pool. You can also try the Shandler Barbecue Area on the eastern side of the park near Jerome Avenue.
12. Go Fishing
Van Cortlandt Lake is the largest freshwater lake in the Bronx. Covering 18-acres, it was created when Tibbets Brook was dammed in the 1600s. Catch-and-release fishing is allowed, but you'll need to bring your own pole and tackle. Anyone over the age of 16 must have a fishing license. Only lead-free sinkers are allowed, and barbless hooks are required, so plan accordingly.

The Van Cortlandt House Museum, also known as the Frederick Van Cortlandt House, is the oldest building in the Bronx. Photo courtesy of NYC Parks
13. Step Back in Time
Built in the 18th century, the Van Cortlandt House is the oldest home in the Bronx. George Washington used it as one of his many headquarters during the Revolutionary War, and it was turned into a museum in 1897.
14. Hit the Slopes
The sledding slopes that is! Van Cortlandt Park has mild hills for little thrills, plus plenty of wide-open spaces to build a snowman or stage an epic snowball fight, making it a perfect all-seasons destination.
Getting there: Van Cortlandt Park is located between Van Cortlandt Park South and City Line, and Jerome Avenue and Broadway. It's easily accessible by the 1 and 4 subway lines, which deliver you to its west and east sides, respectively.
A previous version of this post was published in 2011. Stephanie Ogozalek contributed additional reporting. Unless noted, all photos by the author
Places featured in this article:
t Click Here to Sign Up!