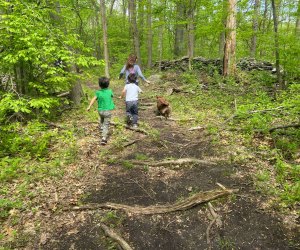 Family-Friendly Hiking Trails in NYC to Tackle This Fall
At least once a quarter, usually coinciding with the change of seasons, someone in my family decides it's time to escape to the woods for a little urban relief and hit the hiking trails. But really, there's no need to head upstate or to the 'burbs to get your outdoor fix.
Our fair city is home to more than 300 miles of hiking trails and 10,000 acres of unencumbered nature. We have sampled enough parks around NYC and spent enough time exploring the great outdoors to confidently share this list of family-friendly hiking trails within city limits. These hiking trails vary in length, scenery, and difficulty. Some are just right for little legs, and all reward hikers with views of water, bridges, and yes, gorgeous fall foliage. No matter what borough you call home, we hope you have a blast lacing up and hitting one of these hiking trails.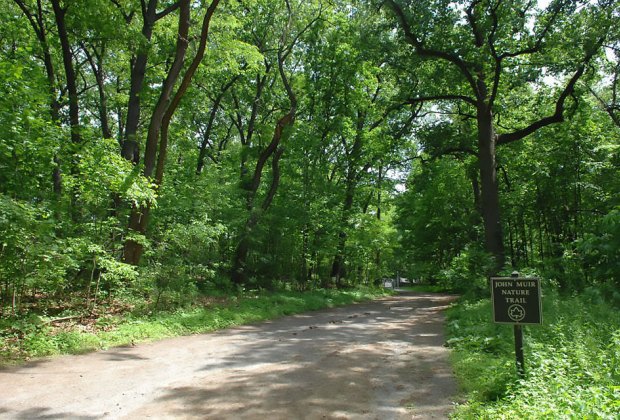 A hike in Van Cortlandt Park treats you to old forest, bridge crossings, and water views.
1. Old Putnam Trail – Van Cortlandt Park, the Bronx
2020 update: The swimming pool in Van Cortlandt Park is not open.
At the top of our list is the Old Putnam Trail in Van Cortlandt Park. New York City's third-largest park has it all: A swimming pool in the summer, awesome playgrounds, a museum, a golf course, and one of our favorite NYC hikes. The 1.5-mile route starts at the Van Cortlandt Golf Course parking lot, which is especially convenient for drivers, though the nearest subway is less than a mile away. This hike through beautiful old forest runs along a former railroad route, resulting in a nice wide path. The Old Putnam Trail intersects with other pretty trails if you decide to venture further. We especially love crossing the small bridge that takes visitors over the Van Cortlandt Lake and offers views of the Bronx skyline. We bring a picnic, even when we hike in the winter. Bathrooms are found throughout the park.
RELATED: 10 Underrated NYC Parks to Check Out Now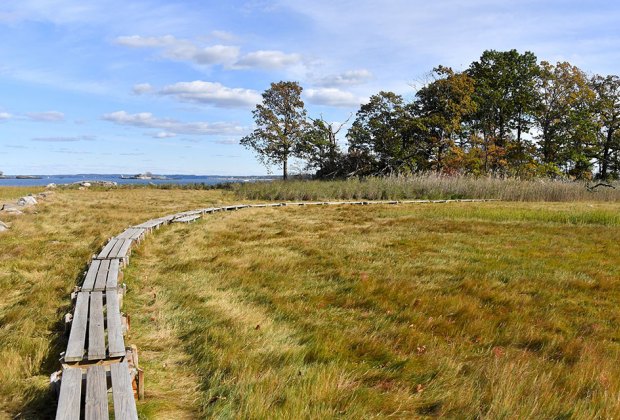 The Kazimiroff Trail runs through several habitats on Hunter Island, including wetlands.
2020 update: Pelham Bay Park and Orchard Beach are open for visitors. All historic houses and nature centers are closed. The playground is open.
The Kazimiroff Trail in Pelham Bay Park is another excellent family hike in the Bronx. Located on Hunter Island, one of the best parts of this trail is the varied topography: There's a spruce and pine tree-filled forest in the center, surrounded by wetlands, a lagoon, a salt marsh, and Orchard Beach. Although Pelham Bay Park is three times the size of Central Park, the 189-acre Hunter Island portion of the park makes for a more intimate experience, and its trail is beautiful. There are options to make the hike shorter or longer, depending on your family's interests and abilities. There are several historic elements along the trail, including remnants of the Hunter Island Mansion and important landmarks dating back to the Lenape era. Park in the Orchard Beach parking lot, where you'll find restrooms and playgrounds nearby.
RELATED: 25 Outdoor Adventures for NYC Kids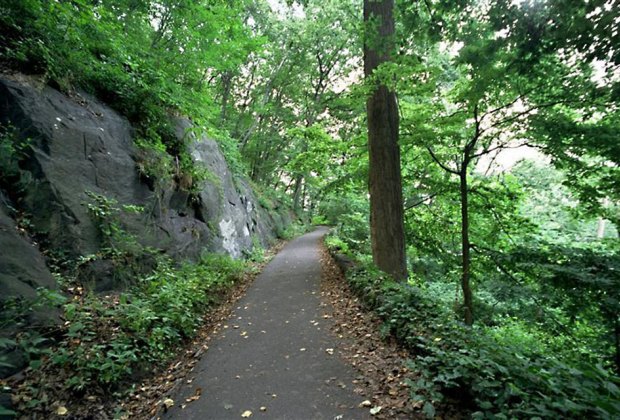 Take in pretty views as you climb Inwood Hill Park's namesake terrain.
2020 update: The Inwood Hill Park Nature Center is closed until further notice.
Inwood Hill Park's Hiking Trail is the most ambitious hike on our list and probably one of our favorites, because what can be better than hiking through a natural forest right in New York City? My kids love to run up boulders along the way and explore every nook and cranny of this trail, which truly makes you feel as if you've left the city behind and stepped into the Hudson Valley. The first time we visited Inwood Hill Park, we departed from the Nature Center and walked along the marked trail to Overlook Meadow. You'll want to pause there to take in the striking views of the Hudson River from the top of the hill. You can turn back if you have a tired little one. You might also head down and under the Henry Hudson Bridge for more beautiful views. The trail is located on the Northwest side of Inwood Hill Park and is conveniently close to several subway lines. Restrooms are located within the park near the playgrounds.
RELATED: 30 Fall Day Trips for NYC Families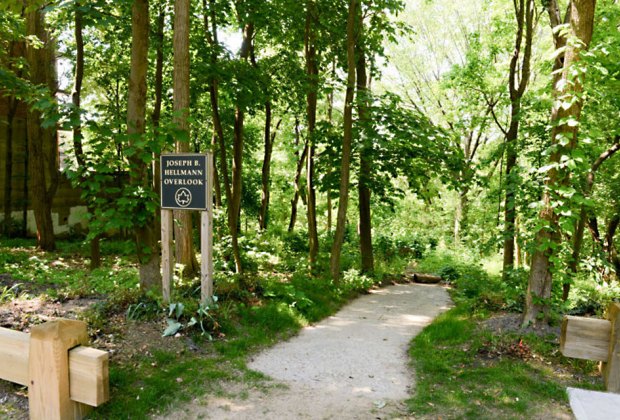 Alley Pond Park offers many easy trails that wind through the forest. Photo by Tia Keenen via Instagram.
2020 update: Alley Pond Park is open, but all recreational centers and programs are closed until further notice.
If Queens is on the itinerary, a visit to Alley Pond Park is a must. There are loads of activities and hikes to choose from in this park, but our favorite is the Alley Pond Giant. This trail takes you by an enormous tulip tree, considered the largest living organism in the city! The tree tops out at more than 133 feet and is 18.6 feet wide. It's worth the walk to see this giant in person. We typically come to the Alley Pond Park for the zip line and ropes course, a thrilling destination for most kids, so to come down from the adrenaline rush of a morning spent adventuring, we enjoy this lovely stroll among some of the city's oldest trees and sweet ponds. You can find the entrance to the Tulip Tree Trail at the Cloverdale Boulevard entrance, along with parking.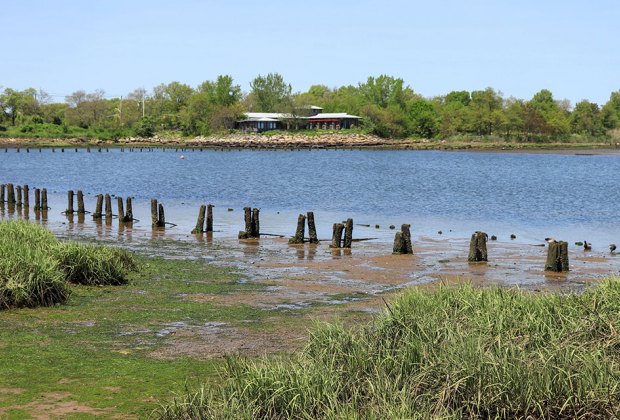 Stroll through the Brooklyn Salt Marsh.
2020 update: The Urban Park Rangers are scheduling pop-up programs, and attendance is by reservation only.
Explore the Brooklyn Salt Marsh in Marine Park for a light hike. The almost 1-mile loop takes you through a small slice of this 500-acre preserve. The terrain is easy, and the views along Gerritsen Creek with Manhattan in the distance are lovely. You're likely to see osprey soaring overhead and gorgeous old trees. You can even take a stroller along the trail, though be warned it's flattened gravel, not pavement. Consider joining an Urban Park Ranger-led program to get more out of the experience. While convenient parking is available across the street, accessing the Brooklyn Salt Marsh without a car is inconvenient.
RELATED: Horseback Riding in NYC: Lessons and Rides for Kids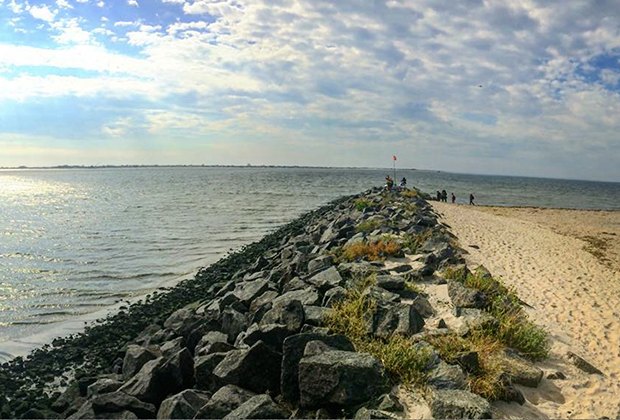 Take the Shore Parkway Greenway Trail straight onto Plumb Beach. Photo by Christopher Wassif via Instagram.
Hiking along Plumb Beach, part of the beautiful Gateway National Recreation Area, is our little family secret. Sure, you may have visited the actual beach, but we don't think as many have walked along the Plumb Beach portion of Jamaica Bay's Shore Parkway Greenway Trail. The entire trail is 12 miles long. A close botanist friend once tipped us off to the gorgeous fall colors to be seen at Plumb Beach. Just keep in mind that certain portions of the trail are filled with runners and speedy bikers, making it a bit busy for kids. We've found the dunes walk to be lovely and enjoy the lesser trails that run perpendicular to the paved trail. There is a parking lot at Plumb Beach just off the Belt Parkway, and there are also public restrooms, though they aren't usually the cleanest.
2020 update: Conference House Park is open. All historical houses are closed until further notice.
The Conference House Park in Staten Island was a lucky discovery. We were poking around the NYC Parks' site and came upon this terrific video of an Urban Park Ranger walking the trail and sharing highlights. I was so captivated, we dashed there on our next "get me out of the city" family outing. Our preference is to park in the lot adjacent to the Biddle House. From there, we walk along the Blue Trail through the forest, past several historic homes and an area rich in Native American history, until we reach the beach. If the tide is in, we swing north for a few minutes until we hit the Lenape Playground before heading back along the path to the car. The walk to the beach is about 1 mile, and walking along the sand is an option if your family has the energy. There are public restrooms at the main entrance, as well as another parking lot.
RELATED: Governors Island Reopens for Summer 2020 Fun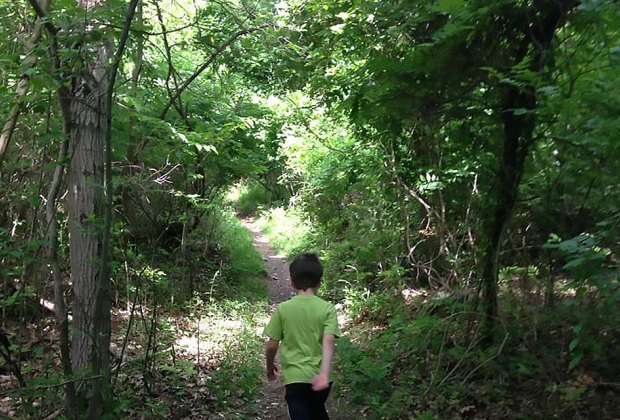 With more than 12 miles of kid-friendly green space and hiking trails, La Tourette Park is a treasure. Photo by Kyra Stoddart
2020 update: The Nature Center is closed until further notice.
Nestled in the center of Staten Island, the Greenbelt area is a treasure trove of trails and resources for kids of all ages and interests. We hiked the Nature Center Trail because we had small children, so a 0.85-mile loop seemed like the perfect distance (there are tons more trails for seasoned hikers or older kids listed here). We meandered down the trail to the left of the building and were led down a kid-friendly wood-chipped path through a forest area with lots of stumps, logs, rocks, and critters to keep the kids interested. Check the hours of the Nature Center before you make your plans: There are fantastic planned activities available for families, but limited hours when it's not peak season. The day we went, the Nature Center was closed, so we were without bathrooms—something to keep in mind when you plan your hike.
2020 update: The New York Botanical is open by reservation only. Timed-entry tickets are required. Face coverings and social distancing are required.
The New York Botanical Garden offers a hike back in time through its old-growth forest. Follow Native American hunting trails that have been around for centuries, and see marks left by glaciers. The forest has been able to adapt for thousands of years and offers some unforgettable sights. Some trees have been living since the American Revolution. The garden staff leads weekly bird walks, as well as plant talks (though these may be geared more toward the parents than the kids). Get your children excited about history on a long walk through this incredible NYC resource. Garden staff asks one favor: Don't climb the trees!

The path through Highbridge Park is so sheltered from the city's sights and sounds, you'll forget you're in an urban environment. Photo by Jody Mercier
Take a stroll through history by traversing this bridge, which connects the Manhattan neighborhood of Washington Heights with Highbridge in the Bronx. A relic of the Old Croton Aqueduct system, The High Bridge carried water across the Harlem River in the mid-to-late 19th century to fuel Manhattan's masses. After wearing out its use, and following decades of neglect, The High Bridge reopened as a pedestrian path in 2015. From its span, you can view the uptown neighborhoods and Harlem River below. The best fall foliage is spotted during your walk to the bridge on the Manhattan side, as you stroll through Highbridge Park with its towering trees, diverse wildlife, and beautiful rock outcroppings. You'll also find the city's only mountain biking course hiding within.
If your family loves hiking, the New York City Parks Department puts on a variety of fantastic hiking-related events that are worth checking out, though currently, most of them are virtual. Find more NYC hiking trails on the city's site, too.
A version of this story was originally published in 2016; it has been updated for 2020. Mariko Zapf and Katie Nave Freeman contributed additional reporting.