Fall Bucket List for Kids: 35 Top Things To Do in NYC this Fall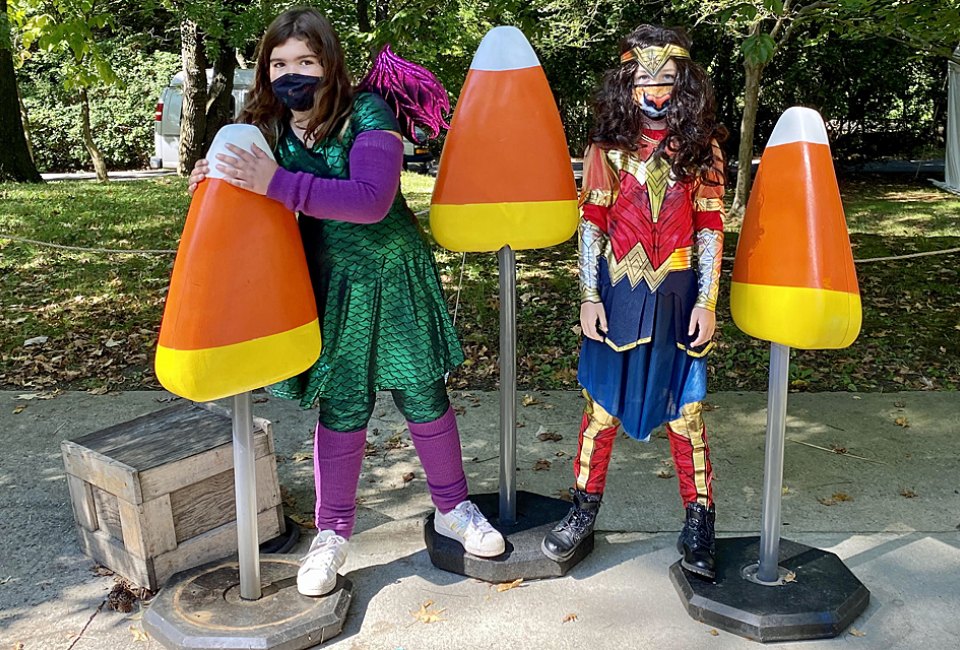 9/9/22
- By
Jody Mercier
With Labor Day behind us, it's official: The seasons are shifting, and that leaves us searching for fun, fall bucket list-worthy activities in NYC. Instead of lamenting the summer that was, let's look forward to all the fall activities that await.
With that in mind, here's our season-long look at the best things to do in the fall in NYC. After all, we've got assorted school holidays, plus a few long weekends to fill before the weather really changes. Without further ado, here is our fall bucket list, chock full of 35 things to do in NYC with kids. Find our top picks for family-friendly fall day trips and more seasonal fun in our Guide to Fall Fun in NYC.
2. Whale Watching
Fall is the peak season to see these sea giants in the waters off of NYC's shores. We've found 10 whale watching cruises sailing from NYC or nearby.
3. Little Island
This waterfront park is an absolute wonder, and its landscaping shines in the fall. Wander Little Island's paths and overlooks and enjoy nature's splendor.
RELATED: Free in September: 50+ Things To Do in NYC with Kids

Morningside Lights is back in all its splendor in 2022. Photo courtesy of the event
4. Morningside Lights
Make reservations for an interactive lantern-building workshop, then save the date for the breathtaking Morningside Lights procession on Saturday, September 24. FREE
5. Dine Alfresco
Take a night off from dinner duty and show some love to one of our favorite family-friendly restaurants. Fall is the perfect time to check out one of these waterfront eateries or restaurants with backyards before the weather turns and alfresco dining returns to bubbles, parkas, and space heaters.
6. New York Aquarium
Reserve timed-entry tickets for the New York Aquarium, which is finally fully reopened following long-term damage from Superstorm Sandy.
RELATED: Best Fall Festivals in NYC this Autumn for Families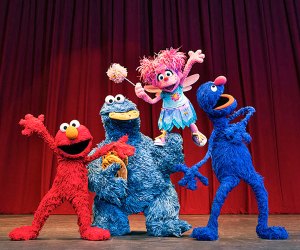 Rockefeller Production teams up with Sesame Workshop for a brand new stage show starring the iconic puppets. Photo by Sesame Workshop/courtesy of the production
7. Sesame Street: The Musical
Hang with Elmo, Cookie Monster, and the rest of the colorful puppets when Sesame Street: The Musical comes to Theatre Row for a season-long run.
8. Medieval Festival
Don your royal garb for a day of old-time fun at the park's annual Medieval Festival. Wear your best period frocks then witness everything from thrilling jousting matches to magic, jugglers, jesters, and more on Sunday, October 2.
9. See a Broadway Show
Return to the Great White Way to see one of our favorite Broadway shows for kids, including newcomers like Into the Woods, MJ the Musical, and more.
RELATED: Best Things To Do in NYC in September 2022 With Kids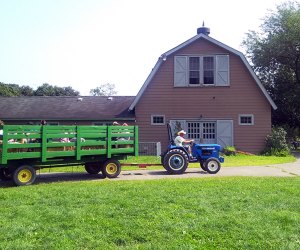 Take a hayride trip around the Queens County Farm Museum. Photo by Sarah Meyer
10. Queens County Farm Museum
Don't miss the 39th annual Queens County Fair from Friday, September 9-Sunday, September 11. It's one of the seasonal highlights at NYC's only historic working farm, the Queens County Farm Museum. Another top pick for fall: it's Amazing Maize Maze.
11. Alley Pond Adventure Course
FREE family Sundays have returned to the Alley Pond Adventure Course. Book you're reservations in advance or visit one of these other adventure courses, zip lines, and ropes courses near NYC.
12. See Fall Foliage
Take a brisk fall walk while enjoying some excellent leaf-peeping at one of these city parks. Push yourselves a little harder with one of these hikes.
13. Pumpkin Picking
Nab the perfect pumpkin at one of these nearby patches.
RELATED: The Great Pumpkin Train and More Halloween Train Rides in New Jersey

Little Amal is traversing much of NYC, sharing stories of refugees with everyone she encounters.
14. Little Amal
See the larger-than-life Little Amal puppet trekking all over NYC. Little Amal's epic journey—which has already taken her to 85 cities and 12 countries—is meant to remind the world of the plight of refugees.
15. Visit a Petting Zoo
Visit a local petting zoo to get some face time with the animals.
16. Brick-or-Treat
Plan a day trip to Legoland New York—or opt to stay overnight at the Legoland Hotel—to enjoy the Brick-or-Treat festivities in addition to plenty of theme park fun.
17. Harry Potter New York
With its 15 different themed rooms, Harry Potter New York has everything your little witch or wizard needs.
RELATED: Pick-Your-Own Guide to Farms near NYC

Fall in love with animals at the Bronx Zoo. Photo by the author
18. Boo at the Zoo
Explore the candy trail, watch pumpkin-carving demos, catch a magic show, and visit all our favorite Bronx Zoo animals during the annual Boo at the Zoo, which returns on Saturday, October 1. The Prospect Park Zoo is also hosting its own season-long celebration, too.
19. Frightfest
Hit up Six Flags Great Adventure for its Frightfest Halloween celebrations—which are little-kid friendly by day—and its cool drive-thru safari park.
20. See What's Cookin'
The New Victory Theater kicks off its season with this action-packed, frenzy-filled production that includes a mashup of zany chefs, martial arts, and Korean samul nori drumming.
RELATED: 12 Apple Picking Orchards near NYC for Fall 2022

The Big Umbrella Festival comes to Lincoln Center bringing acts like Dancing Wheels to a neurodiverse audience. Photo courtesy of Lincoln Center
21. Big Umbrella Festival
Head to Lincoln Center for the annual Big Umbrella Festival, which delivers three days of installations, performances, and workshops meant for a neurodiverse audience, including children with autism and other developmental delays. The festival takes place from Friday, September 16-Sunday, September 18, and is completely FREE.
22. Apple Picking
Load up baskets until they overflow with freshly picked apples and then nosh on one of these easy apple recipes.
23. The Titanic
Take a step back in time for Titanic: The Exhibition, which features keepsakes, personal belongings, and photographs from the ship plus a life-sized re-creation of the ship's interior.
24. Carl Schurz Park Harvest Festival
Frolic in this lovely Upper East Side green space for a day of harvest festival fun, including a pumpkin patch on the mayor's lawn. FREE
RELATED: 30 Perfect Fall Family Day Trips from NYC

See pumpkins, scarecrows, and plenty of seasonal fall foliage at the New York Botanical Garden. Photo courtesy of the NYBG
25. New York Botanical Garden
Visit the New York Botanical Garden to enjoy the changing of the season and enjoy a season-long display of pumpkins and scarecrows.
26. Brooklyn Book Festival
Pick out some great books to cozy up with on cool fall mornings during the annual Brooklyn Book Festival and its Children's Day, on Saturday, October 1, where kids can enjoy readings from kid-lit icons. FREE
27. Governors Island
Visit Governors Island once the summer crowds die down, and consider an overnight glamping expedition for an extra special treat.
28. Hit the Beach
Who says beach season is over? Activities abound in the offseason at these Jersey Shore towns.
RELATED: Guide to Day Trips and Weekend Getaways near NYC for Families

One of the most picturesque times of the year in Bucks County, Pennsylvania, autumn brings in a bounty of colorful foliage. Photo courtesy of Visit Bucks County
29. Take a Weekend Away
Sneak away for a long weekend at these fall-friendly haunts across the Northeast.
30. PaleyWKND
Head to The Paley Center for Media for PaleyWKND, a two-day fest dedicated to immersive attractions in sports, gaming, and entertainment. The FREE fest runs Saturday, October 1-Sunday, October 2.
31. Go to an Art Park
Take in larger-than-life art at these outdoor art parks near New York City. Bonus: You'll see some stunning fall foliage, too.
32. Little Red Lighthouse Fest
Visit Manhattan's only lighthouse during the annual Little Red Lighthouse Festival on Saturday, October 8. FREE
RELATED: Visiting Alstede Farms with Kids in NJ: What You Need to Know Before You Go

The Great Jack-o'-Lantern Blaze lights up the season with locations on Long Island and in the Hudson Valley. Photo courtesy of the Historic Hudson Valley
33. The Great Jack-o'-Lantern Blaze
Get some serious pumpkin-carving inspiration at the stunning Great Jack O'Lantern Blaze in Croton-on-Hudson or at Old Bethpage Village Restoration on Long Island.
34. Open House New York
Go behind the scenes of some well-known NYC institutions during the annual Open House New York, which grants visitors access to behind-the-scenes tours at locales like the Swedish Cottage Marionette Theater, Dykman Farmhouse, and more from Friday, October 21-Sunday, October 23.
35. Trick-or-Treat!
One word: Halloween.
Originally published in October 2018.