10 Great Places for Fall Leaf-Peeping Right in NYC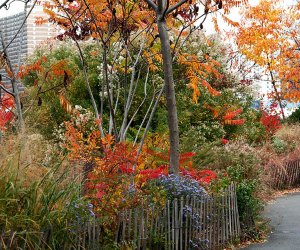 10/11/18
- By
Louise Finnell
Signs of fall's arrival are all around us as the leaves in New York City's parks and along tree-lined streets start to turn. This is the time of year when many families plan a day trip upstate or to New Jersey to gaze at gorgeous red, orange, and yellow foliage. But you don't need to leave NYC to take in some stunning autumn sights. In addition to major green spaces like Central Park, Prospect Park, Flushing Meadows Corona Park, Staten Island's Greenbelt and Van Cortlandt Park, there are some wonderful off the beaten path city spots where you can enjoy colorful panoramic views that deliver the full splendor of fall.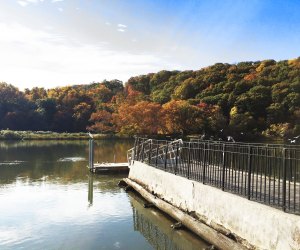 Inwood Hill Park offers wonderful views of fall color. Photo by Jody Mercier
Riverbank State Park, Fort Tryon Park & Inwood Hill Park – Upper Manhattan
Riverbank State Park, Manhattan's largest green roof and only state park, is a great place to spot stunning fall foliage in New Jersey's Palisades Interstate Park, located just across the Hudson River. Fort Tryon Park in Washington Heights and Inwood Hill Park also offer wonderful vantage points, as well as their own beautiful trees. And if you stroll or bike the mile-long pedestrian walkway of the George Washington Bridge, you can also see the colorful treetops up and down the Manhattan Waterfront Greenway, which lines the river.

Roosevelt Island Tramway – Midtown East
For the cost of a MetroCard swipe, you can enjoy a one-of-a-kind view from the Roosevelt Island Tram, which departs from 59th Street and Second Avenue in Manhattan. See the full beauty of fall along the tree-lined promenade that circles Roosevelt Island and the isle's Franklin D. Roosevelt Four Freedoms Park at its southern tip. Trees along the Brooklyn, Queens and Manhattan waterfront also contribute to the variety of colors you'll see on your journey.
RELATED: Easy Fall Family Hikes Around NYC

Pier 6's flower field, designed to stand out in every season, brings its own flair to the fall landscape.

Brooklyn Bridge – Lower Manhattan & Brooklyn Heights
Thanks to the ever-growing Brooklyn Bridge Park, as well as the pockets of smaller parks that dot the landscape along the East River in southeast Manhattan, the pedestrian boardwalk that runs down the middle of the Brooklyn Bridge is a great platform for a bird's-eye view of fall's bright colors. Along the way, make sure you take time to stop and read the series of plaques describing the history of the bridge and the surrounding neighborhoods.

Hall of Fame for Great Americans – University Heights, the Bronx
Perched high on a rocky cliff overlooking the Harlem River, this outdoor statue museum is lined by a variety of trees and offers wonderful views of the foliage-covered escarpment of Manhattan's northern tip. Dedicated in 1901 on what was then the campus of New York University (now Bronx Community College), this is the oldest hall of fame in the U.S.

Staten Island Ferry – South Ferry & Staten Island
New York Harbor offers another unique perspective of New York City's turning trees. The free Staten Island Ferry has regular departures from terminals in southern Manhattan and Staten Island, providing vibrant views of Manhattan's Battery Park and Brooklyn Bridge Park, as well as the trees that dot Staten Island, Liberty and Ellis Islands, and Governors Island.
RELATED: Fall Festivals, Hayrides, Pumpkin Patches, and Harvest Fun Right in NYC

Randall's Island offers fall foliage tours throughout the month of October.
Randall's Island
Head to Randall's Island for an unforgettable day of leaf peeping. This often overlooked green space offers foliage tours throughout the month of October, if you feel like diving a little deeper. Take in views of Harlem from over the river, as well as the brightly colored trees as they change.
Herbert Von King Park — Bedford-Stuyvesant, Brooklyn
It may be small, but this little park packs an autumn punch! Don't miss the changing leaves right in the middle of up-and-coming Bed-Stuy. One of Brooklyn's oldest parks, this neighborhood gem has a great variety of tree species (and a nice playground, too!). Go on your own, or hike with an Urban Park Ranger to learn more about why leaves change color, and which trees provide the brightest hues.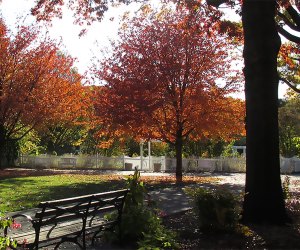 Come gaze at the vibrant fall foliage at the Queens Botanical Garden and grab a pumpkin at the pumpkin patch.
Queens Botanical Garden — Flushing, Queens
This one isn't free, but it's worth the trip! Check out the changing leaves on your way to their famous pumpkin patch to carve a jack-o-lantern. There are tons of different species of trees, which means lots of different colors to see. If the views put you into the fall spirit, you can even sign the family up for a watercolor class inspired by autumn colors.
Find more seasonal activities in our Fall Fun Guide.
A version of this post was originally published in 2013; it has since been updated.
Unless noted, photos courtesy of the parks/gardens