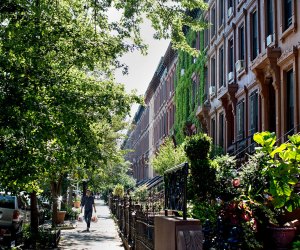 Bed-Stuy, Brooklyn with Kids: Fun Things to Do as a Family
From the quiet, tree-lined brownstone streets to the bustling business districts along Fulton Street and Nostrand Avenues, Bedford-Stuyvesant has something for everyone. Young families in NYC are discovering Bedford-Stuyvesant as one of the best corners of Brooklyn to settle, drawn by its rich cultural history, beautiful architecture, and close-knit community.
Bedford-Stuyvesant is bordered by Flushing Avenue to the north, Atlantic Avenue to the south, Classon Avenue on the west, and Broadway on the east. Most of the neighborhood is easily accessible by the A and C trains, along with several bus lines. But one of the best ways to experience Bed-Stuy, as it is affectionately known, is on foot. You can find yourself in Bed-Stuy with just a short walk from nearby Clinton Hill, Crown Heights, or Williamsburg. And once you have a chance to experience the sights and sounds of this vibrant community, you may never want to leave.
Even as gentrification brings new real estate developments, coffee shops, and wine bars to the neighborhood, Bed-Stuy is committed to maintaining its unique neighborhood identity. From creative classes to free activities to family restaurants, here are some of the best things to do in Bed-Stuy with kids.

Spend a day in Bed-Stuy's Herbert Von King Park. Photo by the author
1. Jog, bike, or stroll through beautiful Herbert Von King Park. One of Brooklyn's first parks, Von King was designed by Frederick Law Olmstead, who also designed Central Park and Prospect Park. The colorful outdoor amphitheater is a great place to enjoy a free concert under the stars.
2. Browse the selection of toys and books at Pipsqueak Shoppe. Rock out to a music class with your tiny tot, or make new friends during open play time.
3. Eating vegan is fun at Toad Style, a Kung Fu-themed restaurant that is 100% vegan and soy free. Don't miss the chili cheese fries and fried pickles.
4. See what's growing at the Hattie Carthan Community Market, a community-based farmer's market that hosts cooking demonstrations and educational events for neighborhood residents.
RELATED: Best Brooklyn Water Parks and Splash Pads for Summer Fun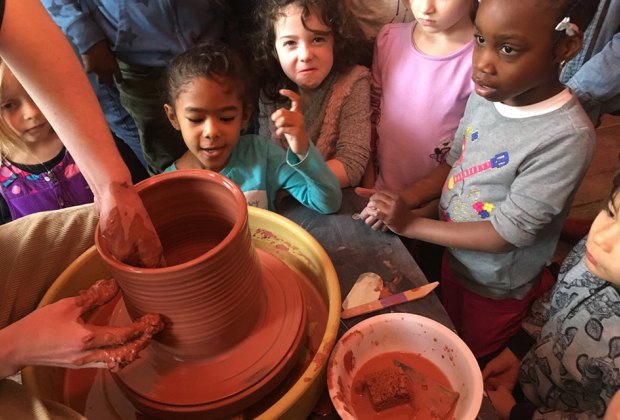 The messier the better at ArtshackBrooklyn.
5. Let your little ones get their hands dirty. Mold, shape, and create something special in one of the children's ceramics classes at ArtshackBrooklyn Ceramics.
6. If you like peach cobbler, you'll love Doc's Cake Shop, the place to go for delicious Southern-style cakes and desserts.
7. Kids ages 6 to 16 can learn the basics of sewing at Soul Collections Sewing Lounge. Participants get hands-on experience with cutting and sewing and leave the class with a variety of sewing projects.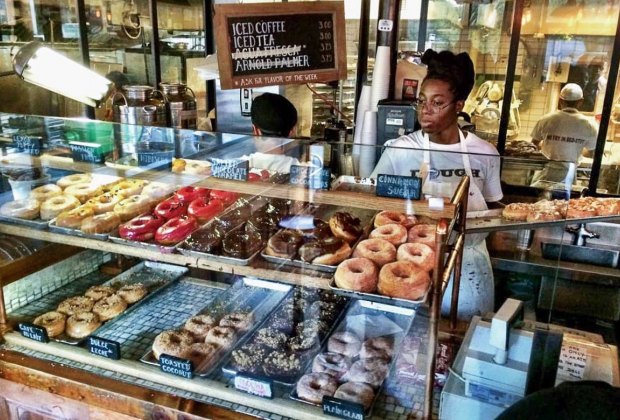 The handcrafted doughnuts at Dough were voted No. 1 in the country!
8. Sink your sweet tooth into some of Brooklyn's most delicious donuts at Dough. Each giant donut is handcrafted and made fresh daily.

Shadowbox Theater is a perfect first theater experience for the littlest of visitors.
9. Take in a performance of the Shadowbox Theatre in the P.S. 3 auditorium for a multi-media puppet show experience your little ones will love. Most shows are geared toward kids in pre-K through grade 3.
10. Get a quick caffeine boost at Georges-Andre Vintage Cafe, a local kid-friendly outpost for coffee and French pastries.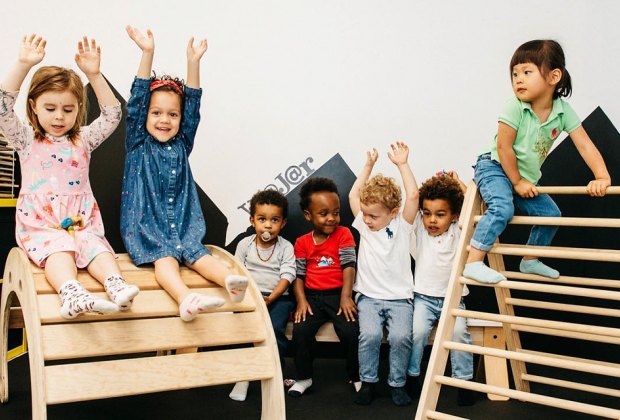 Little Lola & Tots is dedicated to teaching through play. Photo courtesy of stylishhipkids.com
11. Stop in for storytime at Little Lola & Tots. Its open play and classes are designed for children up to age 4 and their caregivers.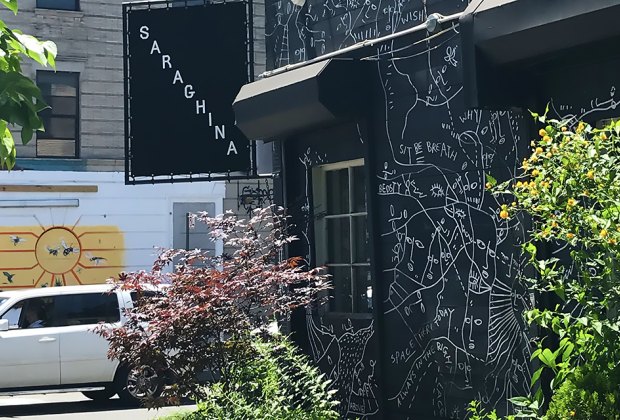 Pizza, tapas, and a bakery—Saraghina is a destination spot for a delicious meal. Photo by the author
12. Enjoy a family dinner at Saraghina, a neighborhood favorite for homemade, wood-fired pizza. But don't leave without checking out their bakery next door.
13. If you're looking for a birthday gift, head to Butterfly 7 for a beautifully curated selection of toys and books from Europe and the USA.
14. Take a break from pizza and try the fried chicken and sweet potato fries at Peaches Hot House.
RELATED: Top Things to Do in Brooklyn with Preschoolers

Thrill your birthday kid with a specialty vegan cake from Clementine Bakery.
15. Satisfy your craving for sweet or savory with delicious baked goods at Clementine Bakery, a 100% vegan bakery.
Photos courtesy of the restaurants/venues unless otherwise noted