7 Things to Love About the Queens County Farm Museum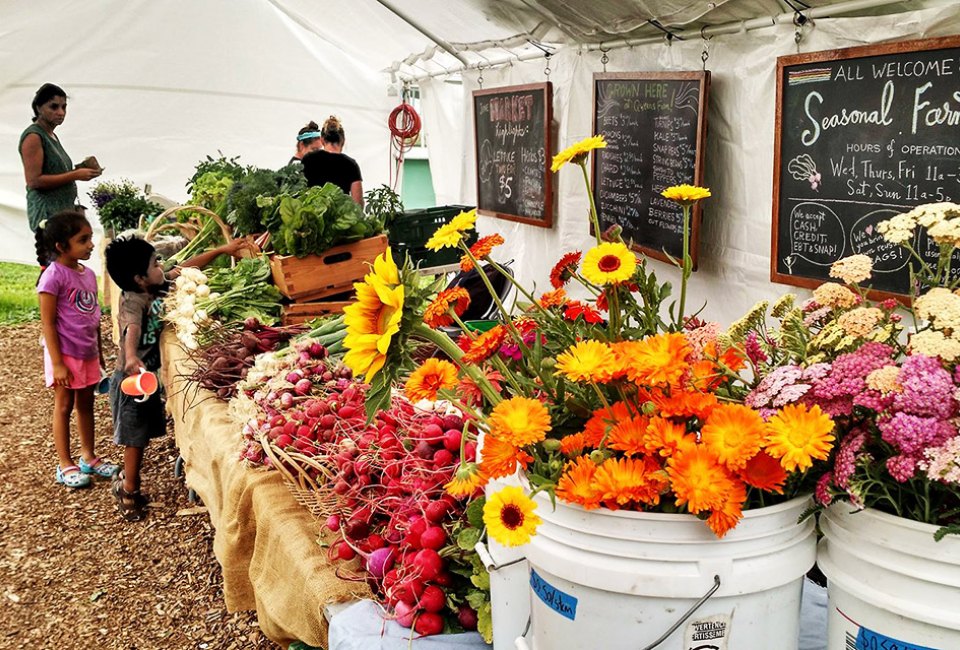 4/16/19
- By
Katie Nave
While NYC families have full access to the best museums and shows that the world has to offer, life in the city can sometimes leave us feeling disconnected from nature. We're always seeking ways to let our little ones get their hands dirty, so it's no surprise that the Queens County Farm Museum in Floral Park is a family favorite.
Spanning 47 acres, the Queens County Farm Museum dates back to the 17th century and features old-fashioned farm buildings, a greenhouse complex, livestock, planting fields, an orchard, an herb garden and a vineyard, all within city limits. As soon as you walk through the gates, you'll feel miles away from the city.

Here are the reasons we are forever loving New York City's only historic working farm and why it's a fantastic destination for NYC kids. While you're there, make a day of it with our Queens Family Neighborhood Guide.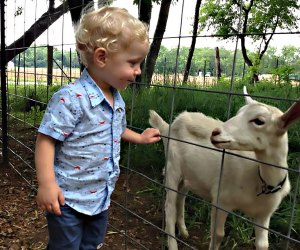 Little ones will fall in love with the baby animals.
1. Petting Zoo
It's not every day that your kids are able to get up close and personal with farm animals, including very friendly chickens, baby pigs, geese and goats. While your average petting zoo can feel like, well, a zoo, the Queens County Farm Museum is much more laid-back and many animals roam free. I bought my daughter a bag of goat feed at the Welcome Center, much to her delight (she even scolded an overzealous one for not sharing). She also had great fun "chatting" with the geese, following the chickens, and observing a rabbit that was munching away on one of the plush lawns.
RELATED: 30 Best Things to Do in Queens With Preschoolers and Toddlers

The museum hosts festivals throughout the year, including an annual egg hunt and meet-and-greet with the Easter Bunny each spring.
2. Seasonal Festivals
There is always a reason to celebrate the season at the farm. Spring kicks off with a children's carnival, a massive egg hunt, and a sheep shearing festival. Summer brings a powwow, while fall is ushered in by a corn maze and pumpkin patch, plus the Queens County Fair. Wrapping up the year, the holiday market is not to be missed.

Explore the gardens on a tour hosted by museum staff.
3. Educational Programs
The farm offers field trip programs and seasonal educational opportunities for little ones, introducing concepts of sustainability and environmental preservation, as well as a look at market vegetable and livestock operations.
RELATED: 5 Kid-Friendly Farms Right Here in NYC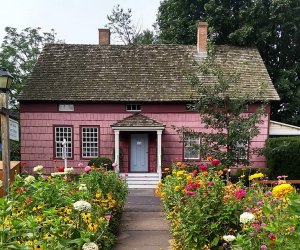 The Adriance Farmhouse is a highlight of the museum.
4. Adriance Farmhouse
The historic Adriance Farmhouse is the centerpiece of the grounds. Restored in 1986, the farmhouse features original beamed ceilings, planked floors, and window glass. Free 30-minute guided tours are given to visitors every weekend from April through October.
5. Farm Fresh Shopping
Peruse the gift shop for locally-made gifts, farm-inspired toys, fresh eggs, local honey, and yarn from the alpacas. You can score plants and seedlings from the plant store, plus fresh produce from the seasonal farm stand.
6. Children's Garden
Little urbanites are invited to visit the Children's Garden. This delight for the senses encourages them to taste, smell, and touch various veggies, herbs, and flowers.
7. Winter Reading Room
To encourage and engage winter visitors, the farm will transform the summer kitchen into a reading room that will open this winter. Guests will be able to enjoy the farm, walk the grounds and then cozy up with a book or magazine and take a break from the winter weather. The reading room will feature both fiction and non-fiction books related to cooking, gardening, health and wellness, animals, farming, science and local history – all thematically tied to the mission of the Queens County Farm Museum, for both kids and adults. It will also have an assortment of farm related toys to engage the youngest visitors.

Know Before You Go: Museum Visiting Tips
The grounds are open daily, year-round, from 10am to 5pm, with the exception of major holidays.
While visitors are welcome to explore the grounds on weekdays, there's more action on the weekends, like hayrides for a nominal fee, April through November.
General admission is FREE, except during special events.
The farm is located at 73-50 Little Neck Parkway in Floral Park, Queens. For public transportation, take the E or F subway to Kew Gardens/Union Turnpike Station and transfer to the Q46 bus to Little Neck Parkway.
Ample neighborhood parking is available and the farm offers parking during larger events.
Picnic tables are available year-round, so pack a lunch or grab fresh snacks at the farm stand.
Strollers are permitted.
The farm does not allow dogs to visit.
Photos courtesy of the Queens County Farm Museum
Places featured in this article:
---
Queens County Farm Museum
Click Here to Sign Up!
i