5 Kid-Friendly Urban Farms Right Here in New York City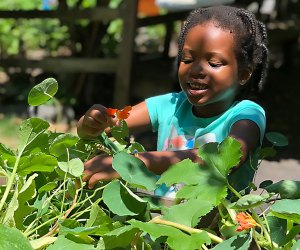 8/12/19
- By
Sydney Ng
Times—and the food industry—have changed from when I was a kid. In the 1980s, everything we ate came from the freezer section, cans, and boxes. Microwaves were hot kitchen appliances. I didn't even know what an unpicked strawberry looked like or what type of plant blueberries grew on. Trees, maybe? Now, knowing where your food comes from, understanding sustainability, and eating local are all hot topics that parents are passionate about. New York City offers plenty of farmers' markets, gardens, and parks to get close to nature. But did you know there are plenty of farms, too?
We've compiled a list of open-to-the-public farms within NYC that all deserve a visit. Each one has a special and interesting hook. Make sure to check seasonal hours/days-of-operation before you travel.
If you really want that full country vibe, you can always head out to the nearby farms of Long Island, New Jersey, and Westchester for pick-your-own apples, tractor rides, and petting zoos.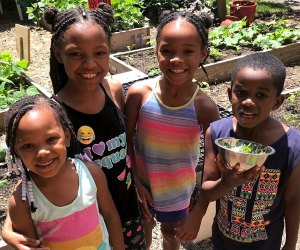 Harlem Grown. Photo courtesy of the farm
Harlem Grown — Harlem
Open year-round
The Harlem Grown farm was established to inspire youth to lead healthy lives through hands-on education in urban farming, sustainability, and nutrition. They focus on renovating abandoned lots in Harlem and have 11 urban agriculture facilities ranging from soil-based farms, hydroponic greenhouses, and school gardens. Harlem Grown offers programs for elementary-aged children, community events, and drop-in volunteer days for everyone to get their hands dirty, Saturdays from mid-April through mid-November.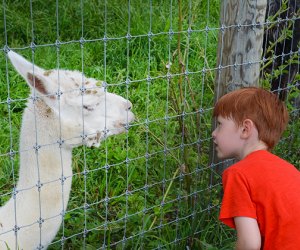 The historical Queens County Farm Museum is the largest farm on our list, with an immense array of crops, animals, and seasonal events and fairs. Photo by the author
Queens County Farm Museum — Floral Park, Queens
Open year-round
While it may be called a "museum," this Queens mainstay offers 47 acres of farm land and animals. My son got a thrill out of petting the llamas and goats, and my favorite highlights include the seasonal farmstand, which sometimes has cooking demonstrations, and the shop where you can purchase honey, eggs, and wool yarn—cultivated on the spot! The farm is also host to a number of kid-friendly events such as The Amazing Maize Maze and the Annual Queens County Fair with rides, fair food, and performances like stilt walkers and jugglers. Check out its calendar for what's upcoming.
RELATED: Farm Stays Near NYC: Enjoy a Farm-Themed Family Vacation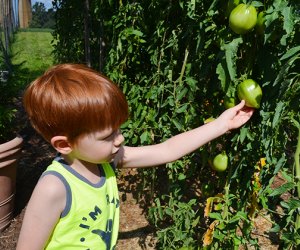 The Randall's Island Park Alliance's Urban Farm is a charming jewel with plenty of free programming. Photo by the author
Randall's Island Park Alliance's Urban Farm — Randall's Island
Open to the public for the summer
The Urban Farm on Randall's Island is dedicated to teaching community members and children about sustainable gardening via tours and hands-on experiences for the youngsters. This expansive farm is the home to greenhouses, 80 raised beds, chickens, and plenty of fun and colorful crops and flora. Although open to the public during the week, Exploration Days are best for visiting as there are no classes to contend with at those times. The farm offers public events like harvest festivals and cooking demonstrations. My family fell in love with this gem; my son enjoyed seeing giant squash grow from hanging trellises and vibrant red hot chili peppers. The staff is informative and happy to play host. Parking is free and there is an adjacent large and updated playground. You can easily burn a few hours playing and exploring enormous Randall's Island Park. FREE
Brooklyn Grange — Long Island City, Queens & Brooklyn Navy Yard
Public tours available May through October
Brooklyn Grange is a rooftop farm that services the New York City area with over 50,000 pounds of produce every year. It also plays host to a number of events and classes, including yoga, floral arranging, and cooking seminars. In partnership with City Growers, an amazing organization that teaches children to explore nature and farming, it hosts classes and camps for kids K-12. If you're looking to just drop in, the tour schedule varies and tickets must be purchased in advance. Be aware that it closes in October and the last family day is mid-September. Check here for details.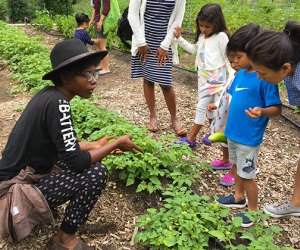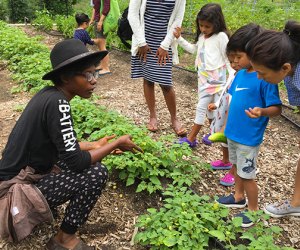 The Battery Urban Farm offers agricultural lessons in downtown Manhattan. Photo courtesy of Battery Conservancy
Battery Urban Farm — Lower Manhattan
Open year-round
This farm is a little nook inside of the Battery (formerly Battery Park) with goals that include educating and empowering NYC children to make healthier eating choices. Highlights include a vegetable patch, a playful labyrinth carved into the lawn, and some shady seating. The best time to visit is in the summer when it is most picturesque. Plants are not for picking and be mindful where you step, keeping on paths. Though smaller than the formerly mentioned farms, this location makes for a great day trip as the farm is inside The Battery, home to a long list of other activities and attractions such as the Seaglass Carousel, monuments, gardens and, of course, transportation to the Statue of Liberty and Ellis Island. There's plenty more to do with kids in the neighborhood, too! FREE
Tips for Farm Visits
Strollers are usually allowed but not always easy on dirt paths. If your child can handle some time on her feet, leave the stroller behind.
Whip out the sunblock and hats. These farms can get pretty toasty as a lot of produce grows in direct sunlight. During the summer, try to avoid the hottest midday hours.
It might not hurt to bring along some hand sanitizer if your children come in contact with some friendly farm animals.
Whether or not the farm is hosted in a park, please leave your pets behind.