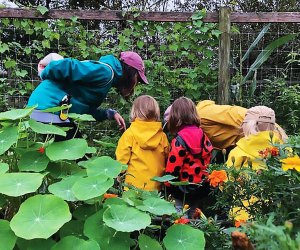 25 Ways Kids Can Get Their Hands Dirty in NYC
Get your rain boots ready! Springtime means muddy puddle stomping and mud pie making season for kids—even NYC children. It's a great excuse to get outdoors for some unstructured, messy playtime. So we've rounded up 25 dig-in-dirt, you're-gonna-need-a-bath-tonight ways for city kids to enjoy the coming warm days beyond just the usual ramble through the neighborhood park.
If the weather is uncooperative, check out 50 things to do indoors with kids or get crafty with our WeeWork series.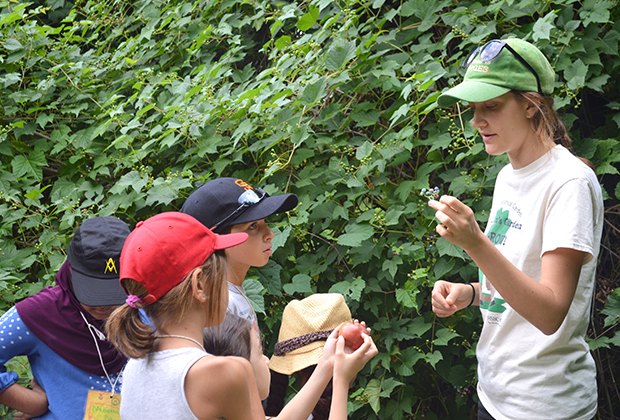 Examine berries—and insects—at the Queens Botanical Garden. Photo by Anne Tan-Detchkov/courtesy of QBG.
1. Get grubby at the Queens Botanical Garden, where you can enroll kids ages 2 to 14 for digging, planting and learning.
2. Make sand and mud pies or shimmy along tree limbs at Zucker Natural Exploration Area in Prospect Park.
3. Explore and get messy with outdoor Tinkergarten classes at locations throughout the city.
RELATED: April GoList: Awesome Things To Do with NYC Kids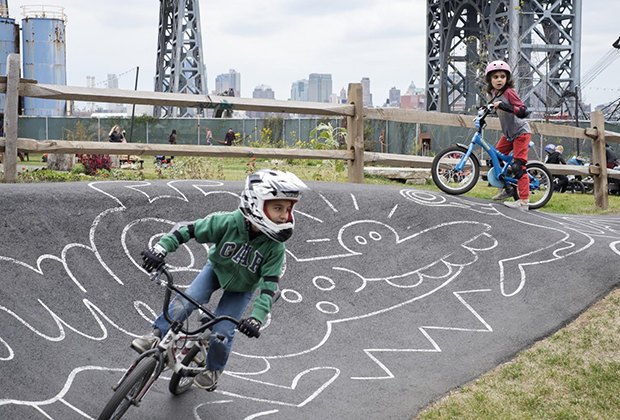 Go for thrills, and skinned knees, with a twirl around the Brooklyn Bike Park. Photo courtesy of Christopher Borrok.
4. Rent a bike and helmet and brush up on your bunny hops at the family-friendly Brooklyn Bike Park in Williamsburg.
5. Become a garden volunteer with Edible Schoolyard or join the mailing list to hear about events.
6. Visit one (or all) of our favorite destination sandboxes for the preschool set.
7. Sign up for Family Farm Day, a monthly event with workshops and activities for kids ages 2 and older, at Brooklyn Grange's flagship rooftop garden in Long Island City.
8. Watch a spring sheep shearing, take a hayride or wander through the flower and vegetable gardens at the 47-acre Queens County Farm Museum, New York City's largest remaining tract of farmland.
RELATED: Best Spring Festivals and Fairs for NYC Kids This April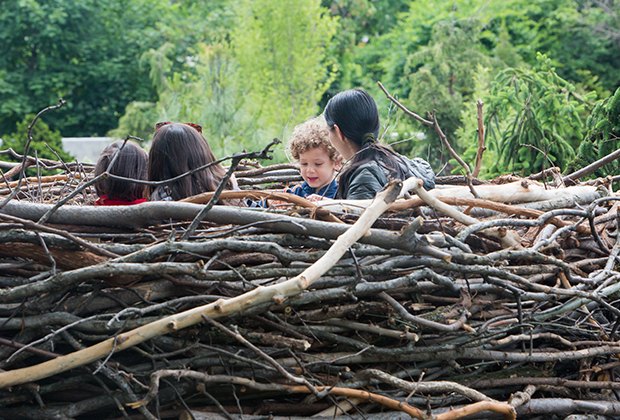 Visitors inside the bird's nest in the Discovery Garden at Brooklyn Botanic Garden. Photo by Liz Ligon/courtesy of the garden.
9. Learn about plants and ecosystems with hands-on (and often dirt-heavy) activities at Brooklyn Botanic Garden's Discovery Garden.
10. Snooze under the stars with free overnight family camping, courtesy of the Urban Park Rangers. Sign up early; spots fill up.
11. Pack a blanket and picnic basket and visit one of these great picnic spots that just happen to be near free outdoor entertainment.
12. Pot a tree, craft a hiking staff or scale a sugar maple tree at Wave Hill in the Riverdale section of the Bronx. This 28-acre public garden and culture center has extensive programming for kids.
13. Hit the road for some kid-friendly and mostly outdoorsy fun with our list of 25 spring day trip ideas like a Westchester farm.
14. Build a fort in your favorite city park, because nothing beats a few sticks and whole lot of creativity.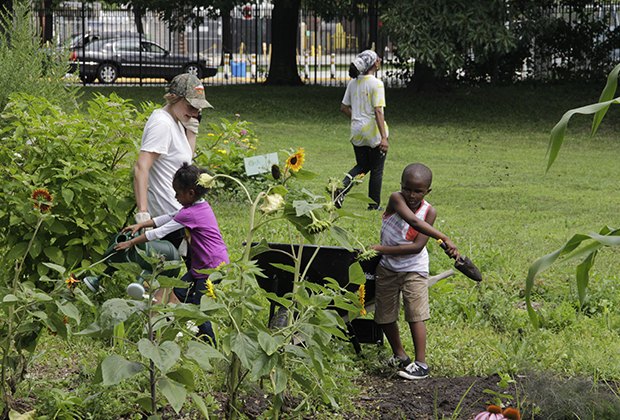 Kids plant sunflowers at one of the free family days at Wyckoff House Museum. Photo courtesy of the museum.
15. Plant seeds in the gardens, make candles or churn butter at monthly events at Wyckoff House Museum.
16. Plan your outdoorsy child's next birthday at one of these great outdoor spots and take advantage of the special perks each location has to offer.
17. Dig in the dirt at New York Botanical Garden, where the Everett Children's Adventure Garden and Ruth Rea Howell Family Garden offer year-round opportunities for kids to get their hands dirty while learning about nature.
18. Fill a jug with water and make mud pies, castles or dirt soup in the park or your local playground; bring an ice cube tray and measuring cups and create little mud bricks to build with.
19. Dig into the soil to learn about the secret lives of leaf litter critters; spread wood chips and track migrating birds and invasive plants with Prospect Park Alliance's pop-up Audubon program.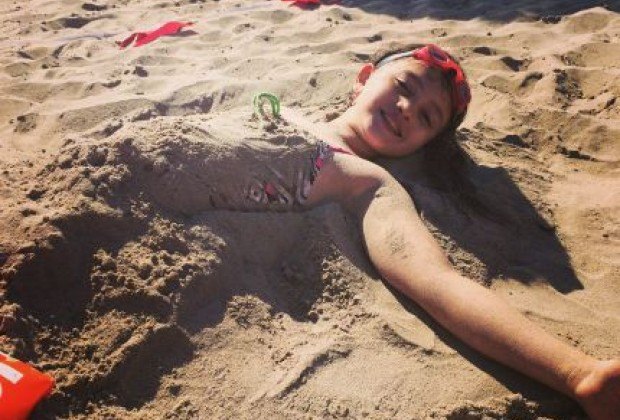 Take turns burying each other in sand at a NYC beach. Photo by Raven Snook.
20. Tackle beachtime like a pro with our list of top five beaches for NYC families; don't forget buckets and shovels—and remember that beaches don't officially open for swimming until Memorial Day.
21. Explore the Urban Farm, on Randall's Island, during one of their Exploration Days for hands-on fun for budding green thumbs.
22. Pack a few kid-sized shovels and buckets and look under rocks and leaves for worms. Building your own worm farm is optional.
23. Because where there's water, there's often sand, which equals major messy kids fun; check out some of our favorite water playgrounds when the NYC sprinklers come on later this season.
24. Mix dirt with water, supply paint brushes and recycled cardboard as canvas and watch your little one create a masterpiece.
25. Finally, don't forget to step back and let the messy, unstructured dirt play happen, and if you need a bit more inspiration, this book will walk you through even more kid activities.
A version of this post was published in 2016; it has been revised and updated by Katie Nave Freeman.