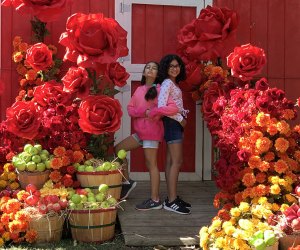 The Fall Escape at Queens County Farm Museum is a Stunning Outdoor Wonderland
My kids know fall is my season. Warm sunny days and crisp nights, the brilliant hues of changing leaves, apple picking, and all things pumpkin make autumn uniquely enjoyable. The Fall Escape, an all-new outdoor exhibition at the Queens County Farm Museum, captures the season's magic and whimsy. The farm, one of our beloved NYC institutions, has partnered with The Floral Escape to bring to life this stunning installation celebrating the beauty of autumn.
Read on for details on the brightly hued, flower-filled, photo-friendly exhibit, and be sure to check out our Fall Fun Guide for more fun ways to enjoy the season.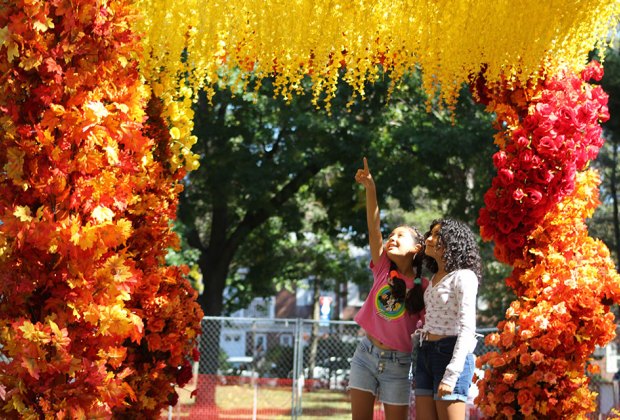 The Fall Escape features a series of bright, custom floral installations that make for picture-friendly backdrops.
My girls and I spent a picture-perfect fall day meandering through the immersive displays at The Fall Escape. The first thing we noticed when we entered was a tractor encased in colorful fall-inspired flowers and haystacks—an ideal perch for capturing that perfect Instagram pic (the first of many!). Just past the tractor is a stunning floral tunnel that beckons visitors. My girls made a beeline for this captivating display. Red and orange floral columns spiral up to a brilliant canopy of cascading yellow vines.
While masks are required to enter the exhibition, I did allow my girls to remove their masks when they were alone in each display. During our visit, everyone observed the mask policy, removing them only to take pictures (with their individual group) and donning them again to walk between the displays. Other visitors waited patiently for their turn, and everyone seemed mindful of keeping a safe distance from other parties as they enjoyed the displays.

The beautiful floral installations of The Fall Escape inspired plenty of fun photo poses.
Each exhibit is thoughtfully designed to evoke the essence of fall—yellow, orange, and red foliage saturate the displays, along with pumpkins, apples, and haystacks that lend to the fall vibe. There are also surprising pops of color—one display featured purple flowers woven together and draped across a cluster of trees, creating a vibrant contrast to the surrounding fall-inspired hues.
RELATED: Pumpkin Patches Near NYC Where Kids Can Pick Their Own

What's an ode-to-fall without a bit of pumpkin spice?
My daughters had fun taking in each installation, marveling at the colors and the intricacy of the arrangements. They playfully darted from one display to the next, lost in their own banter, posing with each exhibit. We loved the larger-than-life pumpkin spice latte topped with a beautifully appointed floral arrangement to create the requisite whipped cream and cinnamon toppings (and yes, they joked it still wasn't big enough to satisfy my caffeine cravings).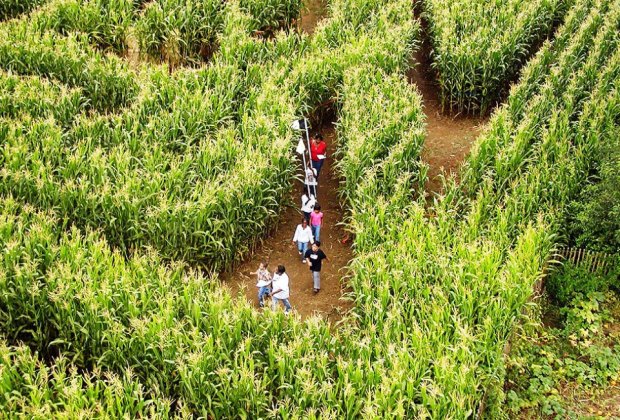 When you're done exploring The Fall Escape, enjoy some agritainment at the Queens County Farm Museum. Photo courtesy of the farm
After the beautiful exhibit, which families can expect to spend 1-2 hours exploring, we strolled around the rest of the farm, a favorite destination for my 11-year-old aspiring vet and life-long animal enthusiast. Since her first visit as a toddler, she's been a fan of the farm and was just as delighted watching the goats, llamas, and chickens during this visit.
Visitors can also enjoy hayrides, find their way through the farm's Amazing Maize Maze, enjoy fall favorites like apple cider doughnuts at the farm store, go pumpkin picking, and grab a bite at the on-site food alley.
Know Before You Go
The Fall Escape is on display daily through Sunday, November 29.
Mondays through Thursdays admission to The Fall Escape is $14 per person for adults; $8 for children ages 2-10; Fridays through Sundays, plus Columbus Day, prices are $18 for adults; $10 for children. Children under age 2 are FREE.
Weekday hours are noon-5pm; on weekends and Columbus Day (Monday, October 12), hours are 10am-5pm. The last entry is at 4:30pm.
The display is open from 10am-6pm on Halloween, but an additional ticket purchase for Halloween on the Farm is required.
General admission to the farm is FREE, except during special events. Additional purchase is required for hayrides, the corn maze, and other attractions.
Directions for mass transit are available on the farm's website.
Masks are required, and hand sanitizer stations have been installed throughout the farm. Posted signs remind visitors to maintain social distancing.
Unless noted, photos by the author