14 Best Things to Do in Staten Island's Greenbelt with NYC Kids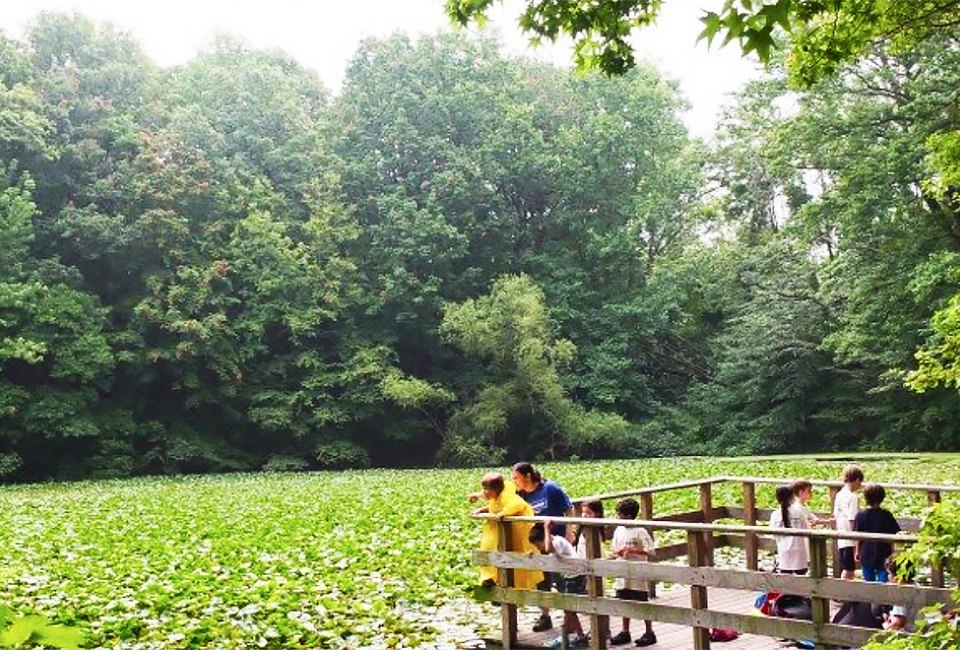 9/25/18
- By
Louise Finnell
At 2,800 acres, Staten Island's Greenbelt is one of the largest public parks in New York City. Like Central Park in Manhattan, Brooklyn's Prospect Park, the Bronx's Pelham Bay Park, and Flushing Meadows Corona Park in Queens, the Greenbelt is considered one of NYC's flagship green spaces. However, it's actually several parks linked together in Staten Island's interior, including the popular Willowbrook Park, home to the Carousel for All Children, the wild High Rock Park, and Bloodroot Valley named for its large population of signature flowers.
The Greenbelt makes for a great staycation destination for NYC families. It's jam-packed with attractions, including 30 miles of groomed hiking trails, a nature center, a recreation center, a public golf course, a merry-go-round, barbecue grills, a lake for fishing, a living history museum, and playgrounds. It's also filled with a wide variety of plants, flowers, and wildlife, such as Great Blue Herons, muskrats, hawks, owls, woodpeckers, frogs and turtles. It's possible to see most of the Greenbelt's big attractions on foot in one day, but it's more relaxing to choose one area to explore at your leisure. Here are our top 14 things to do in the Greenbelt with kids.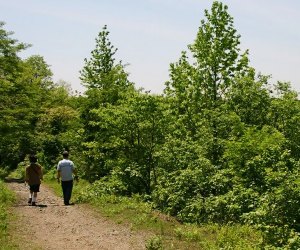 Hike the leafy trails that crisscross the Greenbelt.
Go Hiking
There are six hiking trails that crisscross the Greenbelt. We opted to follow the Yellow Trail to Moses' Mountain in High Rock Park. Named for controversial urban planner Robert Moses, the 260-foot hill is made from rock rubble and debris from a scrapped highway plan, and offers fantastic panoramic views of the park from its apex. If you decide to climb to the top, be sure to stay on the Yellow Trail for a gentle walk up the hill. We tried a different path that went straight up and found ourselves scrambling over rocks and asphalt on a seriously steep incline. You can download a trail map on the Greenbelt Conservancy's website or pick up a copy at the Greenbelt Nature Center located near Bloodroot Valley.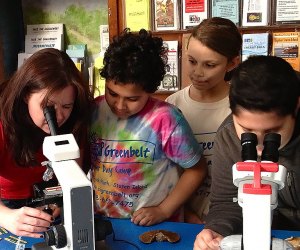 The Greenbelt Nature Center hosts hikes and nature education programs for kids.
Explore the Greenbelt Nature Center
The small nature center in LaTourette Park features displays about the Greenbelt's natural environment—including a few live animals—and a nice one-mile hiking trail around back designed specifically for children. If possible, try to schedule your visit to coincide with one of the center's many planned activities. Make sure to check the schedule before you take a trip to the Nature Center, since its hours are limited in the off-season.
Play Golf
The LaTourette Public Golf Course can be found in the Greenbelt. The clubhouse of this 18-hole course is the historic David LaTourette House, a 19th-century Federal-style brick mansion. Kids can golf here (and at all city-owned courses) on weekdays for $7.75 with a NYC Resident Golfer's Permit. Sadly there is no miniature golf.
Play Tennis
There are two outdoor tennis courts in the Greenbelt, one on the grounds of the recreation center in Bloodroot Valley and the other near the Eton Place entrance of Willowbrook Park. Unlike many of the city-run tennis courts, neither of these require reservations. As long as you have a permit you can grab a court, first-come, first-served.
Enjoy a Barbecue or Picnic
The Greenbelt boasts lots of open space for picnicking and Willowbrook Park has a designated area with barbecue grills. The grills are first-come, first-served and are very popular, so arrive early if you want to snag one.
Romp in a Playground
Despite the massive size of the Greenbelt, there are only two playgrounds and both are pretty basic. One is conveniently located behind the Carousel for all Children in Willowbrook Park, the other is on Richmond Parkway, also known as the Korean Veterans Memorial Parkway.
Take to the Skies
Bring your own radio-controlled plane to fly at the Field of Dreams in LaTourette Park. Check out some great resources to get kids involved in model airplanes.

Hop on a bike and explore the multipurpose trails. Photo by Daniel Avila for NYC Parks
Ride a Bike
Although the multipurpose perimeter trail at the Greenbelt accommodates pedestrians, it's also the only place in the park to ride your bike. The graveled 2.6-mile path runs adjacent to the LaTourette Golf Course and south of Historic Richmond Town. There aren't any bike rental spots in or near the park, so be sure to bring your own.

Bring your pole for catch-and-release fishing in Willowbrook Lake. Photo by Daniel Avila for NYC Parks
Go Fishing
Willowbrook Lake in Willowbrook Park was the first man-made pond on the island and is well-stocked with sunfish, so it's a lovely spot to do some catch-and-release fishing. You'll need to bring your own pole unless you visit during a scheduled fishing event.

The whole family can enjoy a canoe ride and many other activities courtesy of the NYC Parks Department. Photo by Daniel Avila for NYC Parks
Family Activities at the Greenbelt
The Greenbelt Conservancy and the NYC Parks Department sponsor lots of wonderful outdoor events all year round. Most of the activities are free and great for families, including fishing, swimming, canoeing, birding, hiking and cycling.

The Carousel for All Children was created specifically for children of all abilities.

Take a Spin on the Merry-Go-Round
Near the Eton entrance of Willowbrook Park you'll find the Carousel for All Children, created specifically for kids of all abilities and operating from May to October. The gaily carved creatures include dogs, a dragon, a panda, gorillas, elephants and a dolphin, which particularly delighted my son. Painted panels of historic significance and famous Staten Island locales also decorate the carousel. $1.50 per ride per person, even if you're just chaperoning.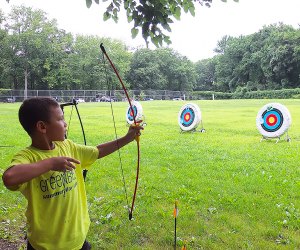 Meet up with the park rangers for a day of archery practice.
Make Like Katniss
Willowbrook Park is one of the few parks in NYC with an archery range. It doubles as the park's dog run in the morning. You need to bring your own equipment or visit during an archery program, or sign up to go with the Urban Park Rangers through their lottery system
Go Birding
The Greenbelt is well known for its feathered friends. Many different species of birds pass through the park—depending on the season you can spot migrating song birds, waterbirds, and raptors. Look closely to try to find the two owls that live in High Rock Park and the flock of ducks camped out by the lake in Willowbrook Park.

Observe how chores were performed in the past at the family-friendly Historic Richmond Town Museum. Photo courtesy of the museum
Step Back in Time
Spend the day at NYC's only living history museum, Historic Richmond Town, located on the southern edge of the Greenbelt. Watch blacksmithing, carpentry and other retro activities come to life on the 100-acre grounds, which are devoted to displaying the past 400 years of American history. Admission is FREE for children under 4, $8 for adults, and $5 for children ages 4 to 11. The museum also frequently hosts special family events.
Looking for other great NYC green spaces? Check out our Playgrounds & Parks Guide.
Unless noted, photos courtesy of the Greenbelt Conservancy
A version of this story was originally published in 2012; it has since been updated. Stephanie Ogozalek contributed additional reporting.
Click Here to Sign Up!
i