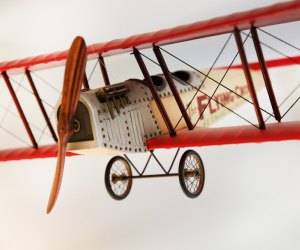 Hobby Shops for NYC Kids: Model Trains, Planes, and Robots
Just like authentic New York soda fountains and ma-and-pa stores, old-fashioned hobby shops are seemingly an endangered species in NYC. But they're not dead yet.
Thanks to the popularity of the maker movement, hobby shops are enjoying a resurgence as kids (and grown-ups) look for fun, hands-on projects that range from assembling intricate models to flying remote-control airplanes, building robots, and racing model trains. That last option is one of my 9-year-old's favorite pastimes.
Although you can buy most of these kits online, visiting a brick-and-mortar hobby shop can be an inspiring experience for children who like to tinker, experiment and create. Plus, they get a chance to meet their fellow enthusiasts and learn from the vets. Whether your kids are into planes, trains, or automobiles, here are 10 hobby shops across the five boroughs where families can stock up on all their DIY model-building needs.
Manhattan
Jan's Hobby Shop – Upper East Side
1435 Lexington Avenue, at 94th Street
Model builders have been shopping at this Upper East Side institution since 1973. The store is known for its selection of plastic kit models for all ability levels, although it also stocks toys and trains.
The Red Caboose – Midtown West
23 West 45th Street, between Fifth and Sixth Avenues, lower level
A destination for train lovers since the 1940s, this shop is one of my family's favorites. We adore browsing the aisles, all jam-packed with electric and model trains, tracks, layout accessories, books, videos, and more. You'll also find a handful of non-train model kits and small toys, too. We never leave here empty-handed.
The Bronx
Hobby Heroes – the Bronx
3587 East Tremont Avenue, near Sullivan Place
Family-owned and operated, enthusiasts will find electric trains, rockets, model kits, and remote-control flyers here. If you have a Cub Scout at home, Hobby Heroes is the place to get accessories and tools to make your pinewood derby racers.
Brooklyn
Brooklyn Drones – Gowanus
315 Fourth Avenue
This shop specializes in upscale drones and aerial photo equipment, but there are some lower-priced options for hobbyists. Classes are offered to teach newbies how to fly drones, too.
RELATED: NYC Maker Spaces for Drop-in Creator Fun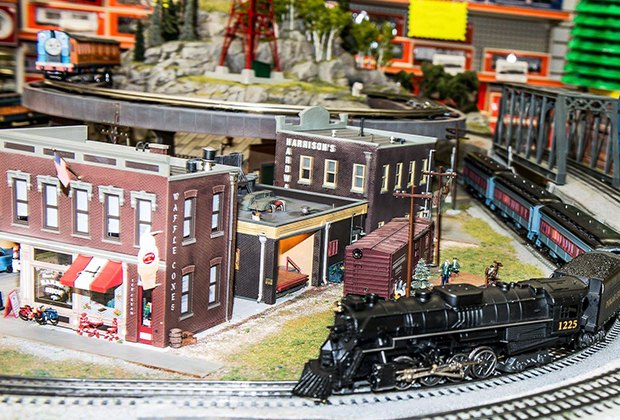 It's all aboard for train enthusiasts at Brooklyn's TrainWorld. Photo courtesy of the store.
TrainWorld – Kensington
751 McDonald Avenue, near Ditmas Avenue
Back in my son's Thomas the Tank Engine days, my husband would travel to this choo-choo emporium every Christmas season to pick up train-related gifts. Model and electric trains, tracks, and layout accessories all can be found here.
Brooklyn Hobbies – Marine Park
3852 Flatlands Avenue, near Kimball Street
This small shop specializes in remote-control cars, planes, and helicopters.
Queens
Rudy's Hobby & Art – Astoria
35-16 30th Avenue, between 35th and 36th Streets
Opened in 1939 as an ice cream parlor, Rudy's transformed into a hobby shop in the 1980s, when the dessert business took a nosedive. This neighborhood stalwart stocks classic models, trains, and supplies along with tons of vintage bric-a-brac, including old records and ceramic figurines.
Staten Island
Brownie's Hobby Shop – Port Richmond
124 Bennett Street, between Port Richmond and Park Avenues
This local mom-and-pop shop sells classic models, materials for school science projects, balsa gliders, and equipment to build remote-control planes and cars.
Be sure to check out the local Staten Island MakerSpace for cool workshops and classes for both kids and grown-ups, too.
Robotics Kits
If your little builder is looking for more modern pursuits, try a robotics or electronics kit found at these NYC retailers.
Brooklyn Robot Foundry – Gowanus, Brooklyn
303 3rd Avenue, between 1st and Carroll Streets
Although primarily a children's classes and camp spot, this location of the Brooklyn Robot Foundry also maintains a small retail section offering robotics DIY kits and gadgets, as well as vintage robots and related education toys and gear.
Geek Forest – Williamsburg, Brooklyn
329 Grand Street, between Havemeyer Street and Marcy Avenue
This brand-new STEM spot offers a full slate of children's classes and camps, but it's also a store with a retail section loaded with the robotics, electronics, wearables, and other high-tech kits it uses in its maker sessions. It also has books and related accessories for sale.
When all else fails, consider a trip to your local Michael's. The national chain has a couple of locations in the city. Although it lacks the kitsch and expert customer service of the mom-and-pop stores, Michael's franchises have a variety of supplies for a number of hobbies. In fact, it's the rare store at which I can shop for cake decorating supplies while my son browses for model airplane kits.
This article first published in July 2014, but has since been updated.
Top photo by Mommy Poppins.