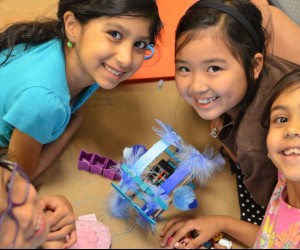 Brooklyn Robot Foundry: Where NYC Kids Design & Build Robots
Did someone say robots?
One of the greatest joys of parenting is that look of pride our kids get when they make something on their own. I'm always looking for classes that can give my son's creativity free rein, improve fine and gross motor skills—but robots? That moves the cool meter all the way to red.
Our sponsor Brooklyn Robot Foundry is a place that empowers kids through building. The Foundry's after-school and weekend programs for kids in preschool through 6th grade invite young engineers to plan, design and create any type of robot, whether it's a soccer player or a princess.
Find more NYC classes in our Classes Guide and Directory Listings.
With two NYC locations—one in Tribeca and the other in Park Slope—Brooklyn Robot Foundry offers kids the chance to learn fundamental engineering concepts, with an emphasis on creativity and imagination. For the preschool set, instructors bring out toys and models that help convey how electricity, gears, motors and assist them on building circuits. For older kids, classes start with a basic intro to circuits and build up from there.
During the school year, Brooklyn Robot offers afterschool classes for kids in kindergarten through 6th grade, weekend one-time drop-off classes (one Saturday and one Sunday per month) for kindergarten through 4th grade, and weekday toddler classes. There are also two clubs: The Robot Girls' Club and the Robot Family Club. Both are for kids ages 5-9, and parents stay with their children to help them build a different robot each week.
In addition, Brooklyn Robot Foundry offers summer sessions and some pretty memorable birthday parties. Adults can get in on the fun, too, through corporate team building, parties and classes. For information on all of these programs and more, be sure to check out the website. And for more on local enrichment and after-school programs, visit our NYC Classes Guide.