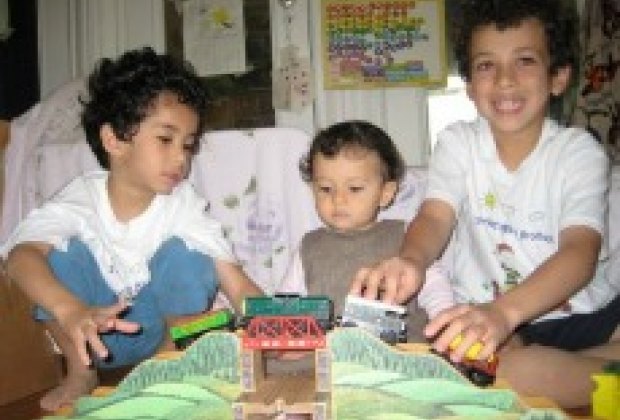 All Aboard! Train Museums, Miniature Train Shows and Train Rides for NYC Kids
My father-in-law is a model train lover and my kids have inherited his enthusiasm. My oldest was still in diapers when his Grandpa first took him to the annual Holiday Train Show at the New York Botanical Garden, and it didn't take him long to learn that in New York City area, you can be a railfan (yes, that's actually a word) year-round. We've rounded up our favorite places to take aspiring engineers in or near NYC.
New York Transit Museum – Brooklyn Heights
Corner of Boerum Place and Schermerhorn Street
$7 for adults, $5 for children ages 2-17, free for kids under 2
We're big fans of this museum, which is housed in an old subway station. Dedicated to preserving and honoring our city's transportation history, the museum's highlights include Steel, Stone, and Backbone, which recounts the building of NYC's century-old subway system, and ElectriCity about how our city's underground mass transit is powered. Visitors can enjoy family programming every Saturday and Sunday at 1:30pm, like performances and stories that celebrate the subway, and art projects such as designing model cars and map making. There's a lot of hands-on fun here, including the chance to "drive" a bus and board vintage subway cars in Moving the Millions. The Transit Museum also has a Gallery Annex and Store in Grand Central Terminal. It's small and not really a destination in and of itself, but it does host a cool Holiday Train Display from Thanksgiving to New Year's. Best of all it's FREE.
DiMenna Children's History Museum – Upper West Side
New-York Historical Society, 170 Central Park West at 77th Street
$15 for adults, $10 for students, $5 for children ages 7-13, free for kids under 7
For a different perspective on trains, visit NYC's only children's history museum. Its orphan trains exhibit invites families to take a seat in a replica of the cars used to ship homeless 19th-century kids from the New York slums to foster homes in rural America. You can also trace their long journeys on a map and hear their stories, some of which ended happily, and others that did not. Afterward, stick around and check out the rest of the interactive installations exploring NYC's history.
Queens County Model Railroad Association – Long Island City
34-05 44th Street near 34th Avenue
If your kid is really into working on model trains, consider checking out this Queens spot, home to a 60-by-30-foot scale model railroad that is constantly in the process of being built and operates under a very strict set of rules. Association members gather for operating sessions on first and third Fridays, and work sessions on second and fourth Fridays. New members are welcome to join to help build the intricately pre-designed series of lines, giving train-obsessed children a chance to work alongside adults who share their passion for trains.
Gotham Model Trains – Midtown West
224 West 35th Street between Seventh and Eighth Avenues, 13th Floor
If your kids are looking to start their own model train collection (and you have the room and money to encourage them), Gotham should be your first stop. This store is a Mecca for model train lovers, with a plethora of trains, tracks, memorabilia, cleaning supplies and instructions.
Of course at Christmastime, there's the New York Botanical Garden's annual Holiday Train Show, which we cover every year. The MTA also usually runs Nostalgia Trains over the holidays (and sometimes for special events, like the Yankees season opener), so families can take a seat on vintage subway cars complete with old-school ads.
Outside NYC
Railroad Museum of Long Island – Long Island
4th Street at the Tracks in Greenport and Griffing Avenue at the Tracks in Riverhead
Opens for the season Memorial Day weekend
$7 for adults, $4 for children ages 5-12, free for kids under 5
This museum is deeply involved in restoration work such as fixing up locomotive simulator cabs to their original condition (making it not just a living piece of history, but a family-friendly photo op), and offers scenic tours between their two locations by vintage train at special reduced family fares. The Riverhead site is located in a former lumber yard opposite the Riverhead LIRR station, so it's easily accessible without a car. This is where all the restoring is performed, and there are a few small displays and a gift shop. A former LIRR freight house is home to the Greenport site, featuring a permanent exhibit of railroad artifacts and rotating exhibits. The admission fee includes a ride on the museum's World's Fair miniature train and guided tours of both locations.
New Jersey is filled with train fun for kids. Check out our post on train rides, museums and miniature trains for NJ kids. Also around various holidays, lots of tri-state train museums host special train rides, like Halloween train rides in New Jersey and Connecticut; Santa trains in New Jersey; and Easter trains in New Jersey and Connecticut.