8 Cool Kid Spots Near the New Second Avenue Subway Line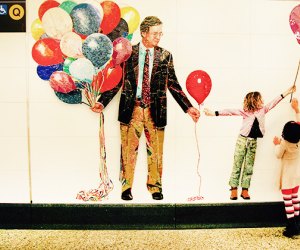 The Second Avenue subway is New York City's first new subway line in more than 50 years, and yes, we're excited about it! Many fun kid places on the far Upper East Side are often too much of a haul for little legs to travel from Lexington Avenue subway stops without the aid of strollers, carriers, and maybe an afternoon nap (for parent and baby!).

Thankfully, the Q has been extended along Second Avenue to 96th Street with this first phase of the subway expansion, giving us quicker access to many wonderful kid- and family-friendly hot spots highlighted for you here. Read on for eight of the best kid places nearby that you now have no excuse not to visit.
The New Subway Stations
96th, 86th, and 72nd Streets (at 2nd Avenue)
The new stations, along with a new entrance at 63rd Street and Third Avenue, have 35 new escalators, 12 new elevators (stroller-friendly!), and 22 new stairways to explore. The column-free platforms and high-ceilinged stations also feature gorgeous new art installations. You and your toddler could spend an entire morning just visiting the stations, riding escalators, watching the trains, and seeing the engaging art.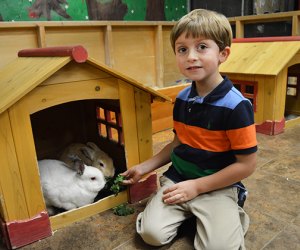 At Art Farm NYC, an indoor petting zoo, children can feed and pet bunnies, turtles, chinchillas, birds, and more. Photo by Christina Vasilopoulos/courtesy of Art Farm.
The Art Farm in the City
419 East 91st Street
This indoor petting zoo—where kids can feed and pet bunnies, turtles, fish, chinchillas, and more—is now just steps from the 96th Street station. The farm has drop-in days, camps, classes, birthday parties, and other options.

Let's Dress Up
345 East 85th Street
An entire play space dedicated to dress-up? Now you can find it barely a block from the 86th Street stop. Open play times and parties are the main gigs.

Carl Schurz Park
East End Avenue between East 84th and East 90th streets
This 15-acre park south of Gracie Mansion features woodland areas, grassy lawns, gardens, two dog runs, and a popular playground. And now your kids won't be exhausted just walking there because the 86th Street subway station gets you a lot closer!

The Playroom NYC
1439 First Avenue (at 75th Street)
This play space has an indoor climbing structure, a dress-up area with a stage, a baby room, a play bodega, and more. And now it's no longer a haul from the 4/5 train.
RELATED: Best Play Spaces in Manhattan for Drop-in Fun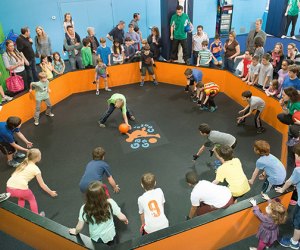 Right near the 96th Street stop, you'll find the Gaga Center, where kids play a game that is like a version of dodgeball. Photo by Ryan Brown Photography/courtesy of the Gaga Center.
The Gaga Center
230 East 93rd Street
Do your kids come home from camp talking about gaga? If you've always wanted to take them to play the game, which is a version of dodgeball, then look no further than the 96th Street stop, because the Gaga Center is right nearby. The center offers classes, parties, and open play.

Loop of the Loom
227 East 87th Street
Kids as young as 4 can work with their hands to make a craft at this weaving dojo. And now it's right near the 86th Street stop. Weave been waiting for this!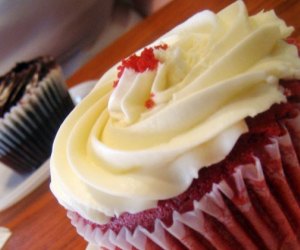 Top off the day with delicious desserts from Two Little Red Hens. Photo by Peter Burka via Flickr.
Two Little Red Hens Bakery
1652 Second Avenue (at 86th Street)
You and your kiddos no longer have to trek across Manhattan for these famous Brooklyn blackout cupcakes. Just zip up to 86th Street on the Q, and pop outside. You will also find the shop's popular red velvet cupcakes and a selection of cheesecakes and other goodies.
Top photo: The installation Perfect Strangers by Vik Muniz, in the 72nd Street station, shows colorful depictions of different types of New Yorkers. Photo by the author.