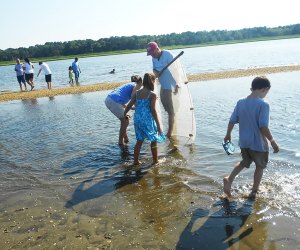 8 Kid-Friendly LIRR Stops for a Fun Day Trip
Let's face it. Traffic on Long Island is no picnic. In fact, sometimes the thought of taking a day trip to another part of this beautiful island makes us cringe when we think of the hours on the road and the challenge of keeping the kids in the backseat entertained.

But there is a another way to get from here to there…the LIRR! Taking the train is a convenient, fun way for families to get around the Island without the hassle of driving. From beach communities to charming downtowns to family-friendly museums, there are plenty of LIRR stops where families can hop off and explore the area for the day.

We've rounded up a few of our favorite family day trips reachable via the LIRR, highlighting the best attractions and sights in the area. All aboard!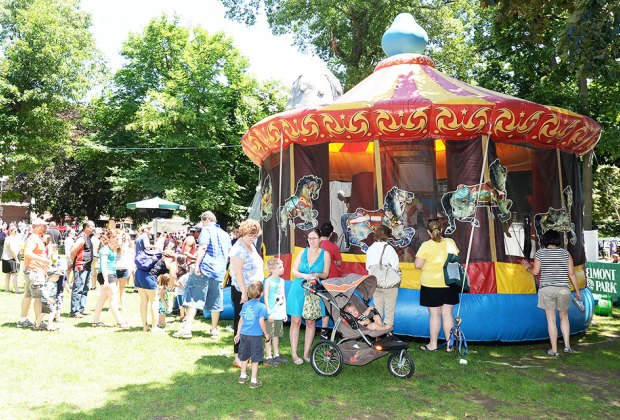 The Backyard at Belmont is an ideal place for families to spend the day, with a host of kid friendly-activities. Photo courtesy of NYRA
Hempstead Branch
Destination: Belmont Park
Your family is off to the races with this excursion since it takes you directly to Long Island's very own racetrack. Get there early and enjoy Breakfast at Belmont, a fun event where the whole family can enjoy a buffet breakfast and the excitement of watching thoroughbreds train on the track. There's also a free tram ride that takes you through the stable area, where visitors can view a free paddock show and starting gate demonstration. Family Fun Days on designated Sundays feature games and other activities for kids. There's also a picnic area, duck pond, and children's playground (and areas where moms and dads can watch or bet on the races). Many of these activities are weather-dependent and LIRR trains only stop here when the park is open, so be sure to check before you board.
RELATED: 31 Summer Day Trip Ideas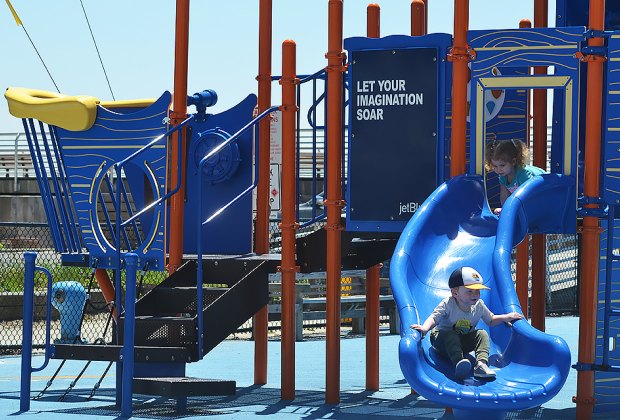 Work up an appetite at Magnolia Playground then head to Shoregasborg to find some delicious eats. Photo by Kimberly Chacon
Long Beach branch
Destination: Long Beach
Location: Park Place and Park Avenue, quarter-mile west of Long Beach Road
If the beach is what your family is looking for, then look no further than the last stop on the Long Beach branch of the LIRR. Just a short walk from the station and you're on the beach. The 'City by the Sea' offers plenty of family-friendly events and activities such as arts and crafts festivals, summer concerts, and more. If you don't want to lug a cooler filled with food, you're in luck since there are plenty of places to grab food and snacks along the 2.2-mile boardwalk, including The Shoregasboard, where you can choose casual fare from a host of food trucks. There are bicycles for rent that will let you explore more of the area, including the Magnolia Playground, complete with swings, a pirate-themed jungle gym, and more. Be sure to snap pictures of the kids (or mom and dad) in surfboard cutouts before you leave.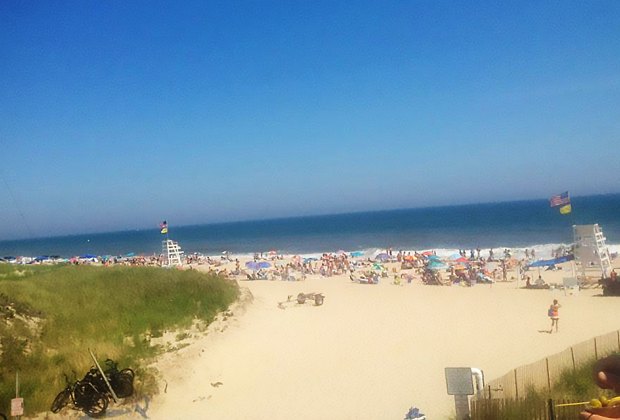 Hop the train to gorgeous Hamptons beaches. Photo by Meagan Newhart
Montauk branch
Destination: The Hamptons
Location: Stations from Westhampton to Montauk
The trip from Penn Station to Montauk takes about 3½ hours, but much less if you catch the "Cannonball" express, a summer Friday train whose first stop is Westhampton. After Westhampton, stops include Hampton Bays, Southampton, Bridgehampton, East Hampton, Amagansett, and Montauk. The charm of the region is its diversity. Hampton Bays and East Quogue are younger and offer young parents plenty of date-night options. Southampton and East Hampton are more established with all the amenities you'd expect from high-end communities. A FREE summer concert in Agawam Park is a must for any young family visiting Southampton. Westhampton boasts a robust performing arts center with plenty of children's programming, while Water Mill is home to the Parrish Art Museum, a one-of-a-kind facility for artistic families. The Pollock-Krasner House and Study Center is a cab ride from the East Hampton station, but worth it if you have an artistic child. The Hamptons are loaded with museums, but the two best for children are, without question, the South Fork Natural History Museum and the Children's Museum of the East End, adjacent properties in Bridgehampton. Dining options are numerous...and delicious. Of course, the summer highlight are the region's beaches, many of which are accessible to those without a need to park a car. For additional attractions, see our guide to the Hamptons and North Fork.

Oyster Bay branch
Destination: Glen Cove
Location: Duck Pond Road and Pearsall Avenue
Glen Cove, a city on Nassau's North Shore, is celebrating its 350th anniversary in 2018. Visitors can expect a summer-long celebration that includes street fairs, live music, beach parties, and more. The Morgan Park Summer Music Festival, now in its 59th year, brings big-band music and rock tribute bands to the waterfront area during summer nights, with FREE concerts sure to delight kids of any age. The beaches remain Glen Cove's primary draw in the summer. (Note that Pryibil Beach and Crescent Beach are restricted to Glen Cove residents from Memorial Day to Labor Day, and Morgan Park is accessible to residents of nearby Locust Valley, but all are open to the public in the off season.) Kids in need of a little intellectual stimulation? Glen Cove boasts a number of Nassau County's more popular museums, including Garvies Point Museum and Preserve, the Holocaust Memorial & Tolerance Center of Nassau County, the North Shore Historical Museum, the Mansion at Glen Cove, and Welwyn Preserve. Downtown Glen Cove is a food-lover's paradise with restaurants galore, including La Famiglia for Italian food and Dominik's for pizza. Downtown Café is renowned for its wings and wraps, while Henry's Confectionary serves breakfast and brunch. For dessert, consider Sweet Agenda Café, where your family can enjoy gourmet pastries and handmade donuts.
RELATED: 25 Best Things to Do in Montauk with Kids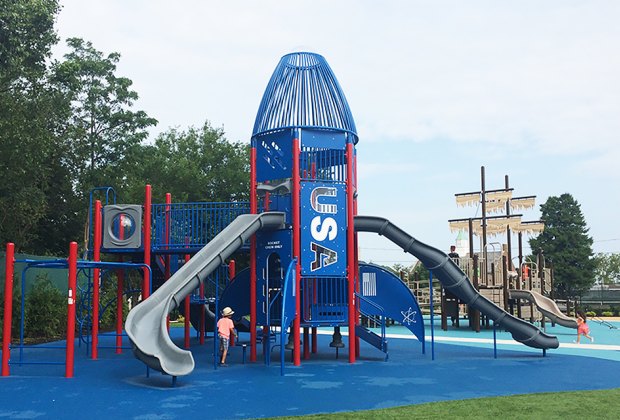 Blast off with your little ones at Rocketship Park in Port Jefferson. Photo by Thien Nguyen August
Port Jefferson branch
Destination: Port Jefferson Village
Location: Route 112 (Main St.) and Oakland Avenue
The station is less than 2 miles from the harbor, and there's something going on in this picturesque community all year round, including Fourth of July and Halloween parades and the town's famed Dickens Festival in December. Playgrounds and parks offer plenty of space for families to play and picnic, including Jeanne Grant Harborfront Park, which features walking paths, a small beach, and water sprinklers, while Rocketship Park boasts a rocket ship-themed jungle gym. Take in a show at Theatre Three and be sure to visit the Maritime Explorium, where kids can discover all about nautical science through hands-on activities and exhibits. When it's time to eat, look no further than the restaurants lining Main Street, which offer plenty of options for family-friendly meals. For breakfast or lunch, try Toast and Sweet 'n Savory Creperie and Rice Pudding Bar. Z-Pita, Salsa Salsa, Pasta Pasta, and The Steam Room are all great choices for dinner. End your visit to Port Jeff with a sweet treat at Roger's Frigate or Port Jefferson Ice Cream Café.

Take an early evening boat ride on the Port Washington Water Taxi before hopping back on the LIRR. Photo courtesy of the taxi service
Port Washington branch
Destination: Port Washington
Location: Haven Avenue and Main Street
Like Port Jeff, Port Washington puts the accent on the community's maritime past. After all, how many Long Island communities can boast a water taxi service located a short walk from the train station? To get the full flavor of this Nassau County gemstone, walk from the station to the Lower Main Street area. Watch the fishermen on the town pier, then stroll the historic harborfront for a glimpse of what life was like here in the 1930s. Long before ground was broken on Kennedy Airport, Port Washington was the U.S. takeoff point for the first-ever fixed wing, trans-Atlantic plane service. Who knew? Across the street from the station, Blumenfeld Family Park includes a summer sprinkler park ideal for kids 10 and younger. The park is next door to the Landmark on Main Street performing arts theater, which offers a year-round calendar of family entertainment. Less than a block away, Port Washington library sits like a castle lording over the community with one of Long Island's largest collections of books and historical archives. Port Washington is not the destination for chain dining: Mom-and-pop restaurants dominate here, including Salvatore's Coal Oven Pizza, Harbor Q, and Mediterranean favorite Ayhan's Corner. Finish off the day with a trip to Saint Honore Pastry Shop or gourmet ice cream parlor Sweet Treats on the Wharf.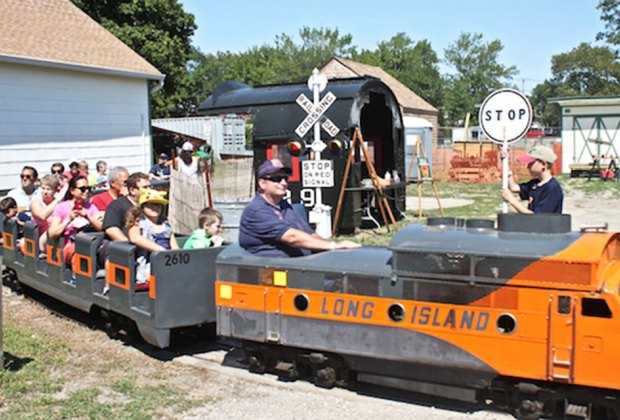 Catch a ride on a miniature train at the Railroad Museum of Long Island. Photo courtesy of the museum
Ronkonkoma branch
Destination: Riverhead
Location: Osborne Avenue and Railroad Street just north of West Main Street
This East End town has plenty of family-friendly attractions on and around its Main Street. One of its most popular downtown destinations is the Long Island Aquarium, which is a short walk from the Riverhead LIRR station. Spend the day exploring its many sea life exhibits, including both local and not-so-local creatures, or take a 90-minute excursion aboard the Atlantis Explorer Tour Boat. When you're ready to eat, popular downtown restaurants include Jerry & the Mermaid Clam Bar and Grill, Roadhouse Brick Oven Pizza, Star Confectionery, and Snowflake Ice Cream Shoppe. This year, the community's Alive on 25 is scheduled for July 5, July 12, July 26, and August 9—Main Street becomes one big block party with food, music, arts & crafts, face painting, and much more. Appropriately enough, the Riverhead branch of the Railroad Museum of Long Island is located right by the station so definitely check it out for a look at its many railroad artifacts and restored railroad cars. (It's open on Saturdays and Sundays only.) You can take a ride on a miniature train from the 1964-65 World's Fair and ride the 'Greenport Scoot,' which will take you to the museum's second location in Greenport.

This beautiful carousel is in Greenport's Mitchell Park. Photo courtesy of Greenport Village
Destination: Greenport
Location: Wiggins and 4th streets at Ferry Dock
So much to do and see in this historic north fork community. The LIRR drops you in the heart of the downtown area so you're right in the mix of things. You can start at the Railroad Museum of Long Island; even if you've been to the museum's Riverhead location, this site has much more to see, including an 80-foot turntable that once was used to turn around steam engines. Stop at some of the other local museums in the area such as the East End Seaport Museum, which runs family-friendly cruises to the lighthouse, or hop on a ferry to Shelter Island and spend some time exploring its beauty. Other interesting nearby museums include the 1840 Schoolhouse Museum, the Fireboat Fire Fighter, and the Greenport Jail and Police Museum. Do some shopping at the unique shops along Main street, then make your way to Mitchell Park, where kids can take a spin on one of Greenport's true jewels, its antique carousel. The waterfront park is also great for swimming, playing, and picnicking. When the gang gets hungry, try Claudio's Restaurant (or Claudio's more casual Clam Bar or Crabby Jerry's). End the day with something sweet at Sweet Indulgences, Sandpiper Ice Cream, or Hampton Chocolate Factory.