A Belmont Park Family Day Trip with Racing and Carnival Fun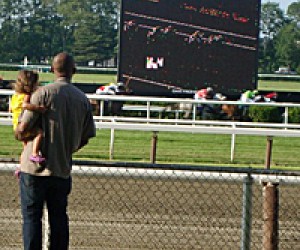 My mom grew up as a certified country child, riding horses and watching the rodeo circuit. And though she raised a family of city kids, we always spent a lot of time on my grandparents' farm. Although our family farm is no more, I try to keep my kids connected to our country roots. In NYC, we can hit a petting zoo or trek out to the Queens County Farm Museum. However, one of our favorite ways to spend a spring day is by taking the short train ride to Belmont Park on Long Island to see the horses, watch some live racing and enjoy family-centric fun.
The grounds at Belmont, which first opened for racing in 1905, cover 445 acres. In addition to the well-known 1½-mile track, Belmont has two inner turf tracks, plus a training track and a pony track. The infield of the main track paints a nostalgic scene, complete with a duck pond and grassy meadow. You can catch a number of live races, which vary in length, Wednesday through Sunday. If you're feeling lucky, you can step up to the window and place a wager on any of the horses. An opening bet can be as little as a dime! We always seem to find ourselves rooting for the horses with the most outlandish names. Regardless of whether you decide to wager or just watch, taking in a race is quite thrilling for all ages.
Belmont Park is best known for the Belmont Stakes, the third leg of Thoroughbred Racing's Triple Crown, set this year for Saturday, June 6. The stands can accommodate up to 100,000 fans, though you won't find such a large crowd on a typical day. Most seating is general admission, and you're free to move about the stands or along the grassy edge of the track as you please. Watching from track-level near the railing is particularly exhilarating as you get an up-close view of the magnificent horses thundering by.
While my family is content to spend our day watching the races, Belmont offers a number of activities specifically aimed at kids, especially on its Family Fun Days. If you're planning a trip to the track, here are some other things to check out while you're there:
Breakfast at Belmont
If your brood includes early risers, head to Belmont for breakfast, which runs weekend and holiday mornings. For one set low cost per person, you'll get a continental breakfast from 7 to 9:30am at the Trackside Cafe. Afterward, you'll be able to take a free tram ride through the stable area for an up-close view of the horses. Kids can also see a demo of how the horses are loaded into the starting gates before the races begin.
Family Fun Days
On Family Fun Days, you get a lot more than races and it's all free with admission. Since Belmont has a pretty liberal policy concerning what you can bring inside, you can pack lunch and head to the Belmont Backyard, where you'll find a picnic area and an array of family-friendly entertainment. Bouncy houses, a petting zoo and carnival-style fun are all on tap, and you can watch as the horses stroll from the paddock area toward the main track, wearing the colors of their owners. There's also a playground to romp in. Family Fun Days don't occur every weekend, but the next one is Mother's Day, May 10. Memorial Day on Monday, May 25, Father's Day on Sunday, June 21 and Saturday, July 4 are also Family Fun Days. Check the website for more details.
Play Dress Up
While not a requirement, the horse-racing crowd traditionally tilts toward formality, so if you really want to get into a day at the races, don your Sunday best and top it all off with an ornate hat! The Belmont Stakes is a particularly fancy affair, and there are certain eateries within the track that do have dress requirements.
Belmont Park hosts a full season of races through Sunday, July 19. Live races are held five days a week, Wednesday through Sunday, with Monday and Tuesday generally off days. Belmont also runs a fall meet from Friday, September 11 through Sunday, November 1. It's located at 2150 Hempstead Turnpike, Elmont, NY on Long Island. If your family is car-less, like mine, getting to the races is pretty easy thanks to the various modes of public transportation. One 45-minute train ride out of Penn Station and you're just steps from the entrance. You can also get there by taking a local bus, or the subway and then a bus. General admission is $5 per person. However, on Belmont Stakes day, that jumps to $15.
For more springtime activities, check out our Spring Fun Guide.