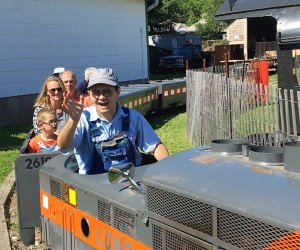 6 Destinations for Train-Obsessed Kids on Long Island
All aboard! If your little one loves trains (and what kid doesn't?), you're in luck because Long Island is home to some of the coolest places for kids who want to explore everything about them. From model trains to small-scale rideable trains and even historic train cars, there's something for every enthusiast here. Kids young and old can get hands on and learn all about trains as well as the history of railroads on Long Island. For models and miniatures, check out some local model railroad clubs at FREE open house events held several times a year.
Don't forget, you can always take a quick excursion on the Long Island Rail Road, where kids 4 and younger ride for FREE. Some sites below are open seasonally, so be sure to call or check the location's website before heading out.
And if your child loves learning, why not check out these historic sites on LI sure to delight children. Or visit an outdoor classroom, where natural history springs to life. For more fun in the area, check out our Long Island Events Calendar.
Long Island Live Steamers — Brookhaven
Touted as one of Long Island's best-kept secrets, Long Island Live Steamers offers children rides on miniature steam trains along four tracks that run through acres of wooded trails at Southaven County Park. Public run days are held on the second and last Sundays of every month from May through October. Tickets are required to ride, and while it's FREE, donations are appreciated.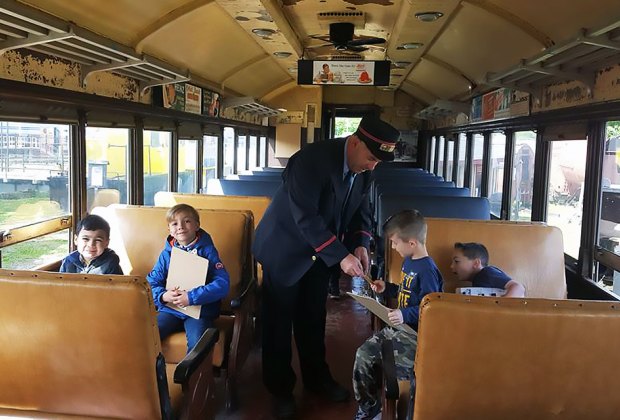 Kids can climb aboard real train cars at the Oyster Bay Railroad Museum. Photo courtesy of the museum.
Oyster Bay Railroad Museum — Oyster Bay
Dedicated to restoring historical railroading equipment, including a turntable and the last steam engine to run on Long Island, this museum invites kids to learn by getting hands on. Begin at the visitor's center in downtown Oyster Bay and wander over to the train yard to climb aboard a 1920s wooden caboose, a historic mail car, and Locomotive #35, among others. The museum is currently restoring the Oyster Bay railroad station, which served as President Theodore Roosevelt's stop when visiting Sagamore Hill.
RELATED: Family-friendly hiking trails on Long Island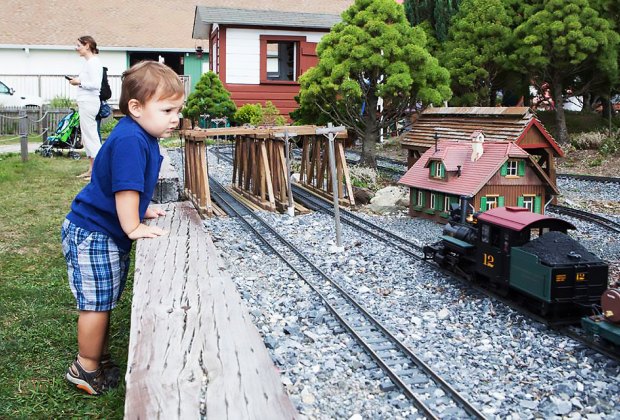 Thrill to the model trains at the either of the Railroad Museum of Long Island's East End locations. Photo courtesy of the museum.
Railroad Museum of Long Island — Riverhead and Greenport
416 Griffing Avenue, Riverhead
Fourth Street, Greenport
Discover rail history at the Railroad Museum of Long Island. At either site, visitors can explore the 1964-65 World's Fair Long Island Rail Road Part Train, a Lionel historic layout, and a 1960s Pullman Standard coach car. Visitors also have the opportunity to ride a scooter train between the two sites. The museums are open Saturdays from 10am to 4pm. Admission is $7 for adults, $4 for children 5 and older. Children 4 and younger are FREE.
Wantagh Museum — Wantagh
The Wantagh Museum features historic trains, including a 1912 Jamaica Railroad car with a solarium, cooking facilities, and ice-cooled air conditioning. The museum also has a 1904 train station to tour, and hosts the original Wantagh Post Office, circa 1907. The museum is open every Sunday from 2pm to 4pm April through mid-November. Donations are appreciated.
Model train clubs
Private model train clubs host open-house events several times a year, where everyone can glimpse the intricate layouts.
Long Island Model Railroad Engineers — Medford
If your child is into model trains, the Long Island Model Railroad Engineers clubhouse is a great place to explore. The club, which promotes model railroading as a hobby, hosts several FREE open houses each year. Mark your calendar for 2018 open houses on November 3-4 and December 1-2.
RELATED: 15 LI state parks worth a visit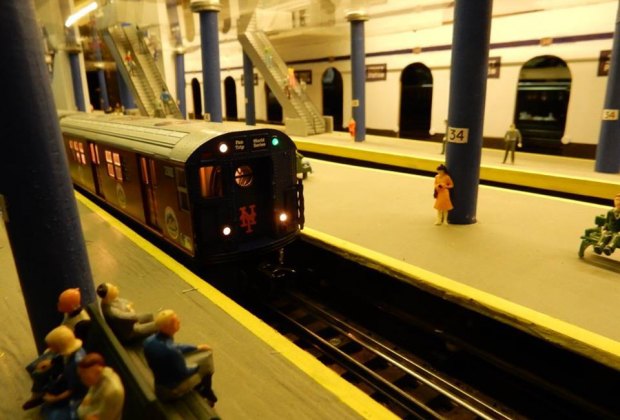 Kids will be amazed by the miniature underground subway system at the TMB Model Train Club. Photo courtesy of the club.
TMB Model Train Club — Farmingdale
Visitors can take in the 4,000-square-foot model railroad complete with a logging line, New York City area waterfront, and underground subway system. Marvel at the detail of this train layout that was featured in an episode of the television show The Sopranos. Open-house events for 2018 are scheduled for the weekend of November 24-25 and December 8-9. Admission is FREE.
This post was originally published in 2015. It was updated in May 2018.