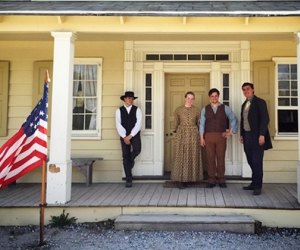 7 Long Island Historic Sites That Kids Will Love
History is plentiful here on Long Island, you just have to know where to find it. Famous residents have included poets and presidents, and there is no shortage of Gold Coast mansions and military installations as well. This all adds up to an impressive roster of historic sites, many which offer great photo opportunities and fun for kids.
For more educational spaces on Long Island, check out our Museum Guide.
Nassau
Old Bethpage Village Restoration — Old Bethpage
Round Swamp Road,
516-572-8400
This pre-Civil War farm village is complete with original structures that were brought here from other parts of Long Island, including a church, general store, tavern, farm, shops, and homes. They host various fairs and festivals throughout the year. They also offer a junior apprentice program where kids get to dress in period clothing and learn historic hands-on lessons.
Planting Fields Arboretum State Historic Park — Oyster Bay
1395 Planting Fields Road
516-922-9210
Offering outdoor theater, a sensory garden, and school programs, Planting Fields is rich in history -- also serving as a public arboretum. Coe Hall, one of the original Gold Coast Estate, boasts self-guided tours. Family Fun Nights are scheduled throughout the year.
RELATED: Great family-friendly museums on Long Island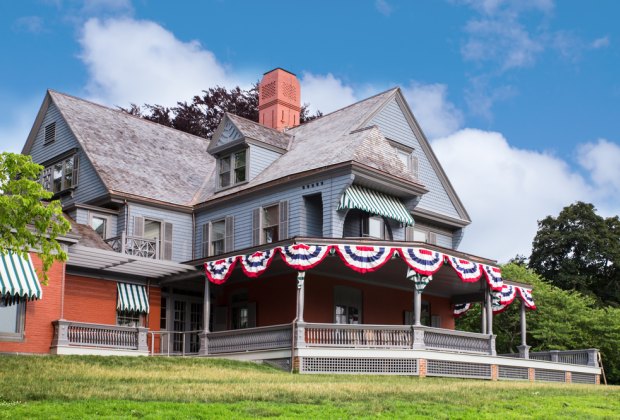 Enjoy tours of Sagamore Hill, former home of President Theodore Roosevelt. Photo via Shutterstock.
Sagamore Hill — Oyster Bay
20 Sagamore Hill Road
516-922-4792
The home that Theodore Roosevelt built in the 1880s serves as an enriching spot to visit on Long Island. Explore the natural surroundings and become inspired by the legacy of one of America's most popular presidents. Tours are offered, as well as a youth ranger activities. Picnic outdoors and stroll through the grounds to see forested areas, meadows, a salt marsh and beach. These areas are home to birds, small mammals, turtles, frogs, and insects.
U.S. Merchant Marine Academy — Kings Point
300 Steamboat Road
516-726-5800
One of five United States service academies, USMMA educates and graduates licensed Merchant Marine officers who serve America's marine transportation and defense needs in peace and war. An on-campus museum displays historic artifacts and artwork related to the academy and seafaring. The grounds boast sweeping views of the Long Island Sound. Bring a camera!
Suffolk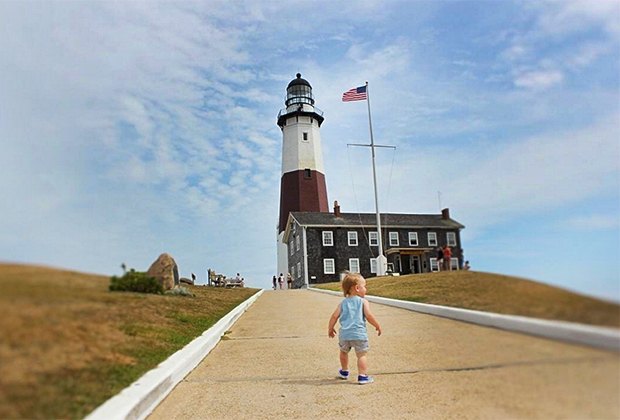 Enjoy the gorgeous view at the Montauk Point Lighthouse. Photo by erin1rowell via Instagram.
Montauk Point Lighthouse Museum — Montauk
200 Montauk Highway
631-668-2544
Completed in 1796, Montauk Point is the oldest lighthouse in New York State. Climb the seemingly countless steps to the top of the peak. Note: Children must be at least 41" to climb the lighthouse stairs. During the holiday season, the lighthouse is adorn in colorful lights.
RELATED: Nature centers sure to delight LI kids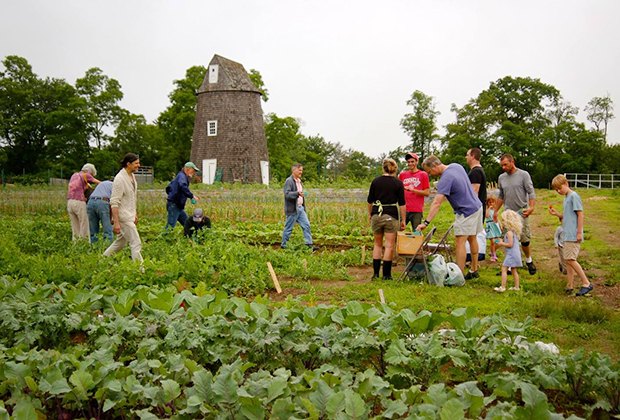 Learn all about planting at Sylvester Manor. Photo courtesy of the manor.
Sylvester Manor— Shelter Island
80 North Ferry Road
631-749-0626
This historic plantation features an organic farm and vibrant education center. Children will be in awe of the 19th-century windmill (in the process of being restored to working order) and events include tours, agricultural celebrations, and summer youth programs. The annual Farm & Sing Festival brings Long Islanders together to harvest fall crops and sing and dance.
Walt Whitman Birthplace State Historic Site — Huntington Station
246 Old Walt Whitman Road
631-427-5240
The birthplace of American poet Walt Whitman is on the National Register of Historic Places. Built in 1819, some of the 19th-century furniture has been preserved. Guided tours include an educational film. Children's crafts and kid-friendly activities are scheduled throughout the year.