Visit Port Washington: A Family-Friendly Long Island Haven
3/20/18
- By
James Smith
It sits on a harbor and is named after a president. But Port Washington is not Port Jefferson.
You won't find in Port Washington ferry access to New England or a celebration of Charles Dickens each holiday season. Those belong to Port Jefferson, of course, the more popular tourist destination of Long Island's two North Shore "ports." But if you want a kid-friendly maritime lifestyle a half-hour or so from Manhattan, Port Washington is a Nassau County delight.
To the uninitiated, Port Washington sits on one of the northernmost peninsulas in the Town of North Hempstead. It's bordered on the south by Manhasset, Plandome, and Flower Hill. To the west lies Manhasset Bay and to the east is Hempstead Harbor. Both funnel to Long Island Sound, due north of the village, giving the community a true maritime sensibility.
The community of Port Washington is actually comprised of five villages. There's the namesake, Port Washington village, but there's also Baxter Estates, Manorhaven, Port Washington North, and upscale Sands Point. The school district features five public elementary schools and Paul D. Schreiber High School.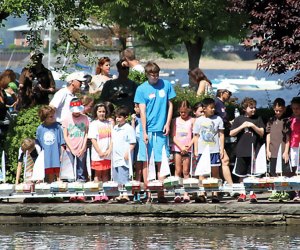 The downtown model boat regatta is a highlight of Port Washington's HarborFest each June. Photo courtesy of Port Washington Guide
However, what draws many to the community is its proximity to Manhattan, fed by the Port Washington branch of the Long Island Rail Road. In less than 40 minutes, eager commuters can travel from the Main Street LIRR terminal to Penn Station, and several trains service the line each hour. But "Port," as the locals know it, is about more than commutability. A family-friendly vibe resonates among residents and visitors alike, punctuated by the community's annual HarborFest on the first weekend of June.
Port Washington celebrates the arrival of summer with enthusiasm perhaps unmatched by any other Long Island community. But if you believe it's just a seasonal community, think again. There's plenty to do and see here all year round.
RELATED: The best parks in Nassau County for kids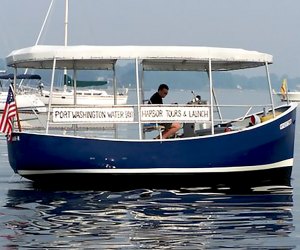 Enjoy a water taxi ride through Port Washington harbor. Photo courtesy of Port Water Taxi
What to do
How many Long Island communities boast water taxi service? Port Water Taxi does robust business shuttling mariners back and forth to their boats moored in Manhasset Bay. But from April on, the fleet offers scenic and inexpensive tours of the harbor perfectly suited for young "skippers." Many a young Port resident has graduated from water taxi fascination to classes at Port Sailing School, whose summer camps attract novices from both sides of the Sound.
No kidding. The organization's two-week summer camps sell out quickly. That's how deeply tied Port Washington is to the water. From May through November, the town dock on Lower Main Street is home to fishermen eager to challenge themselves against the fluke, flounder, bluefish, and bass that populate the harbor. Young anglers are always welcome.
That same harbor was the site of the first-ever fixed-wing trans-Atlantic airline service. In 1939, before ground was broken for Kennedy Airport, Pan Am flying boats took off for Lisbon, Portugal and other European destinations, A walk around the harbor is a window into the history of aviation sure to delight any wannabe pilot.
RELATED: Guide to Nassau County summer day camps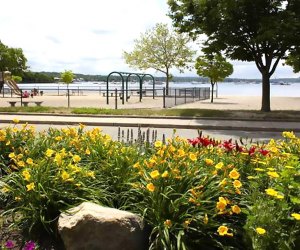 Nature delights at Manorhaven Beach Park. Photo courtesy of the Town of North Hempstead
For kids who prefer their enjoyment on dry land, Port Washington boasts a number of community parks, including Manorhaven Beach Park and Blumenfeld Family Park on Main Street. Manorhaven offers beach access to Town of North Hempstead residents, as well a town pool, playground, tennis courts, and more. Blumenfeld is next door to the Landmark on Main Street performing arts theater, which boasts a year-round calendar of children's programming. Blumenfeld hosts the community's holiday celebration in December. In the summer it transforms into a sprinkler park for residents and visitors alike; it's gentle sprays are especially popular with the toddler set.
The waterside North Hempstead Beach Park, a Town of North Hempstead facility, is open to nonresidents willing to pay the daily fee. With that comes access to boat ramps, basketball, handball, and volleyball courts, stand-up paddle boarding, picnic areas, concert stages, and bathhouses. Arrrive early on summer weekends.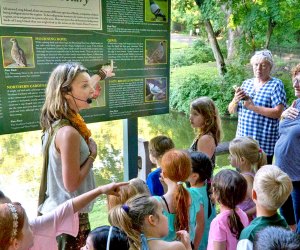 Enjoy an educational nature walk at Sands Point Preserve. Photo courtesy of the preserve
Along Route 101, Port Washington's primary north-south access road sits Sands Point Preserve. Scientifically inclined kids will appreciate the nature conservancy, mini-planetarium, and after-school programs. Is your child more of an outdoorsman? Enjoy regular nature hikes, an outdoor classroom, and a host of wellness programs. P.S.: There's even a dog park at the preserve just in case you want to bring your "best friend" along.
RELATED: Bowling with kids in Nassau County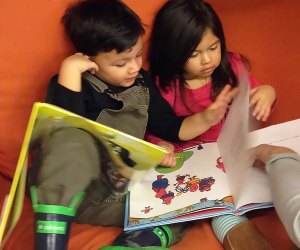 Curl up with a book at Port Washington Library. Photo courtesy of the library
From high atop a hill on Main Street, Port Washington Library stands watch over the community like a medieval castle. The library owns one of Long Island's largest book collections and historical archives, and its children's center hosts early-childhood and teen/tween programs, school vacation camps, and more. A recent renovation added even more space to the children's center.
In fall and winter, the community's indoor ice rink is a favorite choice for public skating and pickup hockey. Port Washington Skating Center holds public skating clinics during school vacation weeks.
That's surely enough to fill a day or two, but just in case …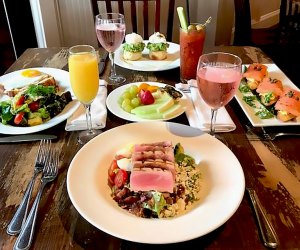 Louie's Oyster Bar and Grille has been serving Port Washington since 1905. Photo courtesy of the restaurant
Where to eat
Port Washington is not the place to go for "chain" dining. Mom and pops abound in this time-warp town. Some of the best for kids include Salvatore's Coal-Fired Pizza; Indian food at Diwan; and Harbor Q for, you guessed it, old-fashioned barbecue. All three places are on Shore Road, the main connector between downtown Port Washington and Manorhaven.
Finn MacCool's on Main Street is a Port landmark and an homage to the community's Irish heritage. Farther west on Main Street is Ayhan's Corner, where Mediterranean aromas cascade from three separate restaurants.
Waterside dining can be found at Louie's Oyster Bar and Grille at the harbor, while DiMaggio's on Main Street serves up Italian food with a seafood flavor.
Looking to start your day? Let There Be Bagels on Port Washington Boulevard is a community institution, just be prepared for a line outside the door on weekend mornings. Schmear Bakery and Market on Main Street is a Brooklyn-style coffee roaster and bakery, while the Harbor Deli, also on Main, is a popular choice for locals.
RELATED: Family-friendly activities in nearby Garden City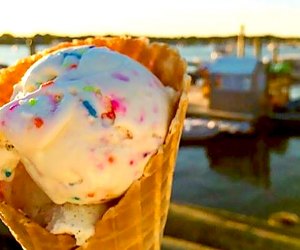 What's better than a waffle cone at Sweets and Treats on the Wharf? Photo courtesy of the restaurant
Sweet treats
Saint Honore Pastry Shop on Port Washington Boulevard earns high marks from many review sites. And why not? Its artisan chocolate and baked goods delight locals. Nearer to the harbor is Sweet Treats on the Wharf (also knows as Douglas and James') for homemade ice cream. Port also boasts franchises including Baskin-Robbins and Carvel, but health-conscious families might consider 16 Handles for yogurt and Ralph's Famous Italian Ices (open seasonally).
Getting there
Here is the beauty of Port Washington. The village is the terminal station on the Long Island Rail Road's Port Washington branch, so NYC dwellers can escape to the suburban oasis in 40 minutes. Be mindful, however, Port is quite hilly and, some say, not stroller-friendly. If you're driving, take the Long Island Expressway to Exit 36 (Searingtown Road). Follow Searingtown north into Port Washington (Searingtown is renamed Port Washington Boulevard at the village line). Couldn't be easier, right?