Best Sprinkler Parks and Splash Pads on Long Island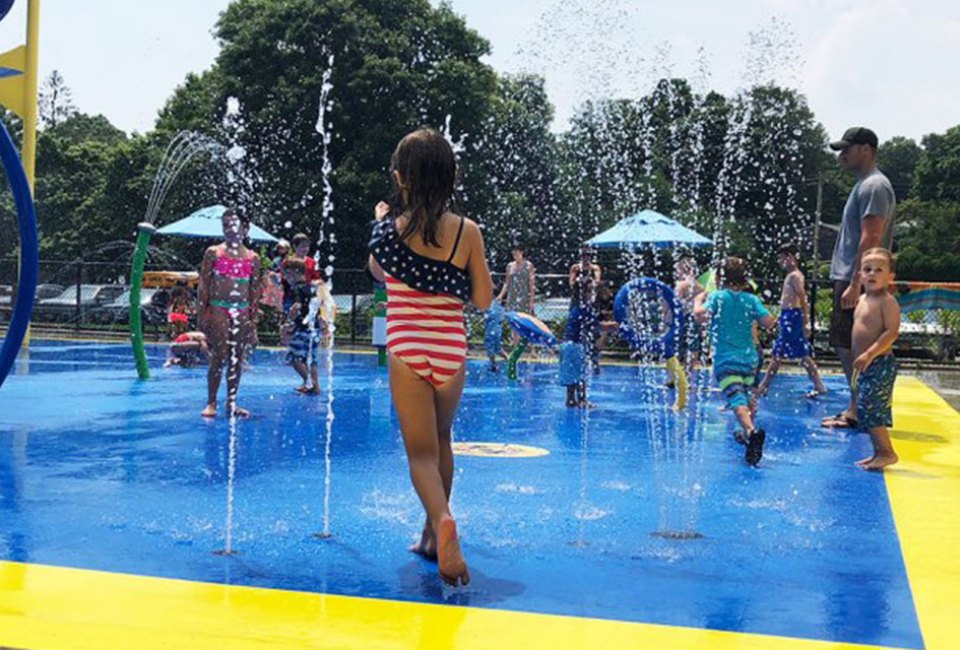 6/4/23
- By
Thien August
Hitting up a sprinkler park or splash pad on Long Island takes a lot less preparation than a trip to the beach: Just add sunscreen and let the adventures begin. They hit the spot, too, since there's nothing like jumping through a sprinkler to cool off.
For other seasonal, kid-friendly activities, check out our Ultimate Long Island Kids Summer Vacation Guide, which includes our recommendations for the best beach playgrounds on Long Island.
Subscribe to our newsletters to get stories like this delivered directly to your inbox.
Public Splash Pads on Long Island
1. Bay Park – East Rockaway
Bay Park combines a playground with its sprinkler area, so there's no need to dry off or change between splashing and climbing on the monkey bars. The playground, pool, and picnic areas are in great condition after upgrades in recent years. FREE
The splash pad at Clark Street playground sits on a rubber surface, so even the youngest kids can join the fun. Rings spray out water that kids can run through. Water sprays from above, and fountains shoot up. Aqua shoes are optional but handy to have when kids want to go from the sprinklers to the playground. The adjacent playground is popular, too, with its modern equipment, rope climbing tower, and shady benches and tables. FREE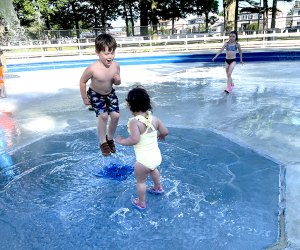 Run through the splash pad at Eisenhower in Field 2.
Field 2 of Eisenhower Park offers a playground with a sprinkler area and a splash pool. Enjoy the park's other amenities and then cool off in the sprinklers when temperatures rise. FREE
RELATED: Best Pools on Long Island Open to All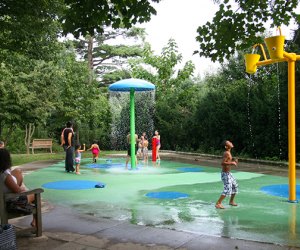 The interactive sprinkler park at Blumenfeld Family Park is a kid-friendly addition to Port Washington's downtown. Photo courtesy of the Town of North Hempstead
The spray park area at Blumenfeld Family Park is on the smaller side, but it keeps kids entertained and cooled off during an afternoon visit. Sprinklers require kids to push buttons to start the water spray. The giant mushroom fountains are large and ready to douse kids with a cascade of water. FREE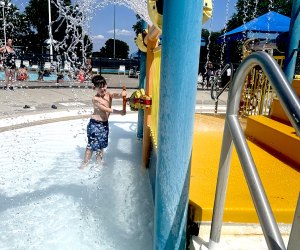 Wheels control water pressure coming out of the pipes at Cantiague Park.
Cantiague Park is a one-stop park that has it all. The swimming facility includes a kiddie pool and an interactive sprinkler play area for younger kids. There's an Olympic-sized pool, diving pool, and two water slides for older kids and adults. Fees vary for Nassau County residents and nonresidents but are generally $6-$20 per child and $10-$25 per adult.
The pool complex in Centereach has a big, twisting water slide that older kids enjoy. The sprinkler area is perfect for younger children and includes arch sprayers, a dumping bucket, water spouts, and a tractor that spouts water. There are plenty of lounge chairs within the pool area. Fees for Town of Brookhaven residents range from $4-$7. The fee for nonresidents regardless of age is $15.
RELATED: Exploring the Ocean Parkway Coastal Greenway on Long Island's South Shore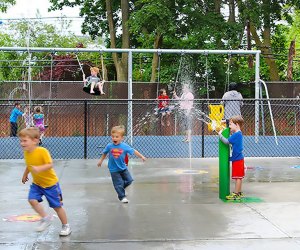 The state-of-the-art splash pad at Children's Park in Rockville Centre includes smart playground compatibility. Photo by Natalie Ferro Aurigema
The Children's Park is a state-of-the-art facility that includes a user-activated splash pad that shuts down when not in use. Seven spouts blast water throughout the play area, which is situated next to a smart playground, where children and adults can download apps on their smartphones and tablets to enjoy stories and activities. The park is open to the public. FREE
This 35-acre park offers a splash pad, as well as roller and ice hockey rinks. While the sprinkler area is basic, it doesn't take much for kids to have fun—just add water. FREE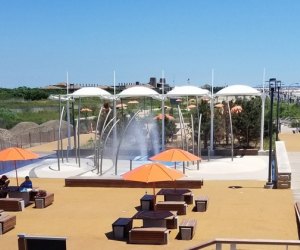 Jones Beach has it all—a splash pad, beach, WildPlay, and a pool. Photo by Rebekah Yahoves
Designed to look like blades of grass blowing on a dune, this splash pad is a perfect addition to Jones Beach. Located next to the Boardwalk Cafe, its convenient location makes it an easy stop during a beach day. Kids push buttons that shoot water out of the large, blade-like structures, and the water sprays for 6 minutes. When another child presses the button, the water comes out in a different pattern. Access to the splash pad is FREE, but parking at Jones Beach is $10 for those without an Empire Pass.
The swimming complex at Wantagh Park includes an Olympic-sized pool, kiddie pool, training pool, two large water slides, and a spray pool. The spray pool's multilevel structure has many interactive elements to keep kids busy, but the pool is just 1-foot deep. Fees for Nassau County residents range from $6 for children ages 4-17 to $10 for adults 18+. A Nassau Leisure Pass is required to receive the resident rate. The nonresident fee is $20 per child and $25 for adults. There is also a $10 parking fee for nonresidents.
RELATED: The Best Beach Playgrounds on Long Island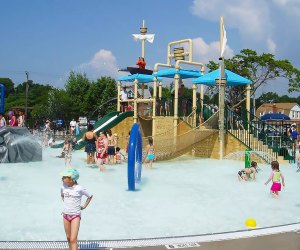 Enjoy pirate-themed water fun at Shipwreck Cove Spray Park. Photo courtesy of the Bay Shore Chamber of Commerce
Located next to the marina, Shipwreck Cove Spray Park is ideal for cooling off on a summer day. There's a large play structure with several slides, sprayers, and a rope climb. The giant dumping water bucket sends kids into a frenzy every time. The pool is shallow, so it's perfect for toddlers. Costs: $8 for residents with an annual recreation card; $12 per person for Town of Islip residents without a recreation card; nonresidents pay $25.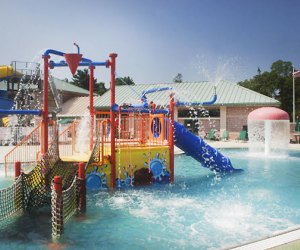 Town of Babylon residents can cool off at Phelps Lane Park's interactive spray pool. Photo courtesy of Town of Babylon
Resident-Only Splash Pads on Long Island
Phelps Lane Park offers many amenities to Town of Babylon residents. There is a pool with two water slides, a concession area, lounge chairs, and, of course, a sprinkler pool. The sprinkler pool has a large play structure with a rope bridge, water slide, dumping bucket, and more. There is also an umbrella waterfall where younger kids can play. It is limited to Town of Babylon residents with a pool plan. Residents without a pool plan can pay $7 for entry.
The sprayground was updated after Superstorm Sandy, complete with a new snack shack and a separate picnic area near the sprinklers. The sprinkler area has low-depth water with spray arches, dumping buckets, and always-popular water cannons. Seasonal stickers are for residents only and cost $60. Daily passes are $20; a Town of Oyster Bay resident must be present in the vehicle and show a driver's license.
RELATED: 100 Things to Do With Kids on Long Island Before They Grow Up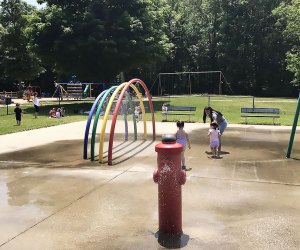 Kids will be thrilled to explore the rainbow arches at the sprinkler park at Hoyt Farm Nature Preserve. Photo courtesy of Hoyt Farm
Hoyt Farm is nestled in a nature preserve that features farm animals, walking trails, two playgrounds, and a sprinkler park that's open in the summer. The sprinkler park has multiple sprayers, rainbow arches that kids can run through, and dumping buckets. It is limited to Town of Smithtown residents with a residency sticker.
This sprayground features lots of interactive play for kids. Little ones can use point-and-shoot cannons or push-activated buttons to spritz water. Kids can also dash through a series of rings for a car wash effect. Starting June 28, 2023, children with special needs have exclusive use of the spray park from 10-11am Tuesdays, Thursdays, and Saturdays. The park is open to Town of Huntington residents with resident recreation photo ID cards and their guests.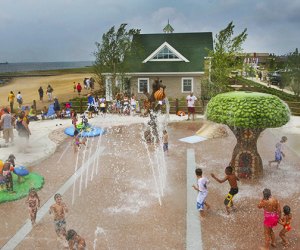 It's wet-and-wild fun for all ages at Tanner Park's interactive sprinkler park in Copiague. Photo courtesy of the Town of Babylon
This interactive sprinkler park is part of a large complex right on Great South Bay. The sprinkler area has plenty of sprayers, as well as a tree that spouts water and a mini water slide. The playground at Tanner Park is huge and also worth a visit. Use is limited to Town of Babylon residents with a recreation permit.
One of the newer splash pads on Long Island, Geiger Park's sprinkler area features a tree-of-life theme. Bridges connect two large, artificial trees with water slides and climbing structures. More than 20 play elements keep kids entertained, including water cannons, spider and snake water-play features, spiraling slides, and an area for smaller kids. Entrance is limited to Town of Babylon residents with a pool plan; a $5 resident entrance fee is required without the pool plan.
RELATED: The Best Beaches for Families on Long Island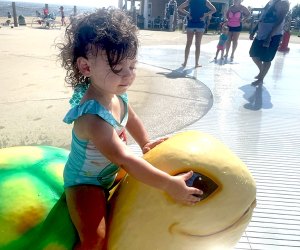 Dump buckets and fish friends are some of the fun at Venetian Shores Park.
Venetian Shores Park sits on Great South Bay. The sprinkler area is right by the beach, so kids can enjoy the best of both worlds on a hot summer day. When kids are done playing on the two playgrounds, they can splash around in the sprinkler park with water cannons, a water-spraying octopus, dumping buckets, and a mushroom waterfall. The facility is open to Town of Babylon residents who have a recreation permit. 2023 UPDATE: Venetian Spray Park, which is currently undergoing a $1.5 million renovation, will open by the end of July. The Town's other two spray parks, at Tanner and Geiger parks, will open on June 24.
A version of this article was first published in 2014. Additional reporting by Gina Massaro.
Unless noted, photos by Gina Massaro
Sign up for the Mommy Poppins Newsletter today!