Renovated Playground With a Spray Park Opens in Rockville Centre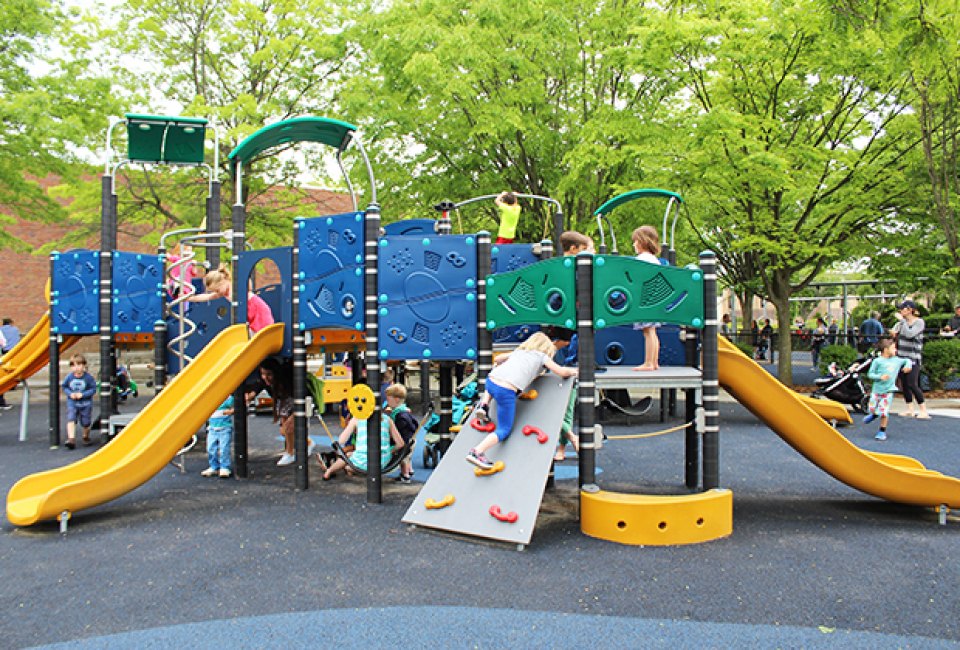 6/4/17
- By
Natalie Ferro Aurigema
After a long winter, Long Islanders are finally getting some vitamin D thanks to rising temperatures and clearing skies. One way to celebrate the change in seasons is to visit the newly renovated and reopened playground at the Rockville Centre Recreation Center.
One of the most anticipated new features is a spray park Long Islanders, or for that matter, anyone, can use to beat the heat this summer. Other new features that bring life to the park include swing sets and additional playground structures to rival the best family playgrounds on Long Island.
Check out our Parks and Playground Guide for LI Families or our guide to water parks and amusement parks for other ways to enjoy the warm weather and the outdoors.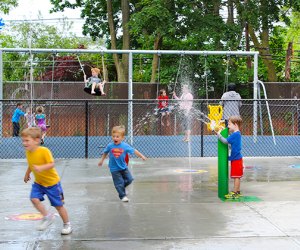 Seven spouts circulate water at the sprinkler area.
The spray park at the Rockville Centre Recreation Center, inside Veterans Park, goes way beyond a sprinkler. It has seven circular spouts that shoot water up and down, captivating little kids. Spouts are activated by the push of a button so they are on only when people are there to use them.
A separate area features a Smart Playground, where children and adults can download apps on their smartphones and iPads to enjoy stories and activities. The colorful, themed castle structure includes two fairy tales, The Ugly Duckling and The Little Mermaid. By scanning the QR codes on the side of the apparatus and downloading the company's play gate app, visitors can enjoy augmented-reality, fairy-tale read-alongs and learning games.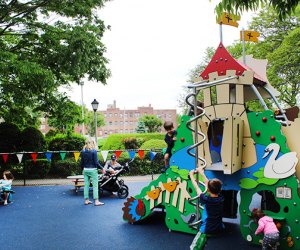 Enjoy the fairy-tale themed smart playground area.
The company that makes the Smart Playground says the fairy tales were added to spark role-play and imagination. In addition, they promote children's development, health, learning, and social interaction. The smart area also includes two mini-slides, a corkscrew climber, and work wall. The slides come down from the ship side. On the balcony on the other end of the structure, children can descend another corkscrew pole from the top of the castle.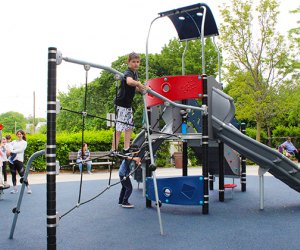 Thrill to the the slides and the climbing netting.
Other new additions include two separate swing sets with bucket seats, spinner bowls, and a two-slide contraption with a plastic climbing wall and netting. A rubberized safety surface around the play structures was added and shrubbery was trimmed.
The multi-tiered, blue-and-yellow climbing structure is the only apparatus that remains intact from the old playground. The light blue whale, a popular feature from the old playground, also remains but was moved to the north side of the area to make way for the spray park.
Top photo: The renovated park on North Oceanside Road welcomes all. Photos by the author.
Places featured in this article:
---
Rockville Centre Recreation Center

Sign up for our free
newsletters.
Mommy Poppins is a family activity website that helps people find things to do with kids.
©
2023
MommyPoppins. All Rights Reserved.
mp-prod4-v4.32.99
Sign up for the Mommy Poppins Newsletter today!
i