Historic Richmond Town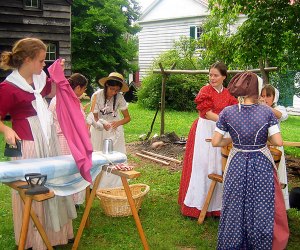 This village and museum complex occupies 100 acres of living American history, as Richmond was the first town in Staten Island. There are 15 restored buildings, including the oldest Church on Staten Island, the first Court house on the island (which now serves as a museum), an old school house and an old print shop (remodeled, from 1860) that has an original printing press. There's the Rezeau-Van Pelt Family Cemetery, which has graves dating back from the 1780s to the 1860s, a jailhouse, farm and a (seasonal) restaurant where you can eat foods from the time period. Oh, and the entire staff is always in period-appropriate attire, too.


In addition to all these walk-through history lessons, there are interactive activities for kids, like candle making and churning butter, which every local child has done at least once.
In the fall, the Richmond County Fair is in town. It is a 3-day festival with local vendors, carnivals, pig races, children's games and pie eating and other contests. During the year, the area also puts on several events like flea markets, holiday festivities and harvests. Check the website before you plan your visit for upcoming events and information on guided tours.
The grounds' only bathrooms are in the old Court house (now museum), which makes trips to the restroom a little inconvenient. It also isn't the most handicap/baby carriage-friendly, so maybe call in advance if you have to make arrangements.
How to get here
Historic Richmond Town
441 Clarke Avenue, 10306
(718) 351-1611
historicrichmondtown.org/