53 Things To Do on an NYC Staycation with Kids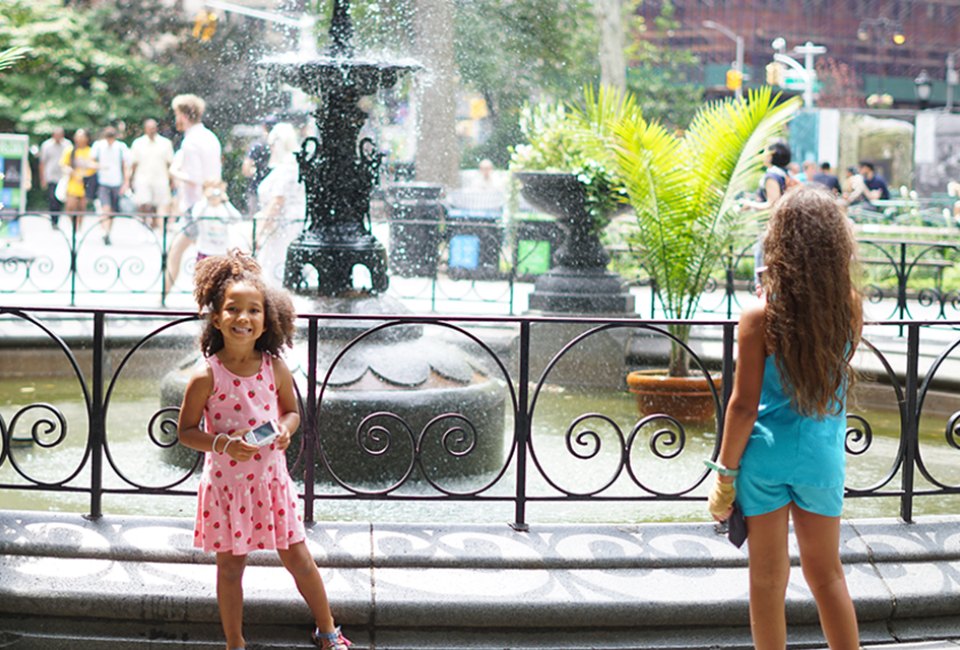 3/17/23
- By
Jody Mercier
Visitors never lack for things to do in NYC, but when is the last time you enjoyed a staycation and checked some of the city's must-dos off your list? With spring break on the horizon, you might be planning a visit to one of these family-friendly all-inclusive resorts, but if a big vacation is not in the cards, consider the glory of a staycation and let New York City provide a week's worth of entertainment.
We've pulled together this gold mine of activities for families looking to keep busy during spring break—or anytime—in the Big Apple. From exhibitions and excursions to our favorite zoos, to everyday fun in our beautiful parks and playgrounds, we've found 53 great things to do in NYC during a staycation. Find more top picks for the best NYC has to offer on our list of NYC's top attractions, plus our curated three-day itinerary for exploring our own backyard.
2. Statue of Liberty
Finally visit the Statue of Liberty and the on-site museum. Newly expanded hours for the ferry service make it easier than ever to visit.
3. Queens Zoo
Head to the Queens Zoo to enjoy the animals, aviary, petting zoo, farm, and more.
RELATED: NYC on a Budget: Cheap Things To Do and Money Saving Tips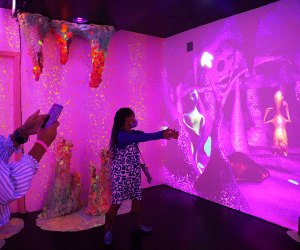 Explore over-the-top sensory fun at the Sloomoo Institute. Photo by Jody Mercier
4. Sloomoo Institute
Roll up your sleeves and get ready to get slimed at the Sloomoo Institute in Soho. This museum of slime provides plenty of hands-on, sensory fun.
5. Rise NY
See NYC in a whole new way at Rise NY, which is part museum, part immersive experience.
6. Bike Ride
Pedal down Manhattan's West Side bike path from Inwood to Battery Park City, or trek north along the Empire State Trail.
7. Staten Island Ferry
Hop aboard the Staten Island Ferry then get off and explore the neighborhood. We've found more than 50 fun things to do borough-wide.
RELATED: NYC's Best Playgrounds: 18 Spots Worthy of a Subway Schlep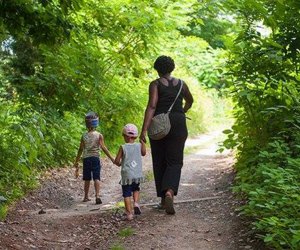 Take a walk in nature at Wave Hill. Photo courtesy of Wave Hill
8. Riverdale
Explore the family-friendly enclave of Riverdale, which is perched on the Hudson River. While you're there, be sure to visit Wave Hill, a gorgeous 28-acre public garden and culture center with extensive programming for families.
9. Queens County Farm Museum
Check out NYC's only working farm at the Queens County Farm Museum.
10. Milk & Cookies Kids Spa
Everyone needs a little self-care, and at Milk & Cookies Kids Spa you can indulge in parent-and-me treatments or just treat the kids.
11. Chelsea Market
Check out the cool, family-friendly Chelsea Market. Visit Artechouse, nosh on some tasty eats, and shop a kid-pleasers like Posman Books, Pearl River Mart, and the newly opened Economy Candy.
RELATED: Family-Friendly Guide to Museums in NYC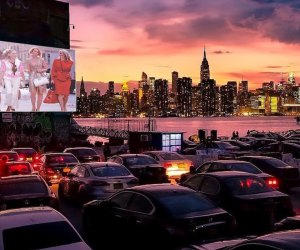 Movies have never had a better backdrop than the one at Greenpoint, Brooklyn's Skyline Drive-in. Photo courtesy Skyline Drive-In
12. Drive-In Movies
Still haven't made it to a drive-in movie? The Skyline Drive-In is going strong on the Greenpoint waterfront—no car, no problem: There's outdoor seating, too.
13. The Battery
Visit the nature-inspired Battery Playscape, which features plenty of interactive play areas, a performance space, and loads of room for kids to get their wiggles out. Make sure to save time for a spin on the enchanting SeaGlass Carousel.
14. Prospect Park
Explore all the family-friendly destinations Prospect Park has to offer.
15. Go Bowling
Visit one of these family-friendly bowling alleys in NYC for kids.
RELATED: Spring Day Trips Near NYC for Families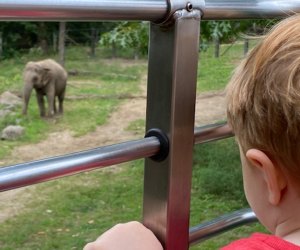 Climb aboard the Wild Asia Monorail to see the elephants at the Bronx Zoo. Photo by Julie Larsen Maher for WCS
16. Bronx Zoo
Get up close and personal with the residents of the Bronx Zoo, or explore the rest of Bronx Park.
17. New York Botanical Garden
Head to the New York Botanical Garden to explore the lovely grounds. When you're done, visit the real Little Italy: Arthur Avenue for some authentic eats.
18. Destination Playground
Find a new-to-you playground or explore one of the city's top playgrounds.
19. Museum Hop
Check out our Guide to Kid-Friendly Museums, which includes the best things to do at The Met, AMNH, MoMA, and more. We've also got details on how to score FREE admission.
RELATED: 100 Free Things To Do in NYC With Kids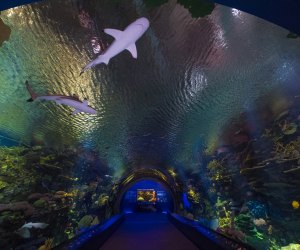 Walk through the coral tunnel to see sharks and more at the New York Aquarium. Photo by Julie Larsen Maher for WCS
20. New York Aquarium
Get face-to-face with sharks, sea lions, penguins, and more at the New York Aquarium. When you're done, stroll down the Coney Island boardwalk.
21. Brooklyn Bridge
Stroll across the mighty Brooklyn Bridge and wind your way through Brooklyn Bridge Park, with its stunning vistas, lovely carousel, and multiple playgrounds. While you're there, be sure to check out the Pier 2 Uplands.
22. Riverbank State Park
Head to Riverbank State Park where you'll find lots of recreational activities for kids and families and plenty of sports fields and courts.
23. Indoor Play Spaces
Take cover from nasty weather with a trip to one of these indoor play spaces.
RELATED: 20 Indoor Places To Play for Free in NYC

Explore the artifacts and installations at the City Island Nautical Museum. Photo by Suzy Q
24. City Island
Visit City Island for a taste of New England's shore towns without the travel.
25. Go Hiking
Walk the trails at Inwood Hill Park or explore another underrated NYC park.
26. Central Park
Go off the beaten path to explore the hidden areas of Central Park.
27. Splash Pad
Once the temperature soars—and the sprinklers spring to life—get yourself to the mega splash pad at the foot of the Unisphere.
RELATED: Petting Zoos near NYC Where Kids Can See Farm Animals

Go climbing at The Cliffs Harlem, or another local rock climbing gym. Photo by Jody Mercier
28. Rock Climbing
Go climbing at The Cliffs at Harlem, its supersized sister location in Gowanus, or one of these other family-friendly rock-climbing spots.
29. Birdwatching
Head to the Central Park Ramble to see what kinds of feathered friends you can spot. If you're lucky, you might see Flaco, the fugitive escapee from the Central Park Zoo.
30. Liberty State Park
Board the ferry for Jersey and explore Liberty State Park before venturing to one of our favorite northern New Jersey museums: the Liberty Science Center.
31. Union Square
The lovely Union Square and Flatiron neighborhoods are packed with family-friendly things to do, plus a pair of destination playgrounds, and plenty of eats.
RELATED: Best Carousels in NYC: 13 Merry-Go-Rounds City Kids Love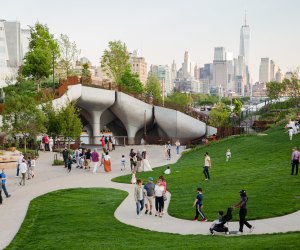 Explore the artfully engineered public park Little Island. Photo by Liz Ligon
32. Little Island
If you haven't been yet, visit the floating park, Little Island, which features a 687-seat amphitheater, plenty of space to run around, and dazzling views of the city and the Hudson River.
33. Escape Room
Visit one of NYC's many kid-friendly escape rooms where families can work together to solve complex puzzles.
34. Observation Deck
When was the last time you took in the city views from a sky-high POV? Play tourist and visit one of these observation decks for a memorable new view.
35. NYPL Main Branch
Pose for a pic with Patience and Fortitude, then dip inside to explore the halls of the Steven A. Schwarzman Building, including its Polonsky Exhibition where you can see a handwritten copy of the Declaration of Independence penned by Thomas Jefferson.
RELATED: American Museum of Natural History: Ultimate Guide to Visiting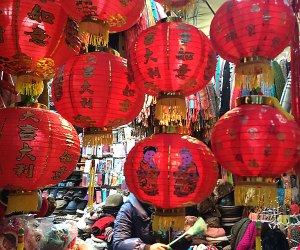 Haggle with the street vendors during an NYC staycation visit to Chinatown. Photo by Mommy Poppins
36. Chinatown
Transport yourself to a completely different world by wandering the streets of Chinatown, where you can enjoy dim sum, dumplings, ice cream, and more.
37. Eat in Little Italy
Up for a different culinary adventure downtown? Try one of these family-friendly restaurants in Little Italy. Don't forget to save room for cannoli, gelato, or both!
38. TKTS Booth
Play a little Broadway roulette and visit one of the TKTS Booths to score discounted tickets to one of our Broadway shows for families.
39. Food Hall
Taste the world in one sitting with a visit to one of these family-friendly food halls where everyone can get their favorites, and you can take a night off of dinner duty.
RELATED: Visit the High Line With Kids: Top Things To Do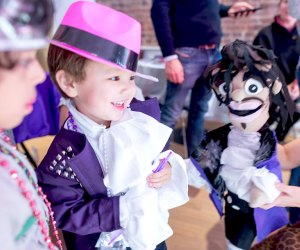 Kids can get up close to the actors at a Puppetsburg puppet show. Photo by Derek Wang
40. Puppet Show
Cheaper than a Broadway show, and aimed toward the sippy cup set, these NYC puppet theaters transport you to a fairytale destination.
41. Arcade
Teach your kids old-school games at one of these family-friendly arcades.
42. Indoor Ice Skating
No matter the temperature outside, you can find some cool fun at one of these indoor ice skating rinks in NYC.
43. Color Factory
Get to know some new hues and take a dive into the ball pit at Color Factory, the Instagrammable, treat-packed, colorful wonderland in Chelsea.
44. High Tea
Turn any day into a special occasion with high tea at one of these local restaurants.
RELATED: Times Square with Kids: What To Do Beyond the Tourist Spots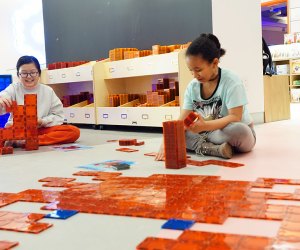 Magna-Tile lovers can build for hours at Genius Gems. Photo by Jody Mercier
45. Genius Gems
Build with Magna-Tiles, play with slime, or hit the 3D print lab at the STEM play space Genius Gems in Chelsea.
46. City Point Brooklyn
Play at Camp, peep at some public art, visit DeKalb Market Hall, and shop to your heart's content at City Point Brooklyn.
47. Mini Golf
Hit the greens at these miniature golf courses in NYC.
RELATED: Best Children's Museums for Families to Visit in New York City

Take a thrilling ride on the Roosevelt Island tram. Photo courtesy of NYCGo
48. Roosevelt Island Tram
Take the tram to Roosevelt Island, and then get off and explore all the family-friendly things to do on the lovely island.
49. Preschool Staycation
Play a little kid adventure with one of these NYC itineraries just right for little ones.
50. Chelsea Piers
From camps and classes to bowling, rock climbing, a carousel, and more, the riverfront Chelsea Piers complex offers enough things to do to fill an entire day.
RELATED: Family-Friendly Hotels in New York City with Perks for Kids

See whales, dolphins, and seabirds on a whale-watching cruise right from NYC docks.
51. Whale Watching
Set sail on the high seas in search of whales, dolphins, seabirds, and more on these local whale-watching excursions.
52. Flushing Meadows Corona Park
This Queens green space overflows with family-friendly things to do.
53. Check the Bucket List
Bookmark our list of 100 things to do in NYC with kids before they grow up and cross off one of our rites of passage.
A version of this article was first published in April 2009, but it is updated annually.
Click Here to Sign Up!
i