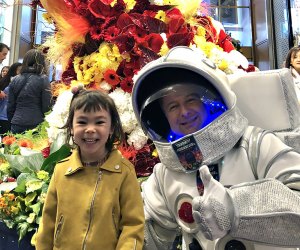 40 Things to Do on a NYC Staycation With Kids
With spring in the air and NYC public school spring break on the horizon, some parents may be dreaming of a far-flung destination. But if bank accounts or scheduling constraints make local family outings more doable, we've pulled together a gold mine of activities for families looking to keep busy during spring break—or anytime in the Big Apple. The only fare we'll be paying is to the MTA, although even that hurts with the latest fare increases set to take effect during the break.
Looking for year-round fun things to do in the city? Check out our 100 Things to Do with Kids in NYC, and of course, our always packed Event Calendar. Don't forget to peruse our NYC Museum Guide to learn about all the latest exhibits and children's museums, and wrap up your day with our guide to family-friendly city restaurants.
Sign up for our FREE newsletters to get posts like this delivered to your inbox.
1. Head to the Queens Zoo to enjoy the petting zoo, farm, nearby carousel, and more.
2. Create your own city scavenger hunt or embark on one with these creative companies.
3. Visit the Brooklyn Museum, which comes alive with the vibrant art of Frida Kahlo. Stick around afterward to explore all Prospect Park has to offer.
4. Ride the N or W subways for above-ground views of Brooklyn and Queens.
RELATED: Spring Fun Guide: Activities & Sights for Families in NYC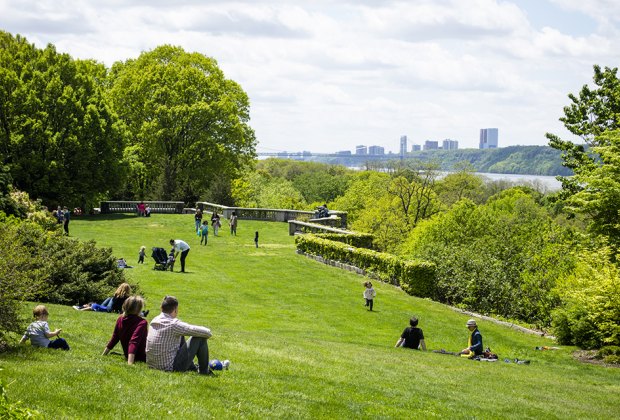 Views of the city don't get much better than Wave Hill. Photo courtesy of Wave Hill

5. Head uptown to Riverdale and spend a day overlooking the Hudson River at Wave Hill, a gorgeous 28-acre public garden and culture center with extensive programming for families.
6. Journey to Floyd Bennett Field, an old airfield turned historic center with authentic aircraft on display in a 1950s "nose-hanger."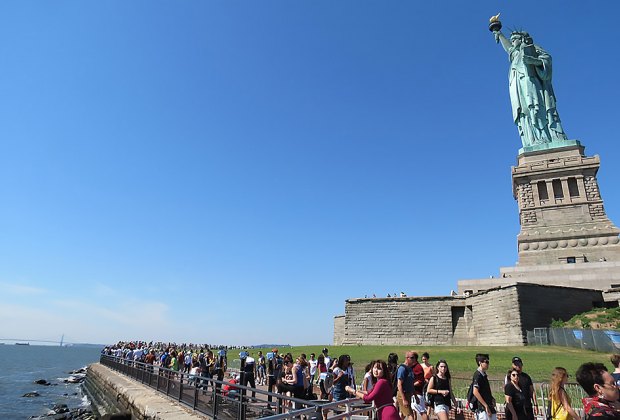 Climb the Statue of Liberty and cross one more iconic NYC spot off your family bucket list. Photo courtesy of the Statue of Liberty National Monument
7. Finally visit the Statue of Liberty (just remember to reserve those crown tickets ahead).
8. Prep for the spring season by taking some swings at one of NYC's batting cages.
9. Find a new-to-you playground or explore one of our favorite standbys.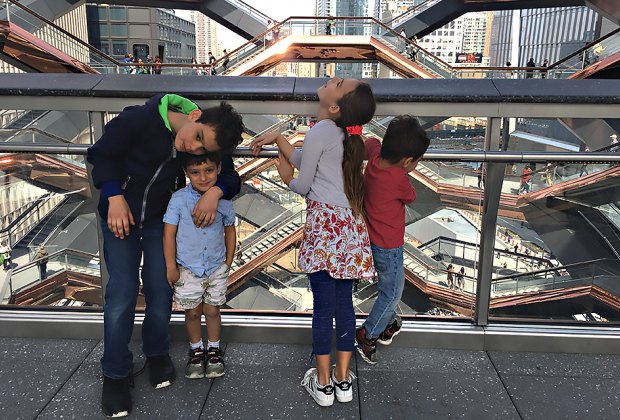 Spend an entire day exploring the amazing Hudson Yards. Photo by Mommy Poppins
10. Check out the city's newest destination neighborhood: Hudson Yards. Climb The Vessel, see interactive art, explore The Shops, and check out some new eateries.
11. Get up close and personal with the residents of the Bronx Zoo, or explore the rest of Bronx Park.
12. Have a tourists-in-the-city day, complete with dirty-water hot dogs.
RELATED: 100 Things To Do with Kids in NYC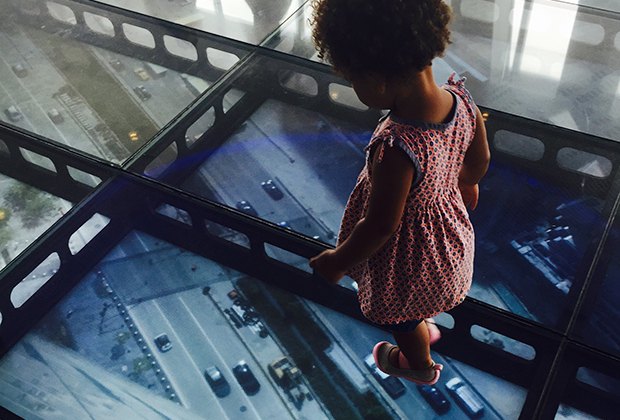 The Sky Portal at One World Observatory gives kids a new outlook on the city. Photo by Jody Mercier.
13. Brave the crowds and visit the Empire State Building or Top of the Rock. Been there, done that? Try the One World Observatory.
14. Head uptown to take in views of the Harlem River and the urban jungle from atop The High Bridge, which connects Upper Manhattan to the Bronx.
15. Ice skate year-round at Chelsea Piers' indoor rink.

Be an astronaut at the Liberty Science Center. Photo by Karen Turner
16. Plan a visit to the Liberty Science Center. From the nation's largest Imax Dome Theater to the iExplore toddler and preschool exhibit and the 12,800-square-foot interactive Skyscraper! exhibit and Infinity Climber, there is way too much here to explore in just one day.
17. Head to the Bronx or Queens to take in a major league ballgame or get a behind-the-scenes look at the stadiums.

Roam the grounds and play in the lush green grass at Brooklyn Botanic Garden. Photo courtesy of BBG
18. Marvel at the cherry blossoms at Brooklyn Botanic Garden or one of these other lush spots.
19. Walk over the Brooklyn Bridge, get ice cream, and stop for pizza at Grimaldi's, or another of Dumbo's favorite eateries.
20. Get face-to-face with the sharks at the New York Aquarium's new exhibit. When you're done, explore the Coney Island boardwalk.
21. Splurge on an indoor pool for a day.
22. Take a trek to Riverbank State Park, where you'll find lots of recreational activities for kids and families and plenty of sports fields and courts.
23. Or explore the surrounding neighborhood: There's plenty of family-friendly happenings in culturally rich Harlem.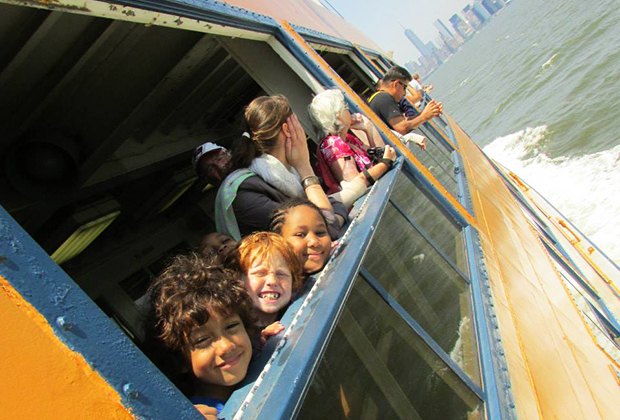 A FREE ride on the Staten Island Ferry is always a thrill for kids. Photo by Jody Mercier.
24. Ride the Staten Island Ferry and then get off and explore the neighborhood.
25. Bike down Manhattan's West Side bike path from Inwood to Battery Park City.
26. Go for a hike in Inwood Hill Park or another underrated NYC park.
27. Visit one of our favorite museums for kids, including the American Museum of Natural History with its newly opened interactive T. rex exhibition.
28. Explore the hidden areas of Central Park.
29. Snuggle with the kittens at NYC's cat cafes.
30. Spend a thrilling day exploring one of these near-New York theme parks, which are all debuting new rides this season.
31. Have dim sum in Flushing, then explore the rest of the neighborhood.
32. Enjoy the blooms at the New York Botanical Garden.
33. Bird watch in the Central Park Ramble.
34. Take the tram to Roosevelt Island and spend the day exploring.
35. Visit City Island for a taste of New England's shore towns without the travel.
RELATED: 50 Indoor Activities for a Rainy Day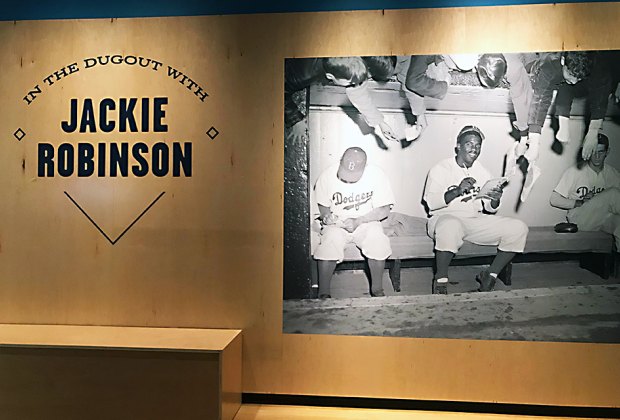 Check out In the Dug Out with Jackie Robinson. Robinson made history when he joined the Brooklyn Dodgers and became the first African American in Major League Baseball. Photo by Jody Mercier
36. Re-ignite your love affair with the Museum of the City of New York, and check out its new Jackie Robinson exhibition.
37. Try out a new-to-you sport like skateboarding, mini golf, or rock climbing.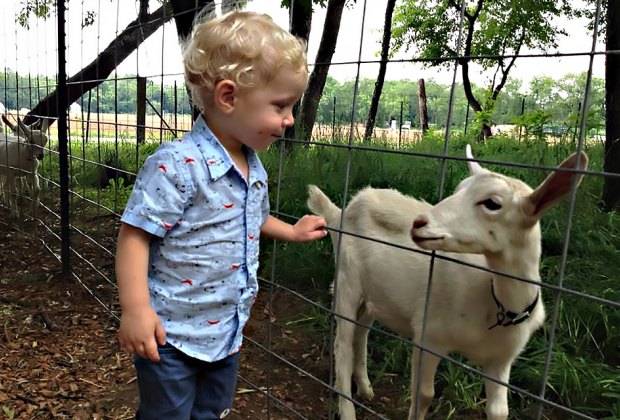 Experience sheep, hens, and other farm animals at the Queens County Farm Museum. Photo courtesy of the museum
38. Check out NYC's only working farm at the Queens County Farm Museum.
39. Take in an interactive theater show with an adventure to Pip's Island or see one of these other spring shows.
40. Head to amenity-filled Brooklyn Bridge Park for a fun-filled day and breathtaking cityscape views.
A version of this article was first published in April 2009, but it has since been updated.