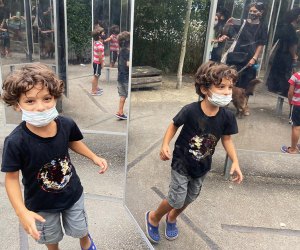 35 Things To Do During a Spring Staycation With NYC Kids
Spring is in the air and spring break is on the horizon. In a normal year, you might be planning a far-flung vacation at an all-inclusive resort. But 2021 is the year of the spring break staycation, so we've pulled together a gold mine of activities for families looking to keep busy during spring break—and beyond—in the Big Apple.
From landmark exhibitions and excursions to our favorite zoos, to everyday fun in our beautiful parks and playgrounds, we've found 35 things to do on a spring break staycation.
If a little getaway is in order, be sure to check out our list of 15 family-friendly hotels for a New York staycation, and bookmark our Spring Fun Guide for season-long inspiration.
Editor's note: While we are trying to promote safer activities that occur outdoors or with social distancing guidelines in place, please keep your family and others safe by always wearing a mask and maintaining an appropriate distance. If you arrive at a venue that appears too crowded, try using the "nearby" search feature on our Event Calendar to find something else to do. Keep in mind, many indoor attractions now require advance ticket purchases or timed-entry reservations, so plan accordingly.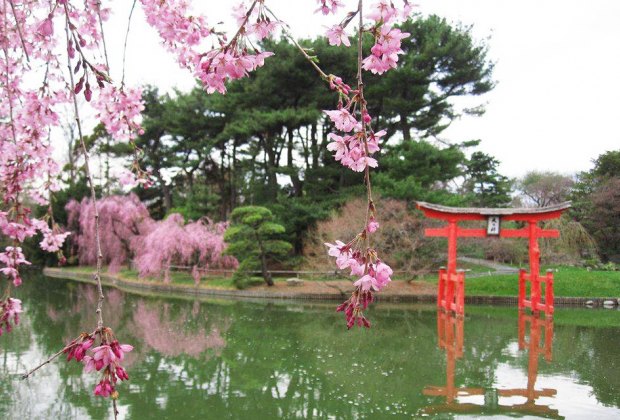 Explore the lush Brooklyn Botanic Gardens and spy the Cherry blossoms in bloom. Photo courtesy of the Brooklyn Botanic Gardens
Outdoor Adventures for a Spring Break Staycation
1. Marvel at the cherry blossoms at Brooklyn Botanic Garden or one of these other lush spots.
2. Go on a public art crawl to see Talking Heads, Electric Dandelions, and more in Lower Manhattan.
3. Head uptown to Riverdale and spend a day overlooking the Hudson River at Wave Hill, a gorgeous 28-acre public garden and culture center with extensive programming for families.
4. Finally, visit the Statue of Liberty and the on-site museum. The pedestal and crown are closed, but the grounds are open, and the views are stunning.
5. Head to the Queens Zoo to enjoy the animals, aviary, petting zoo, farm, and more.
6. Get face-to-face with the sharks at the New York Aquarium's amazing exhibit. When you're done, stroll down the Coney Island boardwalk.
7. Bike down Manhattan's West Side bike path from Inwood to Battery Park City.
RELATED: Spring Break Camps for NYC Kids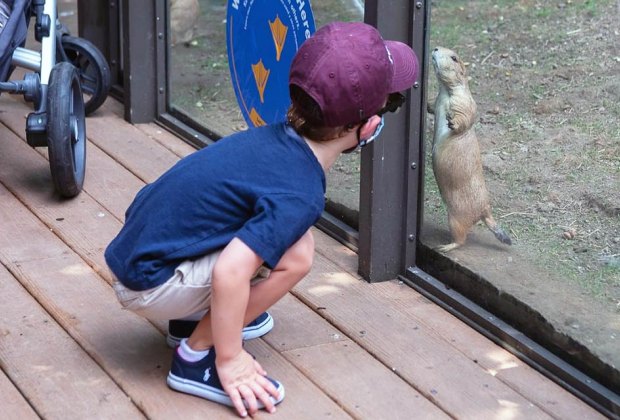 Reacquaint yourself with old friends in the Children's Zoo at the Bronx Zoo. Photo by Julie Larsen Maher for WCS

8. Get up close and personal with the residents of the Bronx Zoo, or explore the rest of Bronx Park.
9. Ride the Staten Island Ferry, and then get off and explore the neighborhood.
10. Another neighborhood with its own unique transportation: Take the tram to Roosevelt Island.
11. Visit City Island for a taste of New England's shore towns without the travel.
12. Enjoy the blooms at the New York Botanical Garden and the polka-dots too: the landmark Yayoi Kusama exhibition debuts on Saturday, April 10.
13. Check out NYC's only working farm at the Queens County Farm Museum.
14. Enjoy an alfresco meal, no heater required, at one of these local restaurants with fun outdoor dining setups.
15. Still haven't made it to a drive-in movie? The Skyline Drive-In is going strong on the Greenpoint waterfront.
RELATED: NYC's Best Playgrounds: 18 Spots Worthy of a Subway Schlep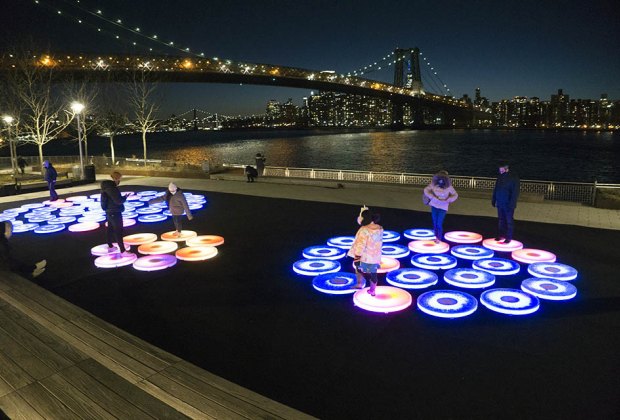 Reflect at Domino Park is fun for all ages with its light-up circles that respond to footsteps. Photo by the author
Parks and Playgrounds to Explore During a Spring Break Staycation
16. Dance over Reflect in Domino Park.
17. Explore all the family-friendly destinations Prospect Park has to offer.
18. Find a new-to-you playground or explore one of our favorite standbys.
19. Walk over the Brooklyn Bridge and wind your way through Brooklyn Bridge Park, with its stunning vistas and multiple playgrounds. Be sure to check out the newest addition, the Pier 2 Uplands.
20. Take a trek to Riverbank State Park, where you'll find lots of recreational activities for kids and families and plenty of sports fields and courts.
21. Go for a hike in Inwood Hill Park or explore an underrated NYC park.
22. Explore the hidden areas of Central Park.
23. Once the temperature soars—and the sprinklers spring to life—get yourself to the brand new mega splash pad at the foot of the Unisphere.
24. Go birdwatching in the Central Park Ramble to see if the celebrity snowy owl sticks around for a second season.
25. Keep an eye on Lincoln Center's Restart Stages, a sprawling outdoor performance venue that opens Wednesday, April 7, bringing live performances back to the arts complex.
26. Our list of family-friendly openings we can't wait for features several possible spring debuts, including the floating park, Little Island, and The Battery Playscape.
RELATED: Live Performances Return to Lincoln Center With Sprawling Outdoor Setup This Spring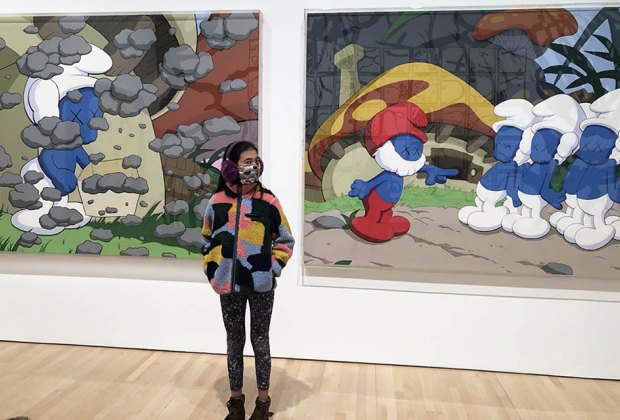 KAWS: What Party, at the Brooklyn Museum, features larger-than-life sculptures, furniture, pop art-inspired pieces, and more. Photo by Diana Kim
Indoor Things To Do During an NYC Spring Staycation
27. Visit the Brooklyn Museum, and see the larger-than-life KAWS: What Party exhibition.
28. Board the ferry for Jersey and explore Liberty State Park before venturing to one of our favorite Northern New Jersey museums: the Liberty Science Center.
29. Climb the walls at The Cliffs at Harlem, NYC's newest and largest bouldering gym, or check out one of these other family-friendly rock-climbing spots.
30. Beat a bad-weather day with a trip to one of these indoor play spaces open now, or splurge on a private play date at one of these cool spots.
31. Missing museums? Many have reopened and are offering timed-entry tickets. Check out our Guide to Kid-Friendly Museums for our top picks and details on how to score FREE admission.
32. Go for a strike at one of these family-friendly bowling alleys for NYC kids.
33. Can't wait for summer's Van Gogh exhibit? There's a cool, immersive art exhibit open now at the family-friendly Chelsea Market. Visit ARTECHOUSE and its current show, Geometric Properties.
34. May brings the return of the Macy's Flower Show, with a "Give. Love. Bloom." theme in 2021.
35. IRL performances are slowly percolating. See Puppetworks performances of Aladdin & the Wonderful Lamp, The 3 Wishes & The 3 Little Lambs, The Wizard of Oz. New York Theater Ballet presents LIFT Lab Live throughout April.
A version of this article was first published in April 2009, but it is updated annually.