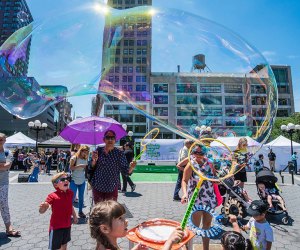 What to Do in the Flatiron and Union Square With Kids
The adjacent Flatiron District and Union Square neighborhoods are two of Manhattan's most unlikely kid-friendly areas. Even though both are filled with office buildings and chain stores, there are lots of amenities for families if you know where to look. Both boast beautiful parks with destination playgrounds, a great selection of family restaurants, and one-of-a-kind attractions like the interactive Museum of Mathematics, kid-lit haven Books of Wonder and the statue-filled Lego Store.
Because the nabes encompass less than a mile together, families can easily explore both in one day, even with a short-attention-span toddler in tow. Of course with so many things to see, do and experience in this 15-block stretch from 11th to 26th Streets between Fifth and Park Avenues, you'll probably need more than just a day to hit all our recommended stops.

It's all about kids at Kid fest at Madison Square Park. Photo courtesy of Madison Square Park
Parks
Madison Square Park
23rd to 26th Streets between Fifth and Madison Avenues
This 7-acre green space is Flatiron's hub. Nearby office workers lunch on its benches while kids romp in the colorful playground featuring climbing structures and a water play area where a spinning wheel dumps H2O from the top of a 15-foot pole as jets shoot out of the ground. The park's conservancy sponsors interactive and FREE children's activities, such as weekly kids' concerts, crafts and storytime and nature exploration in summer, hands-on art workshops that frequently complement whatever public exhibit is on view, an annual Kids Fest in fall with popular family bands, and NYC's oldest public holiday tree lighting. Even when there isn't something special going on the park is a lovely destination for a picnic on the lawn or to coo at the canines in the dog run. Note: the bathroom here charges a small fee.
OUR LATEST VIDEOS

Summer in the Square at Union Square Park dedicates Thursday mornings to kids. Photo courtesy of Union Square Park
Union Square Park
14th to 17th Streets between Union Square West and East
A town square where New Yorkers have long gathered to mark tragedy (a famed September 11 vigil) and triumph (the first Labor Day parade in 1882), this nearly 7-acre green space is a true melting pot where business folk, local and visiting families, panhandling punks, outspoken activists and vendors at the greenmarket all rub shoulders. The renovated Union Square playground is the highlight for kids. There are two separate gated areas: preschoolers can romp safely on a traditional jungle gym, while big kids get the run of the rest of the space with inventive and challenging equipment for spinning, sliding, climbing and conquering. The big draw here is the metal dome which kids like to climb as if they are on a trekking up a mountain! There's a free year-round bathroom. From June through August, the park hosts Summer in the Square, a series of FREE activities, including fitness classes, live performances and movie screenings, with Thursday mornings dedicated to kids.
Places to Play Indoors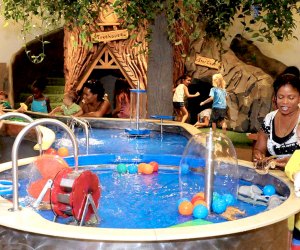 Drop in to City Treehouse to climb the two-story tree. Photo courtesy of City Treehouse
There are several indoor kid playgrounds in Flatiron and Union Square: Apple Seeds and Kidville are for members only. However, children's gym NY Kids Club (38 East 22nd Street) offers drop-in play hours, as does City Treehouse (129A West 20th Street), one of our top indoor play space picks in NYC, featuring a two-story tree house and large water table. The brand-new (and beautiful) Union Square Play Space (36 East 18th Street) hosts drop-in play, too.

Hop in the station wagon for a road trip experience at Camp. Photo by Janet Bloom
But your preschooler may be just as happy at the Lego Store (200 Fifth Avenue), which has amazing statues by Master Builders and a small lounge in back where children can make their own creations out of Legos or Duplos. Down the block, Karma Kids Yoga offers themed drop-in sessions and even a FREE storytime. For little sci-fi lovers, Space Kiddets has an amazing selection of robot toys to gawk at. The newly opened Camp store offers an amazing indoor play space as well.

If you have school-age kids, make a beeline for the Museum of Mathematics (11 East 26th Street), a two-floor institution with more than 30 interactive experiences that immerse visitors in mathematical concepts in unexpected ways. My 10-year-old has spent many afternoons here riding the Square-Wheeled Trike, dancing in front of the Human Tree motion-sensor screen and controlling the glowing robots of Robot Swarm. Preschoolers are likely to get too frustrated at this museum designed for adults and youth.
For tweens and teens, try Ping-Pong at SPiN (48 East 23rd Street) or pool at Society Billiards (10 East 21st Street). Both are swanky gaming lounges and bars that welcome minors during the day. Further downtown, you'll find both options at the casual Amsterdam Billiards (110 East 11th Street), which also has kid-friendly daytime hours.
RELATED: NYC Indoor Play Guide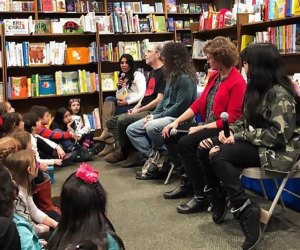 Hear readings by top children's authors at Books of Wonder. Photo courtesy of Books of Wonder
Where to Read
Legendary kid-lit haven Books of Wonder (18 West 18th Street) is a great place to snuggle up with a good read, and hosts FREE weekend storytimes and readings by top children's authors. Veteran used-and-new bookshop The Strand's weekend storytimes for tots often include a guest appearance by beloved characters like Clifford and Elmo. If your kids are too old, they can peruse the dizzying array of titles. It's a quintessential old New York experience. And families love to linger in the children's section of the Union Square Barnes & Noble (33 East 17th Street), which boasts lots of toys and floor cushions.
Where to Shop
A true shopping hot spot, Union Square Park is surrounded by chain stores, including a Children's Place (36 Union Square East). Iconic pop-culture shop Forbidden Planet (832 Broadway between 12th and 13th Streets) has a mind-boggling selection of action figures, comics, graphic novels, T-shirts, statues, art books, posters, games, and sci-fi and fantasy movie memorabilia. For fancier items head to Jacadi (911 Broadway) where you can find an assortment of sweet newborn as well as toddler clothing.

Slurp up some noodles at Wagamama. Photo courtesy of Wagamama
Where to Eat
Yes, there's a Shake Shack in Madison Square Park, and while the lines have subsided through the years given all the new locations there are still plenty of other options that should not be overlooked. Lucky for you there are lots of family-friendly restaurants around the park.
Comfort Food
Admittedly, artisanal Italian food market Eataly is perpetually packed, but it's a great option for grabbing a few sandwiches to eat in Madison Square Park directly across the street. Schnipper's Quality Kitchen (23 East 23rd Street) offers sit-down meals in a cafeteria setting. Kid-pleasers like burgers, sandwiches, salads, fries and shakes are all on the menu. You'll think you stepped back in time at Eisenberg's Sandwich Shop (174 Fifth Avenue), a Jewish comfort food spot that's been "raising New York's cholesterol since 1929." Sit at the old-school counter and watch the staff whip up tuna melts, pastrami sandwiches, lox and cream cheese, egg creams and milk shakes. Hill Country Chicken (1123 Broadway) serves its signature bird numerous ways, along with mouthwatering sides and legendary pies by the slice or in three-inch "pie cups." If the kids are more into ribs or pulled pork, try its sister restaurant Hill Country Barbecue (30 West 26th Street) a block away. For Asian cuisine, be sure to check out London transplant Wagamama—the mini chicken ramen is not to be missed!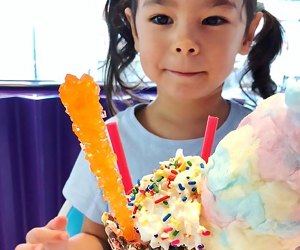 Dylan's Candy Bar will wow kids with their over-the-top desserts. Photo by Janet Bloom
Sweets and Treats
You may want to brave the hordes just to try the offerings at the Nutella Bar at Eataly, including crepes, doughnuts and waffles with the delicious hazelnut-chocolate spread. If you just want dessert, grab a scrumptious homemade doughnuts at Dough (14 West 19th Street) or go for a full sugar rush at the Union Square outpost of Dylan's Candy Bar (33 Union Square West) where you'll find a cornucopia of candy plus ice cream and fudge. And while Max Brenner (841 Broadway) has a full menu including chocolate pizza (!!), this Willy Wonka-style fantasy land is best at over-the-top desserts like a chocolate syringe that you aim right into your mouth—not a bad way to end your neighborhood tour. For an instagram worthy experience, head to the Kellogg's NYC right on Union Square North and indulge in some super flavored rice krispie treats!
A version of this story was published in 2015; it has been updated.