Union Square and Flatiron Guide: Things To Do and Where To Eat with Kids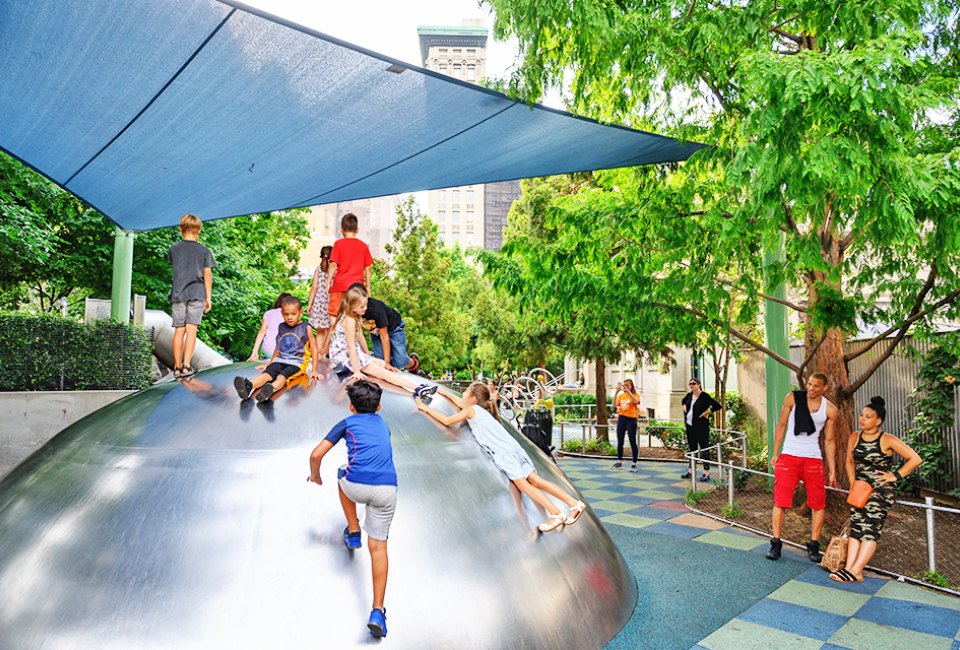 3/2/23
- By
Jody Mercier
The adjacent Flatiron District and Union Square neighborhoods are two of Manhattan's most unlikely kid-friendly areas. Even though both are filled with office buildings and chain stores, there are lots of amenities for families if you know where to look. Both Union Square and the Flatiron District boast beautiful parks with destination playgrounds, a great selection of family-friendly restaurants, and one-of-a-kind attractions like the interactive Museum of Mathematics, the foodie wonderland that is the Union Square Greenmarket, kid-lit haven Books of Wonder, the sculpture-filled Lego Store, and a very magical Harry Potter New York.
Because the neighborhoods encompass less than a mile together, families can easily explore both Union Square and the Flatiron District in one day, even with a short-attention-span toddler in tow. Of course with so many things to do, see, and experience in this 15-block stretch from 11th to 26th Streets between Fifth and Park Avenues, you'll probably need more than just a day to hit all the recommended stops in this guide to Union Square and the Flatiron District.
Find more local enclaves to explore in our Family-Friendly NYC Neighborhood Guide.
Subscribe to our newsletters to get stories like this delivered directly to your inbox.
Best Things To Do in the Flatiron District and Union Square with Kids
Open play, camps, classes, and more are offered at the 22nd Street outpost of this local chain where there is plenty of room for kids ages 5 months-4 years to romp and explore the safe, kid-sized play gym.
Gawk at the amazing creation made by Master Builders and enjoy some hands-on building opportunities. My kids can never get enough of the Minifigure kiosk.
RELATED: Best Children's Museums in NYC for Families to Visit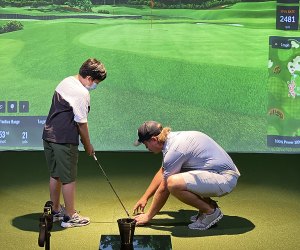 Play, practice, or host a party at Five Iron Golf. Photo by Zack Sucher
Hone your golf game at this local golf simulator. Lessons, leagues, and match play sessions are available. Nosh on kid-pleasers like chicken tenders and tater tots while you perfect your swing.
Book a bendy birthday party with Karma Kids Yoga, whose office is local, though the business caters to kids with outdoor parties in parks or your home to help you celebrate.
Kids are welcome to try their hand at pingpong at this local neighborhood hangout, which offers plenty of eats to fuel an epic back-and-forth battle.
Foosball, pingpong, darts, giant Jenga, pool, and more are available to all ages before 6pm at Amsterdam Billiards.
RELATED: 14 Fun and Offbeat NYC Stores to Visit With Kids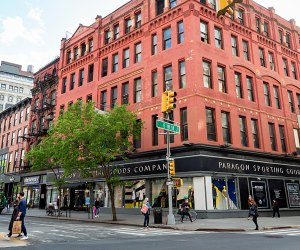 Paragon Sports is the quintessential New York City sporting goods store. Photo by Liz Ligon
No matter your sport—or your kids'—Paragon has the gear you need to get into the game.
There's a mind-boggling selection of action figures, comics, graphic novels, T-shirts, statues, art books, posters, games, and sci-fi and fantasy movie memorabilia housed here.
This swanky pool hall welcomes kids before 9pm. In addition to pool, you can play pingpong and darts.
RELATED: Top Indoor Play Spaces in New York City

Union Square Play allows babies and toddlers uninterrupted play and freedom to do their own thing. Photo courtesy of Union Square Play
Book a class or a camp at the Union Square location of this tot spot. Choose from music classes, puppet shows, or open play.
Families love to linger in the children's section of the multi-level Union Square Barnes and Noble, which boasts lots of toys and floor cushions.
For fancy clothes, this sweet shop carries an assortment of newborn and toddler frocks perfect for your next holiday or special occasion.
While this home goods store might not be the most obvious spot to hang with kids, we're keeping it on the list for its magical, classic Victorian Santa Claus photo-op. Though St. Nick has taken a long, pandemic vacation, we're told he plans to be back in 2023.
RELATED: Visit the High Line with Kids: Top Things To Do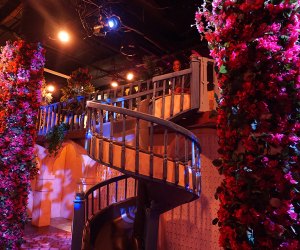 You never know what surprises await behind the magic door at Camp, including Encanto's Casita. Photo by Jody Mercier Photo by Jody Mercier
Top Attractions in the Flatiron District and Union Square for Families
The family experience store's flagship location is right in the heart of the neighborhood and there's always something fun to see behind the magic door, from Cosmic Camp to the Disney-backed Encanto experience, and plenty more. The shop is also our go-to for unique gifts for birthday parties, holidays, and special occasions!
This two-floor institution has more than 30 interactive experiences that immerse visitors in mathematical concepts in unexpected ways.
RELATED: 10 Must-Visit Underrated NYC Parks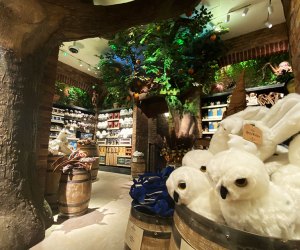 Get your hands on some Magical Creatures—and more—at Harry Potter New York. Photo by Jody Mercier
Immerse yourself in the Wizarding World at this 21,000-square-foot shop dedicated to all things Harry Potter. Let a wand choose you, embark on a high-flying broomstick VR adventure, or hit the Butterbeer Bar or the sweetshop. Even if you're not in a spending mood, there's plenty of hands-on fun and cool photo-ops inside.
Catch a kid-friendly, off-Broadway performance at this spot, which is currently hosting The Very Hungry Caterpillar Show.
RELATED: Kids Can Play for Free at These New York City Stores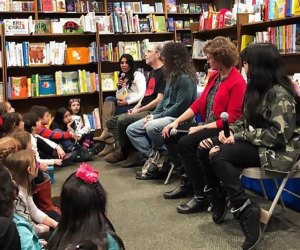 Hear readings by top children's authors at Books of Wonder. Photo courtesy of Books of Wonder
This legendary kid-lit haven is a great place to snuggle up with a good read, and it hosts tons of in-store events, including book launches, storytimes, and more.
Peruse the dizzying array of titles at this nearly century-old bookstore, whose tagline boasts that it's home to more than 18 miles of books.
RELATED: Genius Gems Debuts STEM-Inspired Play Space in Chelsea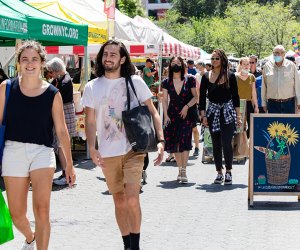 Stroll through the Union Square Greenmarket for goodies galore. Photo by Liz Ligon
This four-day-a-week greenmarket takes over the sidewalks of Union Square Park on Mondays, Wednesdays, Fridays, and Saturdays and hosts up to 140 farmers, fishers, and bakers during peak season. It's frequented by local families, foodies, and famed chefs alike.
RELATED: NYC on a Budget: Cheap Things To Do and Money Saving Tips for Families

Get unique holiday gifts at the Urbanspace Union Square Holiday Market. Photo courtesy Union Square BID
Come Christmastime, the greenmarket shares its real estate with this seasonal pop-up. Shop everything from food to handcrafted art and handmade accessories.
RELATED: Chelsea With Kids: 50 Fun Things To Do in this NYC Neighborhood

Fotografiska is a destination to discover world-class photography. Photo by Jody Mercier
This photography-focused museum frequently rotates its exhibitions. Though some may not be suitable for kids, galleries are always well-marked. Architecture lovers will enjoy the location, too: It's housed in a registered landmark building that dates to 1894. Keep an eye on its calendar for family-friendly workshops and programming.
Best Parks and Playgrounds in the Flatiron District and Union Square
This 7-acre green space is the hub of the Flatiron District. Nearby office workers lunch on its benches while kids romp in the colorful Police Officer Moira Ann Smith Playground featuring climbing structures and a water play area where a spinning wheel dumps H20 from the top of a 15-foot pole as jets shoot out of the ground.
A town square where New Yorkers have long gathered to mark tragedy (a famed September 11 vigil) and triumph (the first Labor Day parade in 1882), this nearly 7-acre green space is a true melting pot where business folk, local and visiting families, panhandling punks, outspoken activists, chess hustlers, and vendors at the greenmarket all rub shoulders. Evelyn's Playground is the highlight for kids.
RELATED: 100 Free Things To Do in NYC With Kids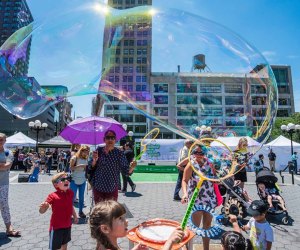 Summer in the Square at Union Square Park dedicates Thursdays to kids. Photo courtesy of Union Square Park
Fun Free Things To Do in the Flatiron District and Union Square with Kids
From June through August, Union Square Park hosts Summer in the Square, a series of FREE activities, including fitness classes, live performances, and movie screenings. Thursdays are dedicated to kids.
The glorious lawn at Madison Square Park is but a canvas for an impressive array of public art installations, which regularly rotate, so there's always something new to see.
RELATED: NYC's Best Playgrounds: 21 Parks Worthy of a Subway Schlep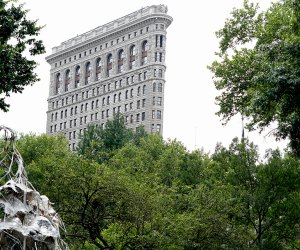 Just south of Madison Square Park is a famously triangular Renaissance palazzo, the Flatiron Building. Photo by Jody Mercier
Step into the pedestrian plaza to snap a selfie with this NYC icon as your backdrop. One of the city's first skyscrapers, the Beaux-Arts building was erected in 1902 and its unique triangular design continues to enamor visitors and locals alike.
Best Restaurants for Kids in the Flatiron District and Union Square
This Italian market is perpetually packed, but it's fun to wander whether you want to pick up provisions for a picnic in Madison Square Park across the street, enjoy a scoop of gelato, or hit up La Pasticceria for a sweet treat.
Roll up your sleeves and dig into the authentic flavors at this longtime Texas barbecue joint, which offers mouthwatering ribs, pulled pork, brisket, and an array of sides.
RELATED: 18 Family-Friendly Food Halls in NYC for an Easy, Delicious Meal

Slurp up some noodles at Wagamama. Photo courtesy of Wagamama
For Asian cuisine, be sure to check out this London transplant—the mini chicken ramen is not to be missed!
Remember when this OG Shake Shack in Madison Square Park was the only Shake Shack in NYC...or anywhere? Visit the original location for its trademark custards, Shack Burgers, and crinkle-cut fries.
Oversized, artisanal doughnuts are hand-crafted in this shop daily. Choose from everyday flavors, like blueberry lemon and cafe au lait, or seasonal bites, like white chocolate peppermint and s'mores.
Chicken and waffles are the stars at this fast-casual spot, though don't sleep on the biscuits!
RELATED: Best Breakfast in NYC: Top Family-Friendly Restaurants

Urbanspace Union Square features food entrepreneurs ranging from iconic restaurants to up-and-coming concepts. ​Photo by Lizz Spano
Nosh on everything from Belgian waffles to bao buns, Greek gyros, and sushi at this brand-new, 10,000-square-foot food hall.
Though this Willy Wonka-style fantasy land has a full menu, it's at its best with over-the-top desserts like its chocolate fondue, giant cookies, and indulgent hot chocolates.
Don your frilliest frock and head to this lavishly decorated restaurant for brunch or dinner.
A version of this story was published in 2015; it has been updated. Raven Snook contributed additional reporting.
Click Here to Sign Up!
i