Space-Themed Play Space Cosmic CAMP Comes to NYC City Point
9/7/21
- By
Jody Mercier
Editor's note: This review was written when Cosmic CAMP was at the Flatiron location. It has since moved to City Point so there may be minor differences.
Grab your space suits and get ready to blast off on an all-ages family adventure. CAMP, the innovative toy store/play space is taking families on an interactive journey with Cosmic CAMP an intergalactic-themed family experience, which cultivates a sense of adventure while testing the mental mettle and physical skills of your all-ages "crew."
Read on for a sneak peek at what's in store once you open the magic door and enter the Cosmic Launch Pad.
Subscribe to our newsletters to get stories like this delivered directly to your inbox.
Families who have visited CAMP's other locations, or even the previous installations at its flagship Fifth Avenue location should take note: Cosmic CAMP is really meant to be a family adventure as noted in its tagline: Come as a family, leave as a crew. Parents and kids work alongside one another in each of the challenges to collect points using space-age bracelets and innovative AR and projection-mapping technology. Amass as many points as you can to land your crew on the daily or ongoing leaderboard, which you can follow on its website long after you've returned to terra firma.
So what challenges, exactly, await?

Step into the hidden Ice Caves at Cosmic CAMP.
Bop ice crystals in the Ice Caves in a game that's likely to remind adults of the old light-up Simon game of their youth.
Athletically-inclined astronauts will like the Deep Space game, where you can try to shoot balls—er, asteroids—into black holes in a game of beat the clock. The more shots you make, the more points you score.

Can you traverse the lava surface at Cosmic CAMP?
The area where we spent the most time is the lava field, trying to traverse its (virtual) bubbling goo and collecting more points along the way. It kept drawing my daughters back as they tested new routes to conquer the course.
Make sure to step into the "CAMPitheater" for an interactive Galaxy Game Show, where an energetic counselor fires off trivia questions, throws out Pictionary-inspired drawing challenges, and has visitors spin a wheel to decide interactive challenges. It's plenty of silly fun, and everyone leaves a winner—and learns a little space trivia in the process.
If you're looking for CAMP's usual playground features, you'll find them in the Space Station, which takes up significant real estate in the center of it all. It's the one spot that's really best enjoyed by kids, as its low ceilings make it hard for grown-ups to navigate. Once kids are done here, they can exit via the teleportation tube—aka the twisty slides—and everyone can try their luck driving Robot Rovers, building with magnetic blocks, or blasting asteroids.
RELATED: Guide to Indoor Play Spaces for NYC Kids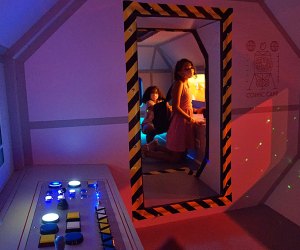 Kids can man the space station at Cosmic CAMP.
Know Before You Go to Cosmic CAMP
Cosmic CAMP is located at CAMP's City Point Brooklyn location.
Unlike its previous free "behind-the-magic-door" experiences, Cosmic CAMP comes with a price tag: $15-20 per person, and timed-entry reservations must be booked online.
Allot 45-60 minutes to explore the space; though you might have a hard time convincing the kids it's time to leave!
While there are still plenty of cool toys and gifts located in the retail store as you enter, once you're in the Cosmic CAMP play space, it's toy-free, so it's much easier to convince kids to leave empty-handed—though you do get to keep your cool space bracelet as a souvenir!
Ready to blast off? Get your Cosmic CAMP tickets now.
All photos by author
Places featured in this article:

Sign up for our free
newsletters.
Mommy Poppins is a family activity website that helps people find things to do with kids.
©
2023
MommyPoppins. All Rights Reserved.
mp-prod4-v4.32.99
We use cookies and other data collection technologies to provide the best experience for our customers.
Learn More