Best Breakfast in NYC: Top Family-Friendly Restaurants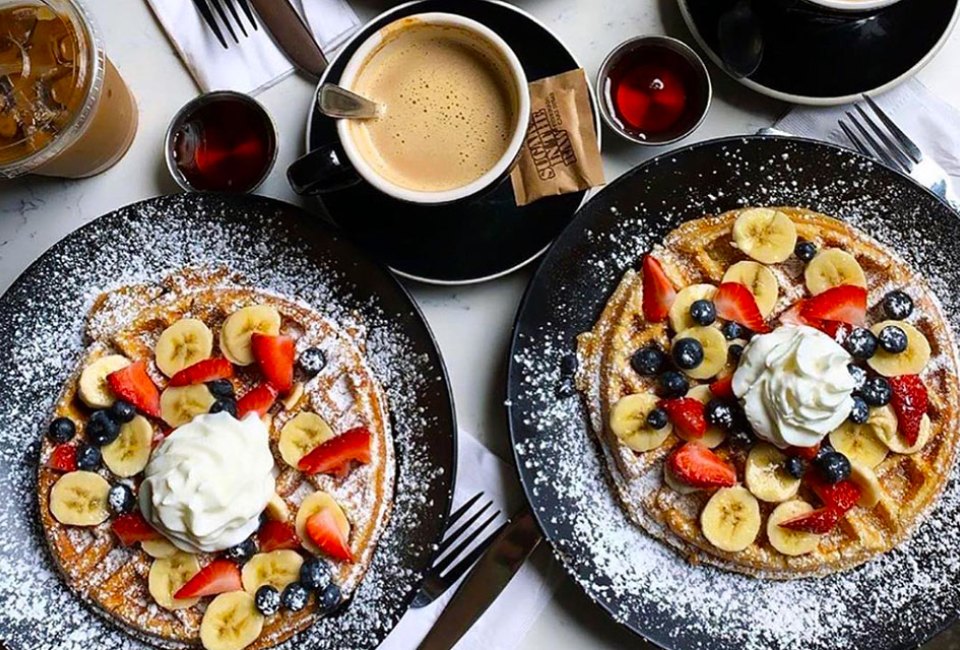 2/24/23
- By
Hans Howe-Freiwald
When it comes to breakfast in NYC, it's hard to beat these 10 family-friendly restaurants. Each of these eateries strikes the right balance of delicious breakfast foods and kid-friendly perks.
Whether you're on the hunt for a doughnut in Brooklyn, a biscuit in Harlem, or classic diner fare in Queens—we've found the perfect breakfast in NYC for you. Find more picks for kid-friendly eats all day long in our Guide to Family-Friendly Restaurants in NYC.
Subscribe to our newsletters to get stories like this delivered directly to your inbox.
Best Restaurants for Breakfast in NYC with Kids
One of the tried and true spots for breakfast in NYC is nestled in one of the trendiest neighborhoods in Manhattan—Tribeca. But, don't worry, at Bubby's, trendy does not mean "anti-kid." This place is awesome! It has a fun and inviting atmosphere, a friendly staff, and the dining room is roomy so you don't have to feel bunched up with a bunch of other hangry New Yorkers.
What to Order at Breakfast: The Pancake Flight to share. It has three James Beard pancakes, caramelized banana, toasted walnuts, blueberry, Nutella, mixed berries, and whipped cream.
Kid-Friendly Perk: Show your Bubby's love by grabbing the wee-ones a onesie on the way out the door.
One of the OG, true-blue NYC diners, this establishment has been serving breakfast in NYC to families for more than 75 years. Bring the kids here for that authentic New York diner experience. Open 24 hours, this place has it all.
What to Order at Breakfast: Two eggs (any style), because nothing beats ordering a classic breakfast where the waiter asks "how would you like your eggs? Bacon or sausage? Milk or orange juice? And white, wheat, or rye toast?"
Kid-Friendly Perk: Other than experiencing the authentic feel of a New York City diner, you are within walking distance of MoMA PS1 and the LIC waterfront.
RELATED: The 18 Most Insane, Must-Try NYC Desserts

Enjoy a classic English breakfast and a cuppa at Tea & Sympathy.
Head down to Manhattan's vibrant West Village for a little taste from "across the pond." Serving authentic British fare, at Tea & Sympathy, you can sip traditional British tea as the little ones experience an English breakfast in NYC. Pinkies up!
What to Order at Breakfast: The Full Monty, which is a traditional English breakfast of scrambled egg, bacon, sausage, grilled tomatoes, and baked beans.
Kid-Friendly Perk: Not only is its dining room filled with English eye candy for the little ones to take in, but they will also have fun picking out a funky teapot and other goodies in the gift shop.
4. Sweetleaf – Greenpoint, Brooklyn
For a great breakfast pastry experience, head to one of the hippest coffee shops, Sweetleaf, in one of the hippest Brooklyn neighborhoods, Greenpoint. Always warm and welcoming, be sure to say hi to the barista for us. If you can't make it to Greenpoint, visit one of Sweetleaf's other locations.
What to Order at Breakfast: Get the kids one of the many house-made muffins or scones (with plenty of vegan options), as you get jacked up for the day on an iced "Rocketfuel."
Kid-Friendly Perk: There is plenty of space and vintage cozy furniture for kids to stretch out, relax, and enjoy their morning (so you can do the same).
RELATED: 18 Family-Friendly Food Halls in NYC for an Easy, Delicious Meal

It's hard to beat New York City Bagel & Coffee House's namesake creation when it comes to a perfect breakfast in NYC.
Breakfast in New York City would not be complete without snagging one of its staples: the bagel. And, New York City Bagel & Coffee House does it right. Perfectly firm on the outside and chewy on the inside, these bagels do not disappoint.
What to Order at Breakfast: For the little ones grab a rainbow or Captain Crunch bagel with a big ol' schmear of plant-based cream cheese (my daughter, Ruby Rue's favorite!)
Kid-Friendly Perk: A huge eating area complete with outdoor seating allows the kids to spread out and enjoy some real-deal bagels. A relaxed atmosphere also allows you to relax if they want to, well, be kids!
For a fun kitschy breakfast in NYC experience, bring the family to Cowgirl, NYC. The kids enjoy the decorations adorning the walls and a funky gift shop as you walk in. Parents enjoy sipping on its signature bloody mary, served virgin or not!
What to Order at Breakfast: The kiddos can enjoy a root beer float along with a stack of pancakes off of the kids' menu.
Kid-Friendly Perk: Not only is there a great (and affordable) kids' menu, but it's a fun and kitschy dining space, and there is plenty of fun in the West Village when you're full.
RELATED: 20 Must-Visit Cafes, Sweet Shops, and Iconic Restaurants in NYC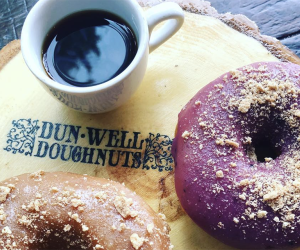 Dun-Well Doughnuts serves its artisanal, vegan confections all day long.
Just as you can't have breakfast in NYC without a bagel, the doughnut should never be far behind. Dun-Well Doughnuts are entirely plant-based pastries that cannot be beaten. Baked fresh every morning, we dare you to get just one.
What to Order at Breakfast: I recommend grabbing a classic maple glazed, and then maybe adding fruity pebbles or a lemon cream pie. It's fun dealing with kids on a sugar high right? Right? Oh well, maybe not, but you only live once. Enjoy the buzz!
Kid-Friendly Perk: Dun-Well is one of the few spots in Brooklyn to offer vegan soft-serve, and it's amazing for doughnut dipping. What's a little more sugar?
Don't sleep on New York City's iconic Harlem neighborhood for an amazing family-friendly breakfast in NYC. Making everything fresh and with love, this takeout spot does it right, anytime, every time.
What to Order at Breakfast: Go with Belgian waffles for the kids, and if you're feeling frisky, add some wings to those waffles and share. It has plenty of plant-based options as well.
Kid-Friendly Perk: This breakfast in NYC is all about exploring the often-overlooked Harlem neighborhood. Grab your waffles and enjoy a morning picnic a few blocks away at Marcus Garvey Park.
RELATED: Best Ice Cream Parlors in NYC with Outrageous Ice Cream Sundaes

Plant-based pastries—and more—are on the menu at this Clinton Hill spot that serves breakfast in NYC.
9. Guevara's – Clinton Hill, Brooklyn
Head out to the classic Clinton Hill neighborhood for the hidden gem that is Guevara's. The plant-based breakfast fare is beyond good. Also, if your kid is opposed to plant-based food, Guevara's tasty options can be a game-changer.
What to Order at Breakfast: Let the kids pick out some vegan pastries, like the rainbow pan dulce, as you enjoy the bagels and lox made with smoked orange bell peppers.
Kid-Friendly Perk: Don't forget to leave with one of the many beautiful plants that are sold in the front of the house. Remind the kids that it's their job to water it because teaching a little responsibility is never a bad thing.
This Astoria staple is one of the best places to get breakfast in Queens. Enjoy a breakfast burrito as you take in the eclectic atmosphere.
What to Order at Breakfast: Comfortland made the list for one main reason; the "jelly bomb!" A giant jelly doughnut that the whole family can share. And, it's only $5 (you'll get why that's some bang for your buck when you see it).
Kid-Friendly Perk: Teach the little ones about vinyl as they flip through the extensive record collection, many of which are for sale.
Unless noted, all photos courtesy of the restaurants
t Click Here to Sign Up!