50 Best Things to Do in Harlem with Kids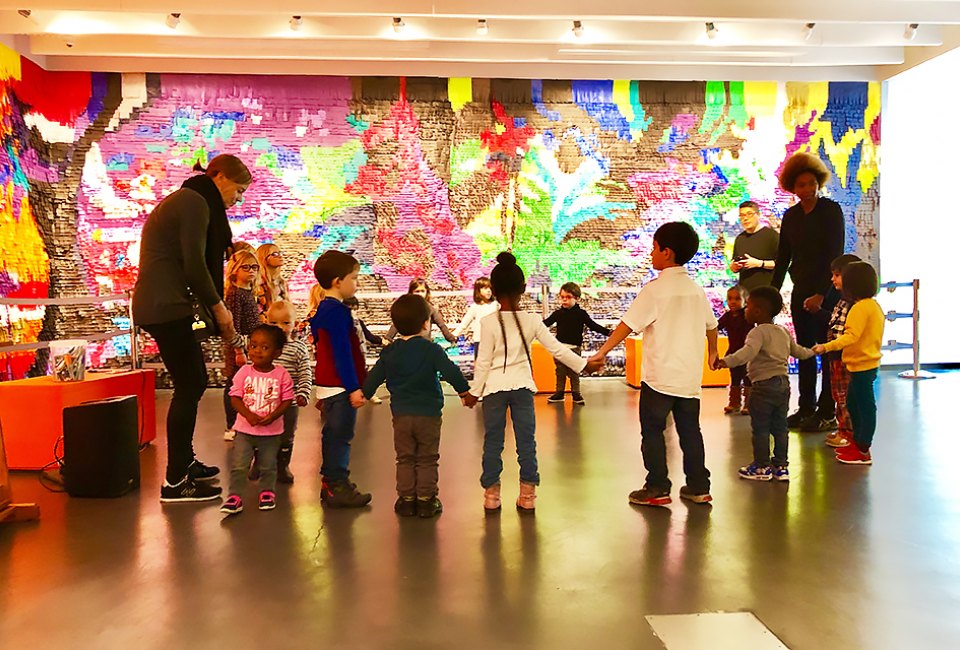 1/7/19
- By
Jody Mercier
NYC is constantly changing, but one neighborhood that's undergone a particularly striking transformation in the past decade is Harlem. While my family and I moved into the neighborhood when I was pregnant with my oldest (now a newly minted teenager) there are times we still feel like relative newcomers, and the drumbeat of gentrification has only gotten stronger since we arrived, bringing with it an influx of popular new restaurants, cultural institutions, and more family-friendly finds.
Though I have mixed feelings about the changing face of the neighborhood, the influx of chains, and rising rents, I am quite happy to be raising three bona fide Harlemites. From the the beautiful, old-school, tree-lined blocks to friendly neighbors who represent a rainbow of colors and cultures to acres of green space, Harlem is far removed from the madness of Midtown, yet just a short express train ride away.
Read on for the top 50 things to do in our home neighborhood, which spans 110th to 124th Streets from Manhattan to Fifth Avenues, and 125th to 160th Streets from Riverside Drive to Fifth Avenue.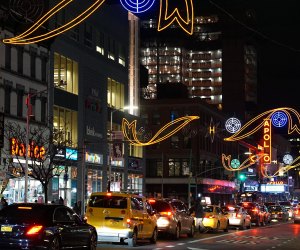 125th Street is the glowing heart of Harlem.
3. Skip the chain stores and buy funky wares from the vendors on 125th Street.
4. Sign your kid up for yoga class at Land Yoga.
5. Drop in for skating or swimming at Riverbank State Park, or try to beat the line and register for one of the affordable on-site classes, covering everything from chess to ballet; tennis to violin.
6. While you're there, take a spin on the kid-designed Totally Kid Carousel.
7. Enroll your ballerina-in-training in the acclaimed program at the Dance Theatre of Harlem, which also hosts occasional performances.
8. Shake your booty during Sundae Sermon, a FREE outdoor dance party in St. Nicholas Park.
9. Learn about the culture, traditions, and history of Harlem at the Dwyer Cultural Center.
10. Catch a SummerStage performance at the Richard Rodgers Amphitheater in Marcus Garvey Park.
11. Or see the Classical Theatre of Harlem's annual outdoor play in late summer. In 2018, the company mounted a production of Antigone to rave reviews.
RELATED: 30 Things for Families to Do on the Upper West Side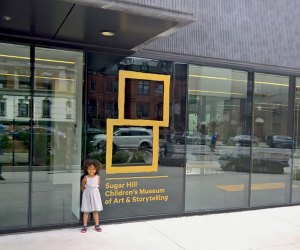 Kids under 8 are always free at the must-visit Sugar Hill Museum of Art and Storytelling.
12. Visit the bustling Sugar Hill Museum of Art and Storytelling, where admission is always FREE for kids age 8 and younger. Architecture buffs will appreciate the unique structure, designed by David Adjaye.
13. Have the waitstaff sing your kid "Happy Birthday" on their big day at Sylvia's.
14. For a taste of new-school Harlem, visit the nearby Red Rooster Harlem, where celebri-chef Marcus Samuelsson serves contemporary Southern specialties.
RELATED: Destination Playground: Harlem's Riverbank State Park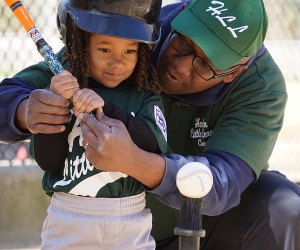 Harlem's Little League is a long-running neighborhood institution.
15. Register your lil' slugger for a season with Harlem Little League, which celebrates its 30th anniversary in 2019!
16. Other local sports orgs worth checking out: the Harlem Jets (football, cheerleading, wrestling, basketball), Breakaway Hoops, and The Wendy Hilliard Foundation (rhythmic and artistic gymnastics).
17. Attend a Sunday service at Abyssinian Baptist Church.
18. Share a plate of succulent samplers at the always-packed Dinosaur Bar-B-Que.
19. See a CityParks PuppetMobile performance in the summer at Jackie Robinson Park.
RELATED: Best Outdoor Ice Skating Rinks in NYC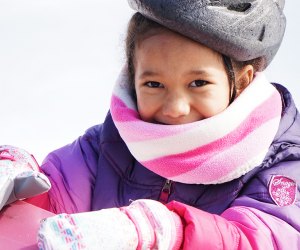 Lasker Rink in Central Park is a great ice skating rink for beginners.
20. Go ice skating at Central Park's Lasker Rink.
21. Though the Studio Museum is currently awaiting construction of its new home, you can still catch its kid-friendly programming at local partner institutions and see its art displayed throughout the neighborhood.
22. Sign up for a family membership at the local Harlem YMCA or brand new JCC.
23. Enjoy the fruits of the Harlem foodie renaissance at the annual Harlem EatUp Festival.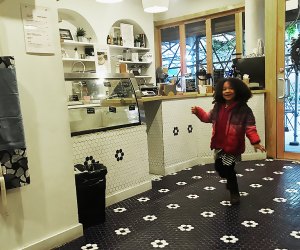 Sugar Hill Creamery serves up the best ice cream in the neighborhood.
24. Nab a scoop of the sweet stuff at mom-and-pop shop Sugar Hill Creamery, which not only serves delectable artisanal ice cream, but also hosts family-friendly programs like a new moms' group or parents' day out. It doesn't get any sweeter than that!
25. Speaking of sweets, perhaps no neighborhood is more family-friendly on Halloween than Harlem. The Mount Morris Park Community Improvement Association, Hamilton Terrace neighborhood, Astor Row, and Strivers' Row distribute candy with abandon and have spooky decorations that are hard to beat.
26. Try your hand at colonial crafts at Morris-Jumel Mansion, Manhattan's oldest house, where George Washington once commanded troops and where Lin-Manuel Miranda wrote parts of Hamilton. Speaking of which...
27. Explore Hamilton Grange, the home of founding father Alexander Hamilton in St. Nicholas Park.
28. Enroll in a class at The Harlem School of the Arts.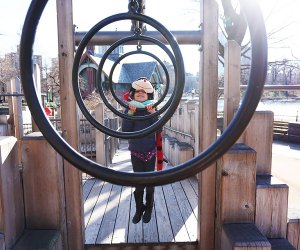 Kids love the climbing equipment at the East 110th Street Playground in Central Park.
29. Romp in the gorgeous East 110th Street Playground in Central Park, which boasts cool equipment and breathtaking views of the Harlem Meer.
30. Bring your preschooler to a Harlem4Kids storytime and sign yourself up for the group's listserv, which offers an invaluable exchange of resources and ideas.
31. Shop for toys at old-fashioned store Grandma's Place.
32. Enjoy a free family program at the Schomburg Center for Research in Black Culture, including the upcoming annual Black Comic Book Festival.
33. Try collard greens, corn bread, bread pudding and other soul food staples at Miss Maude's or Amy Ruth's.
34. Peruse African art, crafts, wearables, and jewelry at the Malcolm Shabazz Harlem Market.
35. Expecting? New parents? Connect with Uptown Village, a local woman-owned co-op offering everything from childbirth education classes to postpartum support, lactation consultants, and more, to get you through those first few hazy months of parenthood.
36. Enjoy games, giveaways, and activities at Harlem Week's annual Children's Festival.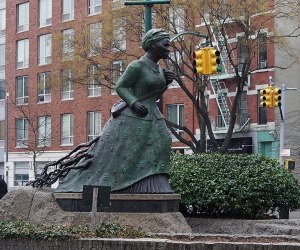 Swing Low, a memorial in honor of Harriet Tubman, stands at the corner of Frederick Douglass Boulevard and St. Nicholas Avenue.
37. Go on a DIY black history tour by visiting statues of Adam Clayton Powell, Frederick Douglass, Duke Ellington and Harriet Tubman.
38. Get your kid's picture on a red velvet birthday cake at Make My Cake.
39. Take your teen cinephiles to the Maysles Institute, an independent movie theater founded by renowned documentarian Albert Maysles.
40. Hear the Church of the Intercession's annual reading of Clement Clarke Moore's Twas the Night Before Christmas—it's a century-old tradition.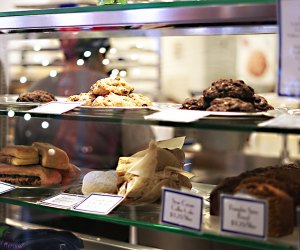 Lines are much shorter at the Harlem outpost of Levain Bakery.
41. Indulge your sweet tooth with a trip to Levain Bakery, whose giant, cakey, chocolate-chocolate chip cookies draw lines down the block on the Upper West Side; in the Harlem shop, there's usually no wait.
42. Or try the perfectly sweet, crispy-yet-chewy Lee Lee's Rugelach; you don't have to take my word for it...it's one of Oprah's Favorite Things, too.
43. Register for the Harlem Skycraper Classic Bike Race, held annually on Father's Day and encircling Marcus Garvey Park. There's a kids' race early in the day, but stick around to watch the pros duke it out later on.
44. Speaking of races, Marcus Garvey Park is also a great spot to take in the annual TCS NYC Marathon, where you can cheer on the runners of local crew Harlem Run.
45. Gallery hop along the 125th Street commercial corridor, where Gavin Brown's arrival has brought new buzz to the eclectic arts scene.
46. Catch a performance at the Harlem Stage, an intimate theater presenting music, dance, conversations, and more.
47. Have a picnic in southern Morningside Park and enjoy the view of the waterfall and the Cathedral Church of St. John the Divine.
48. Groove to jazz, gospel, Latin, and blues concerts at the free Harlem Meer Festival on summer Sundays.
49. Learn all about the history of the nabe's signature music genre at the National Museum of Jazz in Harlem.
50. Enroll in dance or percussion classes at the National Dance Institute.
Read all of our posts about what to do with kids in Harlem.
Unless noted, photos by the author
t Click Here to Sign Up!