Destination Playground: Harlem's Riverbank State Park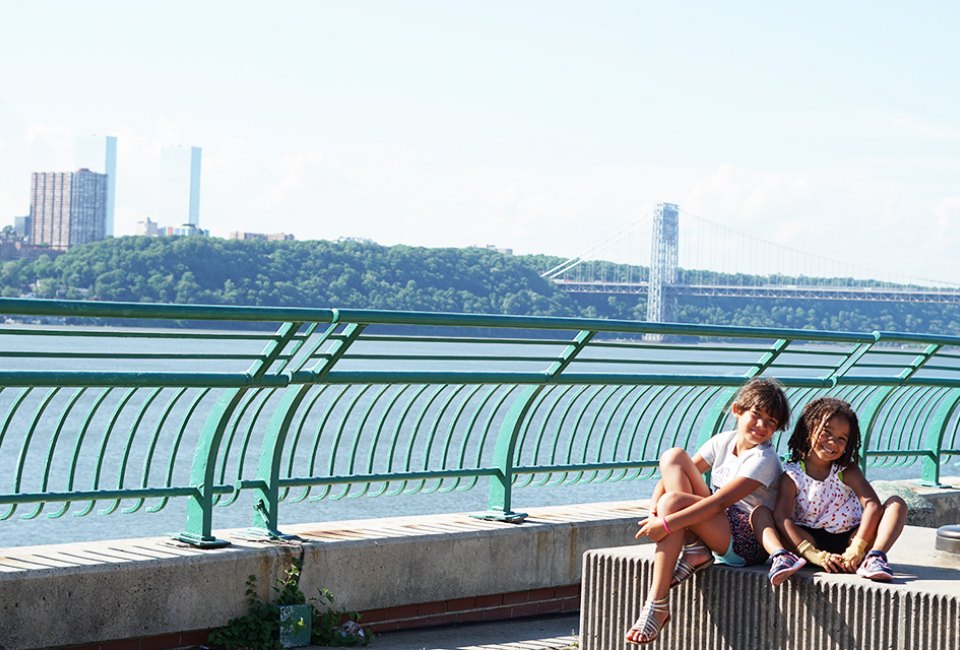 7/25/18
- By
Jody Mercier
If you're looking for an escape from the city that costs nothing more than a MetroCard swipe, hop the bus to Denny Ferrell Riverbank State Park, one of a handful of state parks within New York City limits. Riverbank State Park occupies 28 acres on Manhattan's west side in Harlem, offering beautiful views and tons of options for outdoor fun. An afternoon here feels almost like an out-of-the-city day trip.
Whether you're in the mood for a dip in the pool, a run through the sprinklers, or a twirl around the rink in winter or summer, this complex has it all, plus plenty of reasonably priced classes, sports programs, and even an inexpensive summer camp.

The massive park has plenty of space for scooting, running or biking.
Stretching from 137th Street to 145th Street, Riverbank State Park is built atop the North River Wastewater Treatment Plant, giving the surrounding area a bit of an industrial feel. But look farther and you're greeted with striking river views, and the George Washington Bridge's imposing presence in the distance. Coin-operated viewfinders let you get an up-close view of the bridge, the Little Red Lighthouse, the Palisades, and beyond. While you can enter the park from the north or south, the Bx19 and M11 buses take you directly into the park at the 145th Street entrance.

Take a spin on the Totally Kid Carousel then have a picnic in the shade.
Here at the northern end of the park, you'll find the Totally Kid Carousel, which is a true original. Artist Milo Mottola based his designs on children's drawings of animals, so the creatures are all funky and colorful. While the merry-go-round is stunning, so are the views you get while riding. At $1 a pop, it's also the cheapest carousel in town. Make sure you bring singles: You have to buy a ticket from a machine that doesn't make change. Hours can be a bit spotty, but it's generally open June-October.
Next to the carousel, the recently renovated, on-site restaurant, Sofrito NYC serves Puerto Rican flavors in a sit-down atmosphere; outdoor seating gives you access to the sweeping river views.
Nearby, you'll find a vast picnic area, well shaded with large trees. Picnic tables can be rented for use during the summer season; prior to Memorial Day, use is first-come, first-served.
RELATED: 22 Best Water Playgrounds and Sprinklers for NYC Kids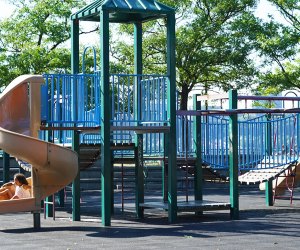 Kids score big at this park with two playgrounds to explore.
You'll also find one of the two on-site playgrounds near the 145th Street entrance—the other is located just inside the 137th Street entrance. While neither playground is destination-worthy on its own, they're both functional, all-ages jungle gyms. In warm weather, the giant sprinkler area is a definite draw. A huge tree-like sprinkler rains down from the center and more water jets out from the wall, which is decorated with a large, colorful mural paying homage to the uptown neighborhood the park calls home.
RELATED: Best Free and Cheap Public Swimming Pools for NYC Kids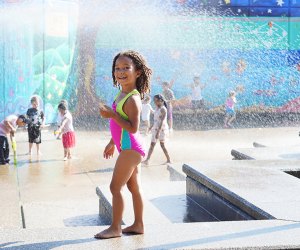 The sprinklers are a hit with kids of all ages.
You can swim in Riverbank's pools in all weather: An indoor, Olympic-sized pool is housed in one of the buildings, while a smaller, outdoor pool is a popular draw in the summer. There's also an outdoor kiddie pool with a sprinkler in the corner for wee ones. Unlike the public pools, Riverbank does charge an admission fee, but at $1 for kids and $2 for adults, it's an easy pill to swallow.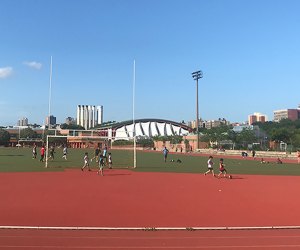 The gigantic sports field hosts affordable classes all year.
Two other main buildings surround the giant track and sports field; one houses a gym with a rec center and an affordable yearly membership. Another building houses a cultural center, where a variety of affordable classes are taught and one-off shows are staged. We once saw a live raptor show here, while friends' kids have started their ballet careers in this room, where an eight-week session costs just $60.
Adjoining the cultural center is the skating complex. While the rink—which hosts roller skating in the summer and ice skating in the winter—is outdoors, there are interior locker rooms, a skate rental window, and a snack bar.
More outdoor attractions include four tennis courts, four basketball courts, a softball field, four paddle ball courts and the aforementioned 400-meter, eight-lane running track surrounding an all-purpose sports field. There's also an outdoor, waterfront amphitheater which seats 400 and hosts frequent events during the warm weather months.
While my kids have taken everything from tennis lessons to winter baseball clinics, soccer, gymnastics and swimming lessons on-site, the hardest part of using all the great, affordable services in this state park is the registration system. While it's graduated from a mail-in-only system, nabbing a spot in any of its classes still requires visitors to show up on a set Saturday morning and wait in a painfully long line to register for the most popular classes. I hope someday soon, they'll step into the Internet age. It's also difficult to get anyone to answer the phone; the best way to keep in touch with the park, I've found, is by following it on social media. Keep an eye out for the seasonal program guides posted there or on the website, which give you the all-important registration dates.
Riverbank State Park is located between 137th and 145th Streets along the Hudson River. The main entrance is on 145th Street and Riverside Drive. Get the scoop on other Destination Playgrounds in New York City.
A previous version of this story was posted in August 2011. Raven Snook provided additional reporting
Photos by Jody Mercier
Places featured in this article:
t Click Here to Sign Up!