36 Best Things to Do With Kids in the West Village and Greenwich Village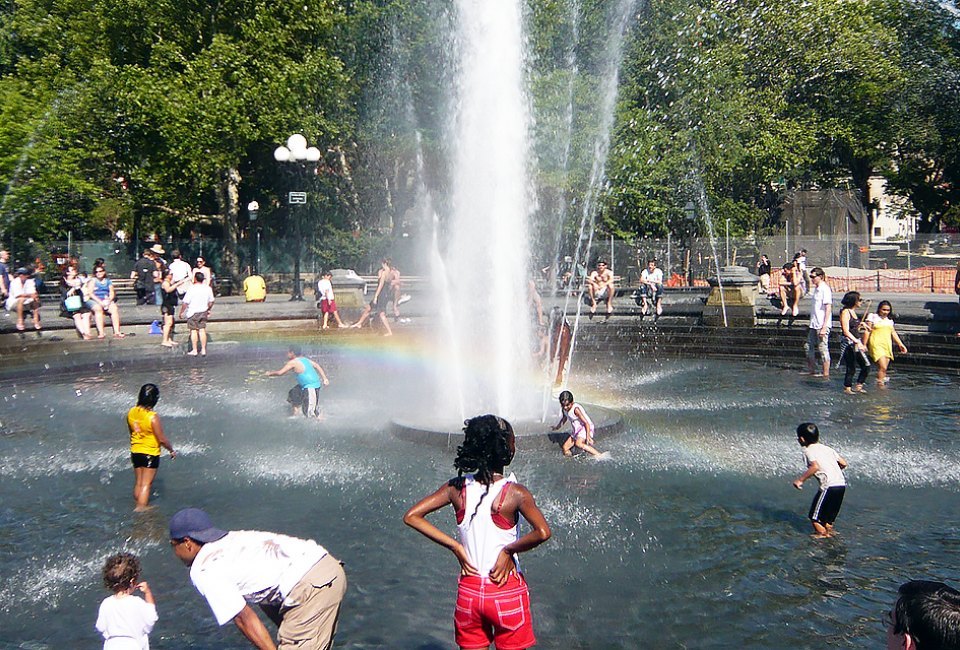 7/3/19
- By
Katie Nave
One of Manhattan's most picturesque communities, the West Village is filled with historic houses on quaint and crooked tree-lined streets. This former countercultural epicenter is now home to many of New York's priciest restaurants, retail stores, and real estate. But there are still plenty of affordable and even FREE attractions for families to discover as you stroll through the labyrinth of this area and its sister neighborhood Greenwich Village.
Beautifully renovated playgrounds pepper the area, including two in iconic Washington Square Park. Treat spots like cupcakeries and candy shops abound. Stretching from 14th to Houston Streets between Fifth Avenue and the Hudson River, this area may be cozy, but it's also packed with so many things to do and places to see, families can spend many days exploring the neighborhoods.

Play for the entire day at the Pier 51 Play Area. Photo courtesy of NYC Parks
Best Places to Play in the Village
1. Hit one of the two playgrounds in Washington Square Park, splash in the popular play fountain, and bring along a picnic.
2. Visit the Bleecker Playground for traditional little-kid equipment and a year-round bathroom.
3. Scope out the "secret" Downing Street Playground, located behind a tall brick wall, covered by shade-giving trees.
4. Splash in the seasonal water features in the Pier 51 Play Area, which also features climbing structures, slides, a mock boat and benches.
5. Shoot hoops at the James J Walker Park ball courts while the smaller kids hit the playground.
6. In the summer months, take a dip at the Tony Dapolito Recreation Center public outdoor pool (one of the only city pools with a diving board!). This spot also screens movies on its rooftop.
7. Monkey around on the jungle gyms at Minetta Playground, a small gated romping spot perfect for preschoolers.
8. Stroll along The High Line, which has its southernmost entrance in the West Village at Gansevoort and Washington Streets.
9. Play Ping-Pong, shuffleboard, and billiards at pool hall/jazz club Fat Cat.
10. Stop in for a game of strategy at the Village Chess Shop and sign up for one of their school holiday camps.
11. Catch a storytime, movie, or live performance at the Jefferson Market Library.
12. Give your MetroCard an extra swipe to check out Life Underground, Brooklyn sculptor Tom Otterness' whimsical display of two dozen bronze figures peppered throughout the A, C, E, L subway station at 14th Street and Eighth Avenue.
RELATED: The High Line With Kids: What to See, What to Eat, Where to Enter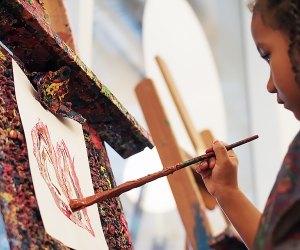 Get creative at the CMA. Photo by Jody Mercier
Arts, Culture, and Classes in the Village
13. See the thought-provoking exhibits at the beautiful Whitney Museum of American Art (be sure to ask for a free Kids Activity Guide) or visit one of the Whitney's frequent family programs.
14. Snag a ticket for one of the family-friendly shows at the Skirball Center for the Performing Arts.
15. Take a spin around the Children's Museum of the Arts, check out their latest exhibits for little ones, and let the kids dive into a variety of creative projects.
16. Catch a puppet show at the Penny Jones & Co. Puppets Theatre.
17. Go old school as indie art house cinema Film Forum screens Classics for Kids and Their Families on Saturday and Sunday mornings.
18. Enjoy FREE outdoor movies at Hudson Riverflicks Family Fridays on Pier 46 during summer months.
19. Commune with nature at the seasonal Jefferson Market Garden, which boasts a variety of flora and also hosts popular annual kid events.
RELATED: Chelsea With Kids: The Best Things to See, Eat, and Do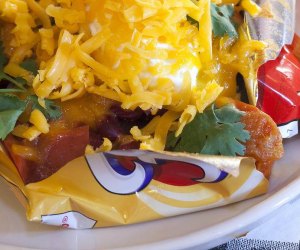 The kids' menu at West Village standby Cowgirl includes "Frito Pie." Photo courtesy of Cowgirl
Family-Friendly Places to Eat in the Village
20. Enjoy the retro interior and old-school neon signage at the Washington Square Diner, which hasn't changed in decades.
21. Dive into delicious, classic American dishes at crowd-pleaser Tavern on Jane.
22. Nosh on a greasy-spoon staple at the Waverly Restaurant.
23. Visit the Wild West at Cowgirl, where kids can enjoy activity sheets (including cowgirl paper dolls) and a kooky comfort food menu.
24. Prepare to indulge at Mighty Quinn's BBQ, where everyone can have their fill of brisket and mac & cheese.
25. Dig in at The Grey Dog, a wonderful community spot with omelets, sandwiches, salads, soup and fantastic coffee.
26. Snag a scoop of artisanal ice cream at Van Leeuwen where the flavors are always fresh and surprising.
27. Indulge your sweet tooth at Cupcake Wars winner Molly's Cupcakes. Kids will love the swing seats (don't try moving them too much, though; it's against the rules).
28. Pop into Magnolia Bakery for a treat that goes way beyond cupcakes, with pies, cookies, cakes, brownies and icebox pies.
29. Experience a smorgasbord of colorful treats at Sockerbit, a sleek Swedish candy shop.
30. Go wild at the Big Gay Ice Cream Shop with its delicious (and sometimes hilariously named) flavors and rainbow unicorn mascot.
31. Cool down at Popbar with gelato, sorbetto and yogurt pops.
32. Drop in to the iconic Donut Pub. It's delightfully old New York, with a counter and stools, neon signage and basic varieties like frosted coconut and chocolate.

Step into Teich Toys & Books to explore eco-friendly toys. Photo courtesy of the store
Shopping in the Village
33. Browse the child-centric and wallet-friendly selection at Clementine Consignment, which specializes in quality, gently-used maternity and kids' clothes up to 4T.
34. Hit Bombalulu's for toys, costumes, and casual duds. This adorable boutique overflowing with unique onesies, tees, hoodies and handmade dresses, plus wooden and creative playthings.
35. Peruse eco-friendly, hand-crafted playthings at Teich Toys & Books and prepare to spend a good amount of time at the life-size wooden toy train play area.
36. Get the kids haircuts and shop for tchotchkes at salon/boutique Doodle Doo's.
t Click Here to Sign Up!