Children's Museum of the Arts: A Must-Visit Creative Hub for Kids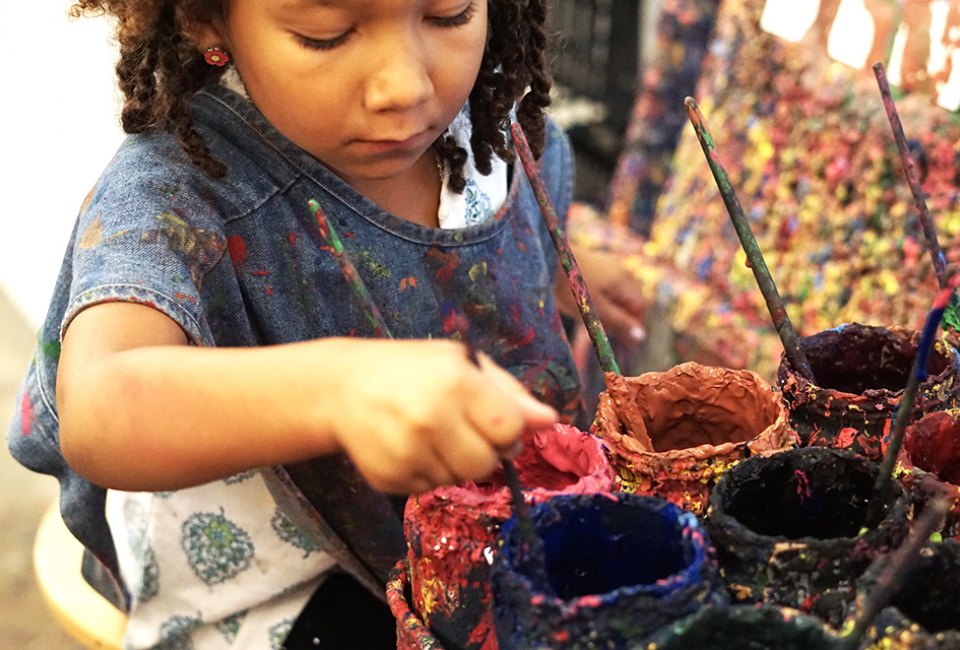 10/23/18
- By
Jody Mercier
Slime in the carpet. Glitter on the walls. Paint on a brand new couch. These are just a few of the art-projects-gone-wild I've cleaned up over the years. And though I know the value in all this messy fun and creativity, sometimes I just don't want to deal with stocking the supplies, guiding the activities, and cleaning it all up. Enter the Children's Museum of the Arts. For my money (and sanity!) nothing beats a trip to this creative hub. Dubbed by my arts-loving daughters as their favorite NYC museum, it's an arts education powerhouse that doubles as an indoor playspace, making it a must-visit for NYC guests and tried-and-true boredom buster for city parents.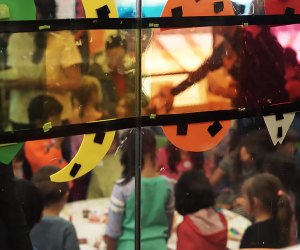 Children's artwork decorates the windows of the CMA.
Located in the lively Hudson Square neighborhood, this bright, airy art space opened its current location in 2011, though parents in the know had flocked to its previous Soho space for years.
At 10,000 square feet, there's ample room for art making, as well as a broad gallery in the heart of the museum, where works by professional artists enjoy rotating time in the spotlight. While mom and dad might like gawking at the professional pieces, the kids will be blown away by the studios stocked with supplies to ignite any imagination.
Upon entering and storing your coats and strollers, you'll flow through the WEE Arts Studio. Though meant for the 5-and-younger set, big siblings and older guests are always welcome, too. The bi-level space has a few mainstays: There are tables devoted to play dough and dot stamps plus a vat of flubber (with recipe always posted above!) for kids to dive into. Those who want a more physical experience can build with Magnatiles or big foam blocks. The upper level offers a long watercolor painting table, where colors, brushes, and paper are as plentiful as the creative inspiration. Another area offers space to layer (mostly) recycled materials into collages or 3D sculptures depending on the day. Those who want a more in-depth art-making experience can register for WEE Arts Classes, which take place when the museum is closed to the general public.
RELATED: Best Children's Museums in NYC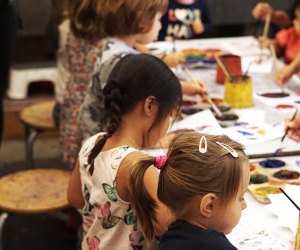 Dive into a project guided by teaching artists.
When we've had our fill of this space, our next stop is the more grown-up Fine Arts Studio where easels are situated along the large, sunny windows with a choice of watercolor or tempura paints. Separate stations on either side of the room offer projects guided by teaching artists. On various trips, we've learned to silkscreen, crafted paper flowers and microphones, and sketched our own super heroes. Themes for these stations rotate weekly based on the museum's exhibitions, the seasons, and the calendar so there's always something new to do in this stocked-for-a-professional-artist space. Another big draw: the large circular sink in the center of the room. My 5-year-old is never as eager to wash her hands as she is at this pedal-operated station!
These two studios get the most action, but a trio of smaller creative hubs is well worth your time. Pro tip: Upon arrival make sure you check in at the Clay Bar and Sound Booth located up the stairs and across the gallery directly opposite the admissions desk. Once you've snagged a coveted spot, you can plan your day around those appointments. Clay Bar sessions last 35 minutes and are based on a theme, with teaching artists guiding tiny hands through making modeling clay masterpieces. One day, my kids came home with miniaturized versions of their favorite meals; spaghetti and meatballs, pizza and a fully-loaded cheeseburger, while our last visit yielded sea scenes with a dolphin, jellyfish and frothy crashing waves.
The CMA encourages exploration in digital arts, too. In the Sound Booth, young music mixers work with a pro to lay down tracks ranging from an instrumental jam session, to a sick rap, and even a spooky story. The nearby Media Lab is stocked with new computers and tech that allows makers of tomorrow to fiddle with photography, stop-motion animation, edit video clips, and more all under the supervision of a teaching artist.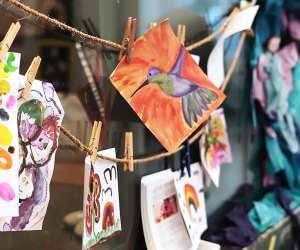 Admire the colors, creativity and diversity of the finished products.
While I value the museum for its shelves stocked with art-making supplies, education is truly at the heart of this hands-on spot. Beyond the friendly teaching artists in every studio space, who have seemingly unending patience with tiny artists, the museum offers a wide array of extracurricular enrichment opportunities. There are the WEE Arts classes mentioned earlier, plus after-school programs for kids ages 5 and up, and a variety of teen programs, some of which are FREE, that aim to foster a long-term love of the arts and maker movement. School breaks and summer are also filled with arts education camps, with offerings ranging from digital film-making to fashion design to illustration. The CMA also runs summer arts education programs on Governors Island.
A few things to know before you go: While there is stroller parking inside, CMA does not allow strollers in its galleries, so plan to bring a carrier if your little one is too little for the fun. Also, sadly, the super-popular giant ball pit is long gone, and has been replaced by a set of Imagination Blocks.Finally, be sure to consult the current hours before heading out.
Photos by Jody Mercier
Places featured in this article:
---
Children's Museum of the Arts