Queens Rising: A Celebration of Arts & Culture
Various locations

2023 Annual Bus Festival
Emily Warren Roebling Plaza

Improv 4 Kids Off Broadway Live
New York Improv Theater Times Square
Sign up for our free newsletters.
The Renovated Minetta Playground Finally Opens in Greenwich Village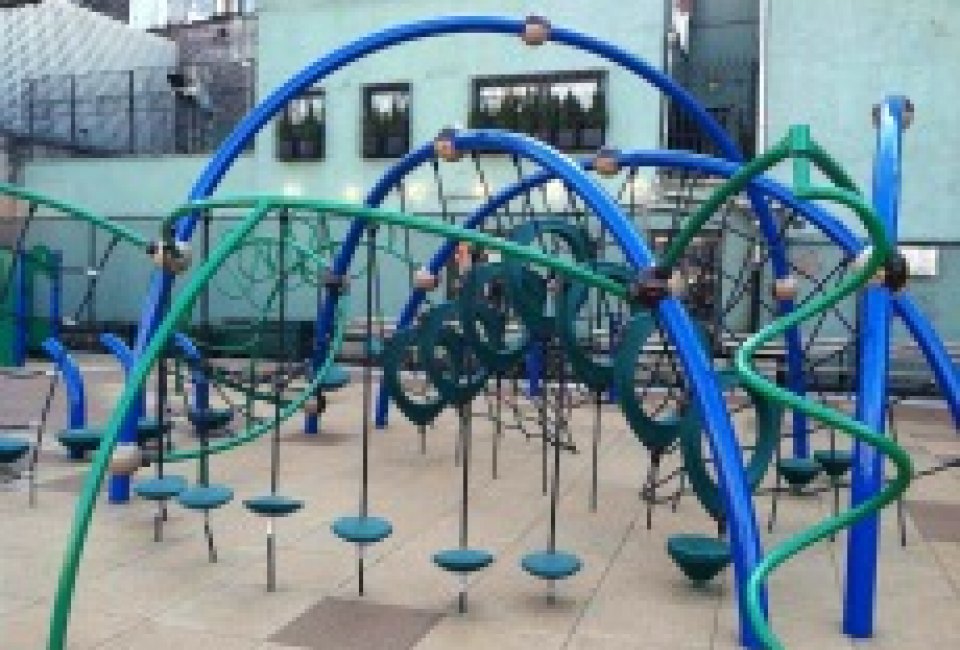 3/4/12
- By
Lia
Ever since we spotted the striking blue play structure being built at 3rd Street and Sixth Avenue, we've been dying to explore Minetta Playground. Although it was originally scheduled to open last fall, it just unlocked its gates last week.

Despite its cool equipment, this new play spot doesn't quite qualify as a Destination Playground: it's modest in size and has no bathroom. But it's a great place to know about if the playgrounds in nearby Washington Square Park are overrun, which they often are. My active toddler certainly approved of Minetta Playground: We spent an hour playing on the bright green and blue structures, swinging on the baby swings, and running around a sprinkler area that will be spraying water soon enough.
Minetta Playground is right in front of a McDonald's and it used to be home to one of the chain's scary looking PlayPlaces, you know, the ones with the enclosed plastic tubes and slides, and myriad germs? The structure was dismantled in 2010 and the new playground is a much better play spot (and less of an eyesore).

There are two distinct sections for children of different ages. The little kid area includes a pair of baby swings (strangely segregated from everything else), a small gazebo, a pathway with interactive features like spinning circles and a maze game, a slide and a mini rock-climbing wall.

As for big kids, when you first enter the playground, you'll notice that big blue play structure that so intrigued us. Although my child was too young to explore it, we saw lots of bigger kids having a blast on the monkey bars, climbing web, pogo-stick-like ropes where kids can jump up and down, and a squiggly spinning structure.

The whole playground is enclosed so you don't have to worry about toddlers running off, the ground is squishy and forgiving, and there are lots of benches for snack time or diaper changes. Although there's no bathroom, you can find one just a block away at Washington Square Park. The biggest downside to Minetta Playground is the proximity of McDonald's. If your kids bug you for a Happy Meal, change their minds by bribing them with a cold treat from popbar on Carmine Street.

Minetta Playground is located on Sixth Avenue and West 4th Street.

Read about other wonderful New York City parks and playgrounds.
Places featured in this article: