Step Inside the Artwork at Artechouse NYC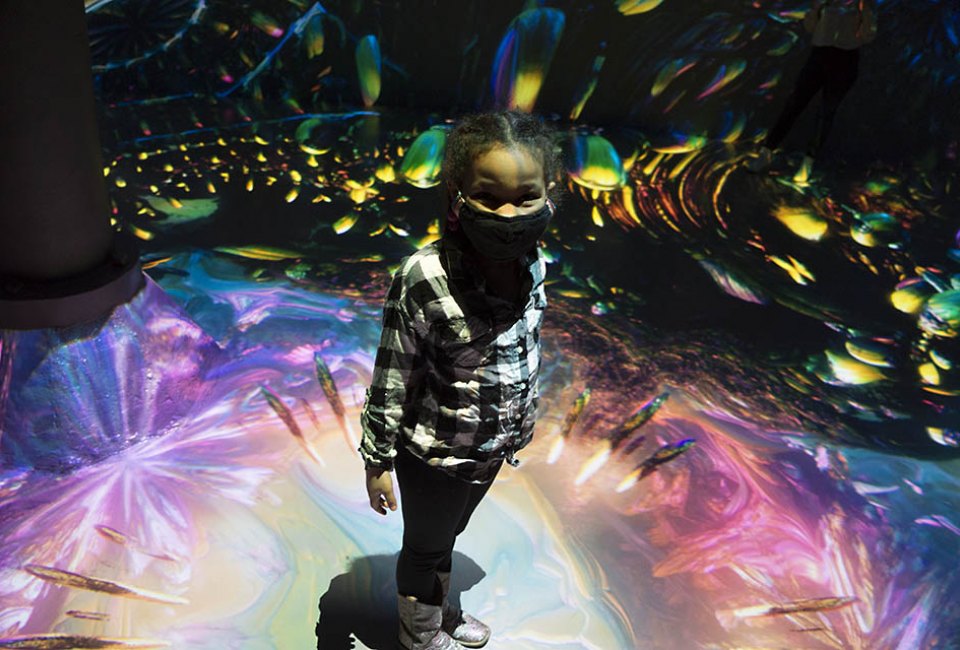 3/9/21
- By
Jody Mercier
Editor's note: While we are trying to promote safer activities that occur outdoors or with social distancing guidelines in place, please keep your family and others safe by always wearing a mask and maintaining an appropriate distance.

See the repeating patterns of Geometric Properties through Monday, September 6. Photo by Andrew Albigese for Artechouse
Artechouse NYC is located in the former boiler room of the sprawling Chelsea market, and its nondescript entrance from 15th Street gives little hint to the huge space you're about to step into. The NYC space is one of three locations, joining a family that includes immersive spaces in Washington, D.C., Miami, and Florida.
The canvas for these immersive, digital light-and-sound installations is a soaring two-floor space. You'll enter on a balcony level, where you get a bird's-eye view of the installation, which covers the floors and walls below but don't expect to linger here long; the art has a way of luring you down the stairs and into its midst of the show.
RELATED: Van Gogh Exhibit Hits NYC This Summer and Tickets Are on Sale Now

At times, the installation is other-worldly. Photo by Andrew Albigese for Artechouse
On view currently—and through September 6, 2021—is Geometric Properties from artist Julius Horsthuis. He examines mathematical properties to produce awe-inspiring visuals.
The show, which runs an hour in length, explores a wide variety of patterns, sending you through a mesmerizingly subdued black-and-white world in one sequence before immersing in a rainbow-hued wilderness where the floor seems to dissolve beneath your feet.
RELATED: Free Times to Visit NYC Museums, Gardens, and Zoos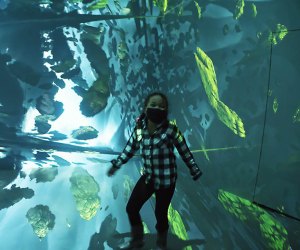 Geometric Properties—like Artechouse's previous show—draws you into its midst to experience the immersive effect.
Geometric Properties is the second Artechouse show I've seen with my daughter, and each time she's raced from one section of the space to another, anxious to see how the art looked from different vantage points. Posting herself up in a corner and seeing the intersection of the different planes is a favorite spot, while I prefer to stand smack-dab in the middle to take it all in.
At times it can be a little overwhelming, and we did find the accompanying soundtrack a bit loud at points, so take note if you've got a little one who is sensitive to such things. But overall, it's easy to lose yourself in the moment, and it's a beautiful distraction from these current times.

Artechouse offers plenty of space to spread out and enjoy the show; its immersive nature means any view is a stunning one.
The large space has a 25 percent capacity limit, as well as other safety protocols, so it feels like a very safe outing. Pair your visit with snacks from the Chelsea Market, consumed in its open-air eating area, and a stroll along The High Line for a pretty perfect staycation day trip.
Know Before You Go to Artechouse
COVID-19 safety protocols are in effect, including mandatory mask wearing, non-contact temperature screenings before entry, hand sanitizers throughout, and more.
Timed-entry tickets are required, and advance purchase is recommended. Tickets are $24 for adults; $17 for children ages 4-14; ages 3 and under enter for FREE. A $5 discount is available to New York and New Jersey residents on weekdays, and you can purchase a family four-pack for $50.
Shows run 1-hour in length, though you can exit early if you wish.
Because of the nature of the installation, it is not recommended for guests who are sensitive to flashing lights, have a history of epilepsy, anxiety, or heart conditions.
Strollers and large bags are not allowed in the space but can be left in the coatroom area.
An accompanying AR app can be downloaded to augment your experience; we were plenty entertained without it.
Unless noted, photos by the author
Places featured in this article: