Visiting Color Factory NYC: Inside Soho's Interactive Art Museum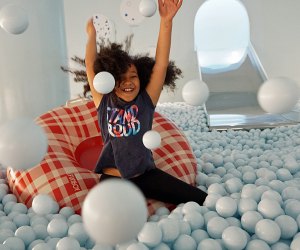 1/2/23
- By
Jody Mercier
When's the last time you dove into a ball pit filled with half a million sky-blue colored balls or sniffed your way through a color-blocked hallway punctuated by an olfactory overload while noshing on a colorful macaron? If the answer leaves you puzzled, perhaps it's time to trek to Color Factory, Soho's interactive art experience that invites exploration and play.
A one-time pop-up, Color Factory is here to stay and constantly reinventing its 20,000-square-foot space to keep the experience fresh. Following our confetti-filled visit to its Winter Colorland installation, we thought it was time to remind visitors of all the fun inside, which includes infinitely Instagrammable moments, fun lite bites, and tons of colorful displays to explore. It's a perfect spot to brighten up a cold winter's day and has earned its place in our Guide to Indoor Play Spaces and Fun Zones in NYC.
Subscribe to our newsletters to get stories like this delivered directly to your inbox.
Why Color Factory is Worth a Visit
Color Factory's mission is fairly simple: Visitors are invited inside to experience the "joy of color," introduced through interactive installations that tickle the senses. These mashups of fine art a fun get regular revamps to keep the experience fresh, though some favorites have been here for the long haul.
RELATED: Inside the New Bronx Children's Museum Now Open in the South Bronx

Color Factory's confetti room changes with the seasons, but the smiles are real year-round.
Must-See Installations at Color Factory New York
Confetti Accumulation
I'll be honest, I took about 100 pictures in this room, which was decked out in a confetti ski slope look when we visited, but changes with the seasons. We had so much fun bundling up the piles of confetti and throwing it up, out, and everywhere. We even made confetti angels—and judging by the interactive camera on the ceiling, we're guessing we're not the only ones!
Disco Room
Sequin walls, a shimmering ceiling, a light-up floor, and an entire wall of mirrors make this room a rather trippy experience. Add to that the fact that you don headphones rocking at DJ Spinderella playlist before you enter, and you're instantly transported to your own personal dance party.
Complementary Compliments
Though it was a bit jarring to be separated from my daughter to step into this room—each of us entering through different colored doors—we were quickly reunited as we took our seats opposite one another at a glass booth connected by two-way phones and enjoyed a guided drawing activity that resulted in a fun keepsake for each of us—my daughter creating a drawing for me and I for her.
RELATED: Visiting the Sloomoo Institute: Soho's Museum of Slime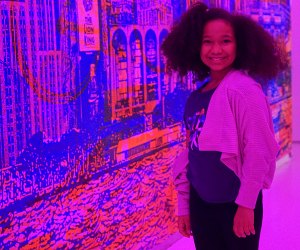 Stand in the RGBNYC exhibit long enough to see all three views of the city, each illuminated by a change in lighting.
RGBNYC
This hallway installation is a bit of a trippy experience, but completely cool. Changing lights reveal a different layer of this art piece from the design duo Carnovsky. With each subtle change in lighting, a new layer of NYC-inspired illustrations is revealed. Imagine stepping inside a holograph, and that gets you close to this sensation.
Into the Blue
At the risk of spoiling the ending, this installation marks the grand finale as you step into a soothing blue room with a ball pit that is seemingly larger than most NYC apartments. You can opt to wade into the blue abyss (like me!) or zoom down the slide straight into the madness (my daughter's move!). If you find the ball pit more of a spectator sport, lounge on the bleacher-like seats that frame the pool while noshing on your included-with-admission scoop of sweetness from Il Laboratorio Del Gelato.
RELATED: Best Children's Museums in NYC for Families to Visit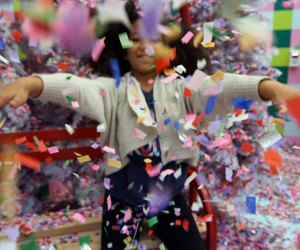 Color Factory keeps its exhibits fresh with seasonal themes and rotating installations.
Know Before You Go to Color Factory NYC
Timed-entry tickets are required and should be booked online in advance. Tickets range from $35-$45 per person for everyone ages 2+.
Admission includes access to the gallery installations, plus a selection of snacks to nosh on while you explore. During our visit, we had macarons, taffy, and gelato.
Every ticket holder also gets a small gift upon exit. We came home with a Color Factory-branded twisty straw and collapsible cup.
Be sure to grab your QR code when you enter and scan it at the photo booths—we had a fun selection of photos and giphy images waiting in my inbox before we even exited.
Like many museums and pop-up installations, the exit ushers you through a gift shop, so make a plan for a quick getaway if you don't want to get saddled with the gimmes!
A previous version of this article was originally published in 2018. Janet Bloom contributed additional reporting. Unless noted, all photos by author.