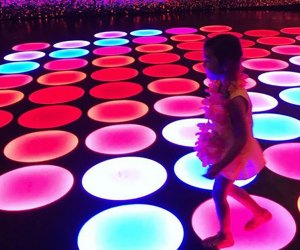 Color Factory in Soho: A Peek Inside NYC's Most Colorful Pop-Up
The Big Apple is one of the most colorful cities in the world: Its beautiful spectrum of diversity is reflected in all the city's sights, sounds, tastes, and smells. And now you can see, hear, taste, smell, and touch your way through a rainbow of NYC-inspired installations at the Color Factory, an interactive art experience in Soho. Based on the popular exhibit of the same name that ran in San Francisco last year, NYC's Color Factory opened on August 20, 2018 and has been extended through the end of May 2019.
Photo-ops abound at almost every turn as different color-filled environments invite you to shake your groove thing, create a sound vibe, find your soul color, and more. Each installation flows into the next, ultimately leading to the grand finale, which features illustrations by Tamara Shopsin and a massive ball pit filled with 500,000 sky blue balls, where visitors can dive and play. My daughter and I visited right around opening day: Read on for a sneak peek inside this delightful display of color.
The immersive experiences at the Color Factory were collaboratively created by New York-based artists and creatives, including Emmanuelle Moureaux, Erin Jang, Lakwena Maciver, Jon Burgerman, Leah Rosenberg, Christine Wong Yap, Cactus, Roz Chast, Molly Young, Kassia St. Clair, and Jason Polan. After basking under the rainbow streamers in the "100 Colors" piece by Emmanuelle Moureaux in the entrance, my daughter and I entered the Orientation Room, where we were offered a selection of My-Mo mochi ice cream. We then watched a very brief introduction film, while sitting on benches illuminated by glowing discs.
After the film, we checked in with a QR coded card that we could swipe at the photo stations throughout the rooms. We used the card in four of the rooms and almost immediately received the images and videos via email. A festive floral mural by James Rosa adorned the wall of the first photo station, which just happened to be adjacent to a rainbow striped counter that housed a conveyor belt serving multi-hued macarons provided by Mille-Feu ille—the perfect chasers for our mochi ice cream.
RELATED: NYC's First Interactive Museum of Tea Celebrates Tea Culture—and Bubble Tea!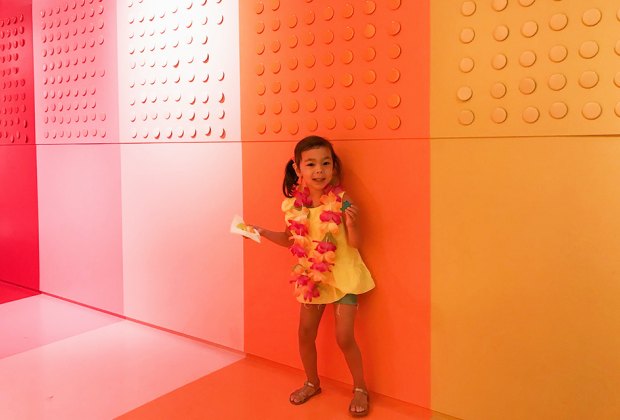 Choose your favorite color from the Wall of Buttons at the Color Factory.
Fueled by the sugar rush, we made our way through the Wall of Buttons, adorned with what looked like candy buttons. As it turned out, the colorful buttons weren't candy—they were real! We selected the buttons we were most drawn to and pinned them to our clothing before continuing on.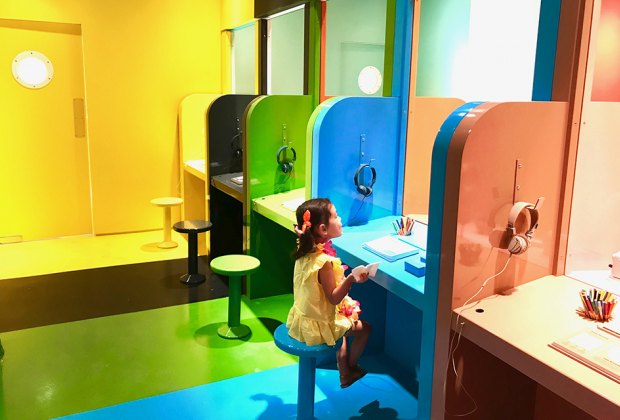 Play games, make colorful sketches, and immerse yourself in the color-filled installations.
In the Complementary Compliments room, we played a sketching game with colored pencils while sitting across from each other in glass booths connected by two-way phones. Completing the game led to even more sweet treats, in the form of a pair of gummy candies plated on a color-coordinated coaster. Savoring the sweetness, we made our way into the next room, where visitors were invited to explore a world of sound by tapping mallets on chimes to create a balanced frequency of musical notes. As we slowly tapped the mallets against the chimes spread throughout the room, we felt the vibrations formed by the "perfect cadence" of two notes. Then my daughter let loose and created a loud, steady flow of rhythmic chime banging, which was just as satisfying.
RELATED: Pop-Up Candy Museum Candytopia Arrives in NYC: Is It Worth a Visit?
The Find Your Soul Color room was still a work in progress when we stepped in for a peek, but we marveled at the fun path of questions that led us to a room painted the "soul color" we were matched with. Why did we need to find out our soul colors? Why, to join in the disco, of course! The disco room was our favorite. Color Factory collaborator Leah Rosenberg kindly led my daughter to the display of colorful cue cards which prompted her to do "nonstop cartwheels." To quench our thirsty palates after a turn on the dance floor of giant neon paillettes, we sipped signature raspberry mocktails provided by Stanley's Pharmacy.
The Balloon Room, which will feature a giant inflatable Mylar unicorn, was not completed yet during our visit, but we had the chance to see some of the beautiful ombre balloons printed with wishes for the world from students at the non-profit organization 826NYC. The beautiful inscriptions ranged from wistful and innocent to worldly and wise.

Kids and grownups will enjoy exploring the "alphabet" of unusual colors.
The purpose of our buttons came to light when we entered the room entitled "From Absinthe to Zephyr: An Alternative Alphabet of Unusual Colors," where we were directed to pull out the colored panels that matched our chosen buttons from the Button Tunnel. Each panel was printed with a special hue on one side and the description of an object adorned with that hue on the other side.

Take a spin on a life-sized color wheel.
We spun ourselves into oblivion on merry-go-round discs in the New York State of Mind room. After perusing the wall legends, which depicted everything from New Yorkers' thoughts on a subway to ways to live your best New York life, we selected the corresponding wheels to swirl around on while the overhead cameras snapped away.

500,000 (count 'em!) light blue balls create NYC's coolest ball pit at The Color Factory.
Next up, the Into the Blue ball pit, surrounded by Tamara Shopsin's quirky blue graphics, was a soothing touch after we had spun ourselves silly. The balls elicited yelps of joy and excitement with lots of tossing and vigorous throwing from my daughter. As for me, I found it incredibly relaxing to sink into the cool pool of plastic as the rustling of 500,000 balls swished around me.

Treats and surprises wait around every turn.
We ended our tour on a sweet note with the help of a delicious scoop of blue-tinted, sweet cream-flavored gelato provided by il laboratorio del gelato. We also got to choose from a selection of parting gifts on our way out. My daughter chose a colorful set of monster stickers and I chose a cute enamel whale pin. After you're finished at the museum itself, the fun continues with a scavenger hunt in the city, as directed by a map that shows "clues" in local businesses and parks.
Color Factory opened on August 20, 2018 and is currently scheduled to run through the end of May 2019. It's located on Spring Street between Varick Street and 6th Avenue. Tickets can be purchased on the Color Factory website, and children under 2 are free. Strollers are not allowed in the installation rooms, but there is a stroller check available.
Photos by the author