7 NYC Puppet Theaters Every Kid Should Experience at Least Once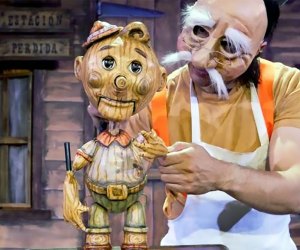 Even if your kids can't sit still for more than five minutes, chances are they'll make it through a puppet show. It's the perfect first-time theater experience: The colorful characters are captivating, the stories are usually adaptations of familiar fairy tales, the tickets are cheap (or FREE), the shows are short, and if your kids make silly faces at the stage, the puppets won't get offended.

While the Swedish Cottage Marionette Theatre in Central Park is the best known children's puppet troupe in New York City, there are many other companies regularly mounting puppet shows for families. We've got the scoop on seven places where you can see puppets in action, including marionettes, shadow puppets, and hand puppets.
Many NYC children's theater venues, such as the New Victory Theater and Symphony Space, also offer puppet shows, so don't forget to check our Event Calendar for new shows, including the magical The Very Hungry Caterpillar Show.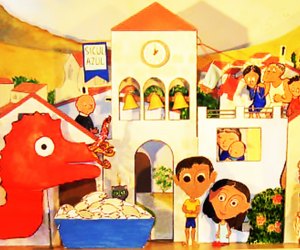 Peppi and the Pop-Up Dragon at Penny Jones & Co. Puppets.
Penny Jones & Co. Puppets – West Village
Westbeth Home to the Arts, 155 Bank Street between Washington and West Streets
Not as well known as some of the others in our roundup, this early childhood puppet theater has actually been around since the '70s. The company specializes in classic tales, like Mother Goose, but also mounts some original shows, and all productions feature detailed sets and puppets. Audience participation is encouraged.
Puppetsburg: An Interactive Puppet Show for Babies – Various locations
While most puppet productions are aimed at children ages 3 and up, Puppetsburg was created with infants and toddlers in mind. Instead of sitting in seats, kids are fully engaged with singing, dancing, and bubbles. Started in Williamsburg, this troupe now offers drop-in and 10-week sessions at a number of locations in Brooklyn and Manhattan. The enthusiastic performers really keep the mood lively, and their puppets even sport tattoos (just like a lot of the local parents). Elements of the show change every week, but the atmosphere is always funky and fun. Follow Puppetsburg on Facebook or email puppetsburg@gmail.com and ask to join the mailing list to receive updates with teasers for the upcoming performances.
Puppetworks – Park Slope, Brooklyn
338 Sixth Avenue at 4th Street
Puppet master Nicolas Coppola opened this charming theater back in 1980. Situated in the heart of über-family-friendly Park Slope, Puppetworks usually shows adaptations of classic fairy tales that are aimed at younger children. The beautiful handmade wooden marionettes lining the walls are truly awe-inspiring. Kids can sit on a large mat close to the stage, or with their parents on benches toward the back.
Shadow Box Theatre – Bedford-Stuyvesant, Brooklyn
P.S. 3 The Bedford Village School, 50 Jefferson Avenue between Bedford and Franklin Avenues
The only shadow puppet theater in NYC, this troupe has been entertaining NYC kids since the '60s with multicultural shows. In addition to presenting public performances at a Brooklyn school, the company travels to other boroughs. Unfortunately, this theater's website is difficult to navigate and rarely up to date. It's best to call to confirm performance dates and times: 212-724-0677.

Swedish Cottage Marionette Theatre – Upper West Side
Enter Central Park at 79th Street and Central Park West
This rustic 19th-century cottage imported from (you guessed it!) Sweden has been presenting puppet theater in the park since 1973. Like most of the other companies, the shows are usually fairy tale adaptations, often with a modern twist or multicultural elements. Little audience members are encouraged to sit up front on communal benches while adults hole up in the back. (This can be disconcerting for some parents, but it means every child has an unobstructed view.) The theater is just inside the park, quite close to the American Natural History Museum and other Upper West Side attractions. In the summer, the CityParks PuppetMobile mounts Swedish Cottage Marionette shows for FREE at parks throughout the five boroughs.
RELATED: The Gazillion Bubble Show Delivers Magical Fun for NYC Kids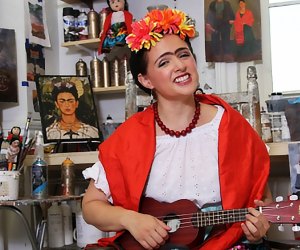 Los Colores de Frida (The Colors of Frida ) at Teatro SEA.
Teatro SEA @ Los Kabayitos Puppet & Children's Theater – Lower East Side
Clemente Soto Vélez Cultural & Educational Center, 107 Suffolk Street between Rivington and Delancey Streets
We were thrilled when this downtown institution opened its revamped 110-seat space a few years ago. NYC's only Latino children's theater company, the troupe presents all of its productions in Spanish and English, but even if you only know one of those languages, the shows are pretty easy to follow. The offerings are usually fairy tale adaptations, like Las Tres Cerditas y La Loba Feroz (the Three Pigettes and the Big Bad Lady Wolf), or shows with a Hispanic cultural bent, such as Los Colores de Frida (The Colors of Frida). Unlike the other puppet theaters, Teatro SEA also uses human performers. In fact, some of the shows don't have puppets in them at all.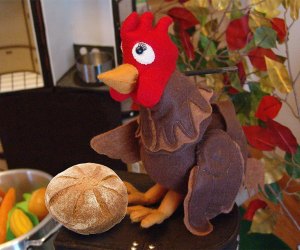 Little Red Hen and her bread at WonderSpark Puppets.
WonderSpark Puppets – Various locations
Founded in 2009 by a husband and wife team, WonderSpark brings free puppet theater to venues such as libraries, parks, the YMCA, and Bed, Bath, and Beyond! These shows are interactive, include plenty of songs, and are usually adaptations of popular fables such as The Little Red Hen. The company also does birthday parties and custom/holiday events. Most public events are free, but some are ticketed. Visit the website to sign up for a monthly newsletter with info about upcoming shows, or follow WonderSpark Puppets on Facebook for updates. FREE
Top photo of Pinocchio at Teatro SEA. All photos courtesy of the theaters
This article was first published in January 2010, but was recently revised and updated.