NYC Puppet Shows, Workshops, and Festivals for Kids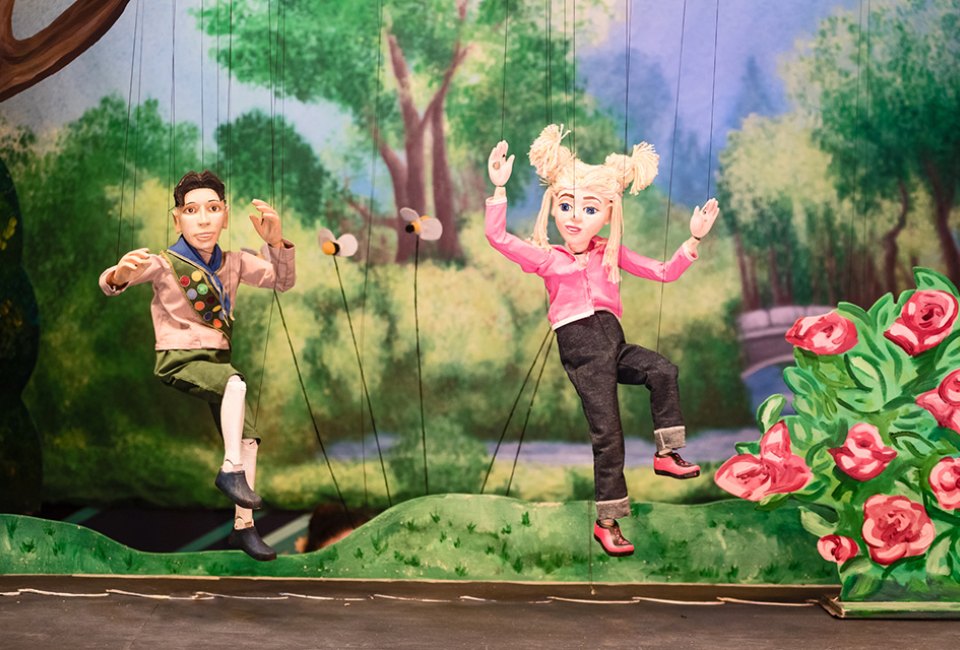 2/12/23
- By
Raven Snook
These puppet shows in NYC are the perfect first-time theater experience. Even if your kids can't sit still for more than five minutes, chances are they'll make it through a puppet show. The colorful characters are captivating, the stories are often adaptations of familiar fairy tales, the tickets are FREE or cheap (and certainly a lot less than nabbing seats for our favorite Broadway shows). Puppet shows are also short, and if your kids make silly faces at the stage, the puppets won't get offended (and neither will the puppeteers—they get it).
While the Swedish Cottage Marionette Theatre in Central Park is the best-known destination for children's puppet shows in New York City, there are many other companies regularly mounting puppet shows for families, and a few offer birthday party packages.
A few other NYC theaters, notably the New Victory, also present puppet shows, like the upcoming Baobab and Wink. DR2 Theatre is also hosting a return engagement of The Very Hungry Caterpillar Show. Be sure to check our Event Calendar for even more puppet fun, including a variety of interactive Puppetsburg puppet show productions.
Subscribe to our newsletters to get stories like this delivered directly to your inbox.
The Best Puppet Shows, Workshops, and Festivals in NYC for Families
This rustic 19th-century cottage nestled in a bucolic corner of Central Park was imported from (you guessed it!) Sweden and has been home to a custom-made marionette theater since 1973 (and it even hosted a traveling puppet troupe for three decades before that). The shows are short and sweet, usually fairy-tale adaptations with a modern twist, and the handcrafted marionettes are absolutely lovely. Young audience members are encouraged to sit up front on communal benches while adults hole up in the back. If you have kids ages 3-8, a visit here should definitely be on your NYC bucket list. You can add it to a daycation itinerary since it's near the American Natural History Museum and other Upper West Side attractions.
The talented artists at Swedish Cottage are also behind the traveling CityParks PuppetMobile, which mounts puppet shows for FREE at parks, recreation centers, and other public spaces throughout the five boroughs every June to October. The troupe is the oldest continually operating company of its kind in the country, and these puppet shows last less than an hour and often include a post-show puppet-making workshop. No reservations are required so you can just drop in. It's the perfect, no-cost way to introduce tots to the magic of live theater.
RELATED: The Best Family Shows of Off-Broadway's New Victory Theater 2022-23 Season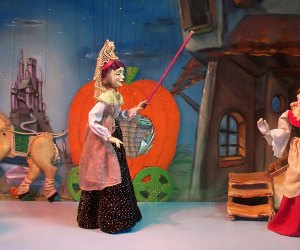 Puppetworks presents fairy-tale classics, like Cinderella.
3. Puppetworks – Park Slope, Brooklyn
After decades of running his own touring company, Nicolas Coppola opened this charming marionette theater back in 1980. Situated in the heart of family-friendly Park Slope, Puppetworks presents adaptations of classic fairy tales aimed at the sippy-cup set. Kids can sit on the large mat on the floor close to the action, or with their parents on benches toward the back. The gorgeous, handmade, wooden marionettes are truly awe-inspiring. It's also a fabulous spot for birthday parties, which include a performance and post-show playtime.
Working out of a beautifully renovated 110-seat venue, NYC's only bilingual Latino theater for young audiences presents most of its productions in Spanish and English, but even if you only know one of those languages, the shows are pretty easy to follow. The offerings are a mix of fresh takes on fairy tales, such as The True Story of Little Red/La Verdadera Historia de Caperucita, and contemporary stories like The Colors of Frida/Los Colores de Frida, a bio-show about the iconic Mexican artist Frida Kahlo. The theater also co-produces a biennial International Puppet Fringe Festival showcasing cutting-edge puppet productions, some for families but others just for grown-ups. Note that not all Teatro SEA shows have puppets, and select productions are aimed at adults.
RELATED: Guide to Children's Theater and Shows in New York City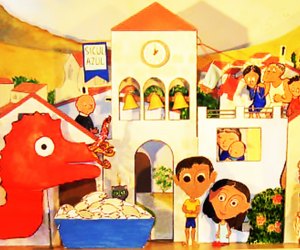 Penny Jones & Co. Puppets presents delightfully simple puppet shows using paper puppets.
Penny Jones founded this early childhood troupe back in the 1970s. Now in her 90s, she continues to puppeteer alongside her son, and together they present charming, old-school puppet shows to kids ages 3-8. Jones adapts classic tales and fables like Cinderella and Mother Goose and also presents original shows using a wide variety of puppets, including small table-top figurines, paper cutouts, and marionettes. Audience participation is encouraged and there's always a post-performance puppet-making workshop, so every kid goes home with a new friend. A birthday party package is offered that includes a puppet show and an eating area at the company's West Village home base.
After unearthing 16 antique puppets at a Czech Presbyterian church on the Upper East Side, director Vít Hořejš was inspired to found this marionette troupe in 1990. The company presents puppet shows for kids and adults, so be sure to read the descriptions carefully or you may wander into a production of Faust! The Czechoslovak-American Marionette Theatre's repertory for families includes adaptations of Czech and Slovak fairy tales as well as fresh takes on classics like A Christmas Carol. The shows are mounted at venues such as Theater for the New City and La MaMa.
RELATED: Best Off-Broadway Shows for Kids: Affordable Children's Theater in NYC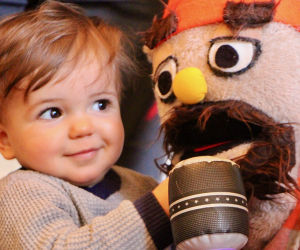 Babies and toddlers love the puppet shows put on by Puppetsburg.
7. Puppetsburg – Brooklyn, Manhattan, and Queens
Puppetsburg caters to babies and toddlers, presenting interactive puppet shows for ages 4 months-5 years. There's a brand-new production with a different theme every week, often inspired by pop culture (The Beyonce Show) or social issues (Mermaid/Water Conservation Show). Families can drop in to a performance or sign up for a semester of weekly puppet mania. No seats or shushing; tots are encouraged to dance and sing along. Started in Williamsburg, this troupe now works out of various locations in Brooklyn, Manhattan, and Queens. The enthusiastic performers keep the mood lively and their puppets even sport tattoos—just like a lot of parents. Birthday party packages are offered (they'll come to you!) as well as special events like weekend Puppetsburg + Mimosas. Book your tickets from our Family Activity Calendar and follow Puppetsburg on Instagram.
Speaking of La MaMa, the legendary experimental theater has been presenting boundary-pushing performances since 1961. While most of its productions are aimed at grown-ups, its La MaMa Kids series offers cutting-edge fare for families, including eye-popping puppet shows from diverse artists like Tarish "Jeghetto" Pipkins, Loco7 Dance Puppet Theatre Company, and Jane Catherine Shaw. The theater also hosts the biennial La MaMa Puppet Festival, though not all offerings are kid-friendly. Be sure to read the descriptions carefully!
RELATED: Best Children's Theaters in the US: Why Bringing Young Kids to the Theater Is Important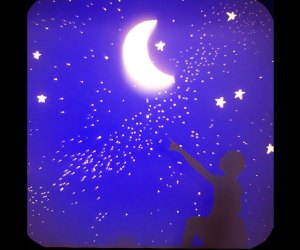 The Shadow Box Theatre presents eye-popping shadow puppet shows at a variety of venues across NYC.
The only shadow puppet theater in NYC (although traditional felt puppets get in on the action, too), this troupe has been entertaining NYC kids since the 1960s with puppet shows that tell stories from around the world. While the troupe is mostly booked for private events at schools, Shadow Box occasionally presents public performances at various NYC locations. Its new season kicks off in April with How the Turtle Got Its Shell as told by puppets and African percussionist Chief Baba Neil Clarke. Once details are finalized, find performance locations, dates, and times on the company's website or Instagram.
RELATED: 25 Things To Do with Preschoolers in NYC Before They Turn 5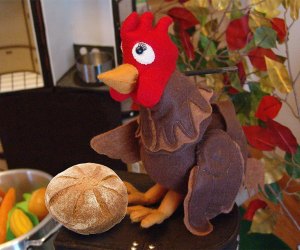 See classic stories like Little Red Hen at WonderSpark Puppets.
Founded in 2009 by a husband-and-wife team, WonderSpark brings FREE puppet shows to libraries, parks, public schools, and small theaters. The shows are interactive and include plenty of songs, and are usually adaptations of popular fables such as The Little Red Hen. The company also offers birthday party packages for a fee, of course. Most public events are FREE, though some require no-cost tickets. Visit the website to sign up for a monthly newsletter with info about upcoming shows, or follow WonderSpark Puppets on Facebook for updates.
Bonus: Jim Henson Foundation
If you want to know about every single puppet production for kids coming to town, be sure to bookmark The Jim Henson Foundation's New York Family Puppet Happenings page or subscribe to the newsletter. It's an invaluable resource and even lists puppet shows for grown-ups (bet you haven't done that on date night!). So, if you want to know when celebrated puppet theaters from outside the city are visiting (Arm-of-the-Sea Theater, the Mettawee River Theatre Company, and the Bread and Puppet Theater are some of my favorites), you'll be the puppet master. You can, of course, see plenty of Henson's work on display at the Museum of the Moving Image, which houses a popular exhibition dedicated to the famed creator.
Photos courtesy of the theaters
Originally published in January 2010.
Click Here to Sign Up!
i