Experience the Magic of the Muppets at the Jim Henson Exhibit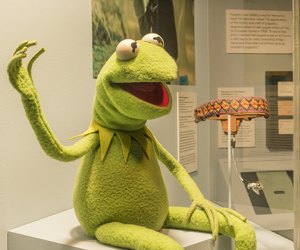 It's time to play the music, it's time to light the lights, it's time to meet the Muppets at this Queens' museum all right! Inspired by the popularity of its temporary exhibition in 2011, and partially crowdfunded by fans, the Museum of the Moving Image's long-promised permanent Jim Henson Exhibition is finally open in Astoria. A loving tribute to the late genius, who died prematurely at age 53 in 1990, this multi-room installation provides a chronological retrospective of Henson's career, from his early days as a teen crafting puppets for a local Washington, D.C. Saturday morning children's show, to his ascension as a Muppet master with Sesame Street and The Muppet Show, and movies such as The Dark Crystal and Labyrinth.
Henson's amazing output spanned many decades, genres, and target age ranges, so everyone in your family should find something of interest in this exhibit. That said, this is a "grown-up" offering with limited hands-on elements and no strollers allowed. So before you bring the brood, why don't we get things started by sharing the most sensational, inspirational, celebrational, Muppetational parts of The Jim Henson Exhibition for families.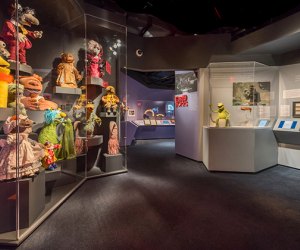 Entry area and "Early Works" section, installation view.
The new Jim Henson Exhibition is located on the second floor of MoMI in a funky, zigzagging gallery built especially to house this installation. The show is organized chronologically, with the early rooms dedicated to his childhood and pre-Sesame Street career. There are more than 300 artifacts on view, including 47 Muppets—all safely ensconced behind glass where little hands can't get to them. For older kids and adults, it's thrilling to see familiar felt friends like Big Bird, Cookie Monster, and Kermit in real life. But very young children might find this confusing or even upsetting if they think the Muppets are alive.
RELATED: Eloise Hops Off the Page and into the New-York Historical Society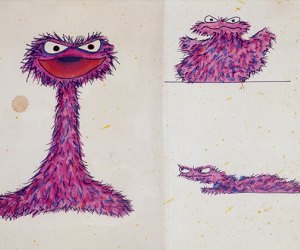 Jim Henson's early sketch for Oscar the Grouch, 1969. Photo courtesy of The Jim Henson Company/Museum of the Moving Image
Fascinating ephemera and curios are everywhere you turn, including sketches, storyboards, archival photos, and rare, digitally remastered clips like early appearances by Kermit the Frog on Sam and Friends and Rowlf the Dog on The Jimmy Dean Show. As you move along, the objects should become more familiar. All of Henson's iconic projects (and a few obscure ones) are represented, notably Sesame Street, The Muppet Show and its movie spin-offs, Fraggle Rock, The Dark Crystal, and Labyrinth. Clips are played on loops throughout, including two full-wall banks of screens, plus tablets where visitors can swipe through drawings. If you saw MoMI's Jim Henson's Fantastic World six years ago, this is comparable. Many of the items on display are different but the overall vibe is similar.
RELATED: 50 Ways to Keep NYC Kids Off Screens This Summer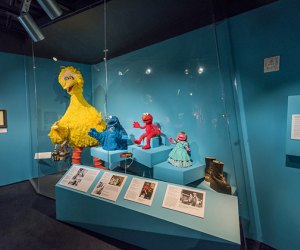 Installation view of Big Bird, Cookie Monster, Elmo, and Prairie Dawn puppets in the "Sesame Street" section.
Although everything in The Jim Henson Exhibition is appropriate for all ages, there's a lot to read and take in, which is why it's best for school-age kids. However, there are two interactive stations that should appeal to all ages, including tots. The first is a mini-studio where you can play Muppeteer on camera. Choose a puppet and soundtrack, practice for a minute, and then make your Muppet lip-sync to the selected audio. It's hard to do convincingly, and requires both hands to manipulate the mouth and arms. You'll have a newfound respect for the puppeteers...and some potentially embarrassing video of your performance. Further in you'll find a design-your-own Muppet station, where you can combine various features to customize your character à la Mr. Potato Head. There's a brief training video with tips on how to conjure various personalities. We expect long lines for both of these experiences.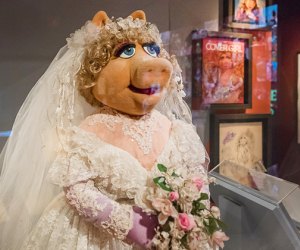 Miss Piggy puppet, c. 1984.
In conjunction with the exhibit, MoMI is offering lots of programming for families, most of which is included with admission. In the downstairs studio you'll find drop-in activity stations where big kids can make puppets and stop-motion animations, while tots can color and play mixed-up monster. There will also be frequent Henson screenings in the HD movie theater (sometimes free, sometimes for a fee). However, the smaller but much funkier Tut's Fever Movie Palace is showing Muppets clips all day long at no cost. It's a great place to take little ones if they just need to zone out to boob tube for a bit.
Before you visit, be sure to check MoMI's family calendar to see what's happening as special programs are always being added. And mark your book for the Jim Henson Exhibition Family Day on Saturday, October 14. Details aren't yet determined, but MoMI promises it will be a must-do for Muppet maniacs.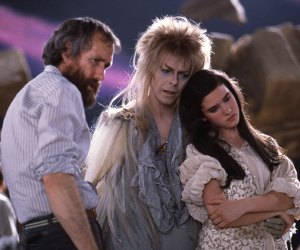 Jim Henson, David Bowie, and Jennifer Connelly on the set of Labyrinth (1986). Photo by John Brown/courtesy of The Jim Henson Company/Museum of the Moving Image
I admit, I got choked up a few times exploring this exhibit. (David Bowie's costume from Labyrinth was a double whammy!) I was a teenager when Henson died, and I remember how shocking it was. Like so many of my generation, I felt he had helped raised me. Although it's been more than a quarter century since Henson passed, his legacy continues to influence artists today. Now our kids are growing up with his characters. And considering the staying power of his creations, chances are our grandchildren will, too.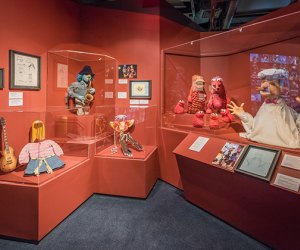 "The Muppets" section with Swedish Chef puppet, Koozebanian puppets, and Zoot.
The Jim Henson Exhibition is on view permanently at the Museum of the Moving Image, 36-01 35 Avenue between 36th and 37th Streets in Astoria, Queens. While it's included in admission, timed tickets are currently required. $15 for adults, $11 for students, $7 for children ages 3-17.
Top photo: Kermit the Frog puppet and the headband Jim Henson wore while performing. Unless otherwise noted, photos by Thanassi Karageorgiou/courtesy of Museum of the Moving Image