Two Children's Theater Companies Open New Spaces Downtown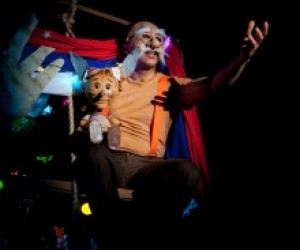 New Yorkers are used to lots of businesses opening and, more often it seems, closing. So while we were sad, we weren't exactly surprised when two veteran children's theaters announced that they were losing their spaces and looking to move. Manhattan Children's Theatre is running its final show in its Tribeca theater, The Complete Works of the Brothers Grimm (Abridged), through May 30. Meanwhile the New Acting Company, which is performing its campy take on Snow White through May 15, will vacate its Greenwich Village location next year. No details yet on where these companies will end up.

But for every spot that closes, another one opens. It's just the nature of this town. So we're happy (and again, not all that surprised) to tell you that two other NYC family theater mainstays, Galli Theater and Teatro SEA, have brand-new theaters in downtown Manhattan.

We've got the scoop on their new spaces and the shows they'll be performing the rest of this season.

Out of all the children's theaters in NYC,
Teatro SEA
(Society for the Educational Arts, Inc.) seems to get the least coverage. That's really a shame, because not only is it one of just
four puppet theater companies
regularly producing shows for families, it's the only Latino children's theater company in the city. All of its fairytale- and folklore-inspired shows are bilingual, so English speaking kids won't get lost, and they may learn a few words of Spanish to boot (without parents having to suffer through another oddly paced episode of
Dora
).
Teatro SEA was founded by Dr. Manuel A. Morán in Puerto Rico 25 years ago, and although the company has outposts in other cities, since 1999 its mainstage has been the 50-seat
Los Kabayitos Puppet Theater
housed on the second floor of the Clemente Soto Vélez Cultural and Educational Center on the Lower East Side.
After many months of renovation, the company now has a new stage. New Teatro SEA is located in the same building, but it's a lot bigger—110 seats!—and on the first floor. The new digs are 2,800 square feet in total, which gives the company a lot more space for its
educational programs
, special events like its annual Three Kings Day celebration in January, and its productions. The grand opening is tomorrow night, on
Cinco de Mayo
. Beginning at 6:30pm, there will be a "puppet red carpet" outside the building, featuring 16 characters including the Three Little Pigs, Martina, The Little Roach and her boyfriend Perez Mouse.
Although the inaugural performance and reception are invitation only, families can catch
Viva Pinocho! A Mexican Pinocchio!,
in which the iconic wooden boy is a Mexican immigrant learning about his heritage, Saturday, May 7 through Saturday, May 28. Show times vary so
click here for a complete calendar
.
Like
Viva Pinocho!,
the other shows this season are greatest hits from Teatro SEA's rich history.
La Cucarachita Martina/Martina, The Little Roach
runs Monday, May 16-Thursday, May 19;
Los Desertores /The Dropouts
runs Monday, May 23-Friday, May 27 and
Ricitos y los tres O sitos/Ricitos and the Three Bears
, a Latino take on
Goldilocks
, runs Monday, May 31-Thursday, June 3. Keep in mind, many of the weekday performances sell out with school groups. So call ahead to make sure the show you want is available.
New Teatro SEA
, Clemente Soto Vélez Cultural and Educational Center, 107 Suffolk Street, between Rivington and Delancey Streets, First Floor. Tickets are $18 for adults, $15 for children ages 2-12, under 2 free.
Meanwhile, the Midtown West-based
Galli Theater
, which already brings its productions to the South Bronx's
Bruckner Bar & Grill on weekends
, quiet launched a
third location at the South Street Seaport Mall
back in April. Every Saturday and Sunday at 2pm, you can see one of the troupe's fairy-tale-themed shows in this 100-seat theater, which boasts spectacular views of the water and the Brooklyn Bridge. After select shows, Galli runs a related interactive performance workshop for an additional fee.
Like Teatro SEA, Galli is presenting a lineup of its past productions. May is
Little Red Riding Hood
, June is
Rapunzel
and July is
The Little Mermaid
.
Galli Theater
, South Street Seaport Mall, by Pier 17, 89 South Street, Second Floor. Tickets: $20 for adults, $15 for children ages 2-17, under 2 free. Post-show workshops: $15 for one child, $10 for siblings.