11 Great Shows for Kids in New York City: Culture Guide Spring 2011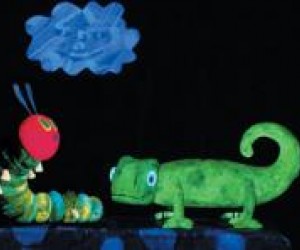 It's not just gardens that are blooming this season. NYC's family theater scene is bursting with new, colorful stage productions. As a total theater geek who grew up going to Broadway spectacles (back when regular folk could afford to do that on a regular basis), I love taking my daughter to shows. Luckily in this town, the Great White Way isn't the only option. There's a ton of amazing Off-Off Broadway offerings for young audiences—and you don't have to be a millionaire to afford the tickets.
While some shows play for a while, there are lots of worthwhile one-offs that come into town to play for a day, and then move on to another city. So be sure to look carefully at the dates when checking our recommendations.
From fractured fairy tales to page-to-stage adaptations of classic kid-lit to circus feats to cool original musicals, here are 11 shows to take your kids to this spring.
The Very Hungry Caterpillar and Other Eric Carle Favorites – Greenwich Village
Saturday, April 2 at 10am.
Jack. H Skirball Center for the Performing Arts, 566 Laguardia Pl.
$15-$25. Ages 2 and up.
The Mermaid Theatre of Nova Scotia has brought this black-light puppet spectacle to the city before. I've never seen it personally but the photos look amazing, and we all know how much preschoolers love Carle's simple and sweet stories. This triple bill also includes Little Cloud and The Mixed-Up Chameleon. This is the perfect show for first-time theatergoers. Bonus: pre-show arts and crafts.
Revolting Rhymes – West Village
April 3-24. Click here for schedule.
The Lucille Lortel Theater, 121 Christopher St.
$20. Ages 4-12.
Theater vet Elizabeth Swados adapted the offbeat poems of Roald Dahl (yup, the author behind Charlie and the Chocolate Factory and James and the Giant Peach) into this collection of mini-musicals. The Atlantic Theater Company for Kids mounts a handful of kid-lit shows every season, and this one sounds particularly tantalizing, with its blend of puppetry, crazy costumes and original songs. We're seeing this one on opening day! (Look for the review sometime next week.)
Boom Town – Midtown West
April 8-24. Click here for schedule.
New Victory Theater, 209 W 42nd St
$14-$38. All ages.
This Las Vegas-based troupe mixes top-notch circus skills with evocative aesthetics and wonderful, wordless stories. We absolutely adored Cirque Mechanics' last show, the Metropolis-esque Birdhouse Factory, which played the New Vic a few seasons back. This time around, the performers are heading into American history with a show about the Gold Rush and the Wild West. Expect cowgirls and boys doing incredible stunts on kooky contraptions.
Junie B. Jones – Upper West Side
Saturday, April 9 at 2pm.
Mary Lea Johnson Performing Arts Center at the Calhoun School, 433 West End Ave at 81st St
$10 for adults, $5 for kids. Ages 5 and up.
My daughter and I caught TheatreworksUSA's delightfully quirky musical, based on the popular kid-lit series of the same name, a few summers ago. It's fantastic fun for young elementary schoolers and touches on all kinds of issues they face every day, from making new friends to not getting what they want. (I guess we parents deal with that drama, too). A milk and cookie reception follows the performance. As Junie might say, "Isn't that the bestest?"

Lion, the Witch and the Wardrobe – Brooklyn
Sunday, April 10 at 2pm.
Walt Whitman Theater at the Brooklyn Center for the Performing Arts, 2900 Campus Rd and Hillel Pl
$6 in advance, $7 at the door. Ages 6 and up.
Another TheatreworksUSA adaptation of a famous book, this musical manages to tell the story of the four siblings and their adventures in Narnia in about an hour. We're curious to see it just to find out how they magically do that!

Snow White – Greenwich Village
April 15-May 15. Click here for schedule.
The New Acting Company at the Philip Coltoff Center, 219 Sullivan Street
$18 in advance, $20 at the door. Ages 4 and up.
For its 11th season, this children's theater troupe presents its take on the classic fairy tale, which is heavily influenced by Disney's seminal 1937 animated movie. As with all of the company's shows, the cast is made up of professionals and students in the center's drama program. Since the building that houses the theater—as well as the Children's Aid center—is currently up for sale, this will be one of TNAC's last shows in the space, which is a truly a pity.

Odd Day Rain – Chelsea
April 15-May 22. Click here for schedule.
TADA! Youth Theater, 15 W 28th St.
$20-$25 for adults, $8-$15 for kids. Ages 5 and up.
This wonderful company is made of up talented tri-state area tykes ages 7 to 17. All shows performed are original, and while the level of professionalism varies from performer to performer, kids absolutely adore seeing their peers on stage. This brand-new rock musical tackles a very timely theme, technology, and is set in the year 2211. Sci-fi show tunes anyone?

Barrio Grrrl! – Greenwich Village
Saturday, April 16 at 2pm.
Jack. H Skirball Center for the Performing Arts, 566 Laguardia Pl.
$15-$25. Ages 7 and up.
NYC mom Quiara Alegría Hudes wrote the book and lyrics for this musical, about a spirited nine-year-old who deals with life's stresses (including a mom who's serving in Iraq) by making up superhero stories. The last musical Hudes worked on may be one you've heard of: She was nominated for a Tony for writing the book to In the Heights. Yeah, we're impressed, too.

The Complete Works of the Brothers Grimm (Abridged) – Tribeca
April 23-May 30. Click here for schedule.
Manhattan Children's Theatre, 52 White St.
$20. All ages.
If you've never seen a show in MTC's cozy Tribeca space, this is your last chance. Although the venerable children's theater company hopes to stay in the neighborhood, its lease is up and this will be its final show on White Street. Many of the famed Grimm fairy tales come to life—Sleeping Beauty, Tom Thumb, Snow White, Cinderella and more—but sans the brothers' dark sensibility. One hundred stories will be told…in less than 60 minutes. We aim to time them.

The Wizard of Oz – Park Slope
April 30-August 21. Click here for schedule.
PuppetWorks, 338 Sixth Ave. $8 for adults, $7 for kids. All ages.
This Brooklyn mainstay regularly presents puppet shows of popular tales. The main attractions here are the gorgeous, handcrafted marionettes, as well as the cheap ticket prices. Will this production thrill mom and dad? Probably not. But little kids, especially preschoolers, may think they've gone over the rainbow.

Peter and Wendy – Midtown West
May 6 – 22. Click here for schedule.
New Victory Theater, 209 W 42nd St
$14-$38. Ages 10 and up.
This is the third time that lauded experimental theater company Mabou Mines has brought this show to the New Vic. As the title suggests, it's an adaptation of J.M.Barrie's classic novel Peter Pan, but a dark one best suited to tweens. One amazing actress, Karen Kandel, plays Wendy and gives voice to all of the other characters, who are embodied by Japanese puppets. This really is one of those shows that's better seen than described, although there are plenty of old rave reviews for you to peruse.

Don't forget there's a lot more fun in the Mommy Poppins Events Calendar.