What's Blooming in NYC this Spring: Macy's Flower Show, Cherry Blossoms, Tulips and Daffodils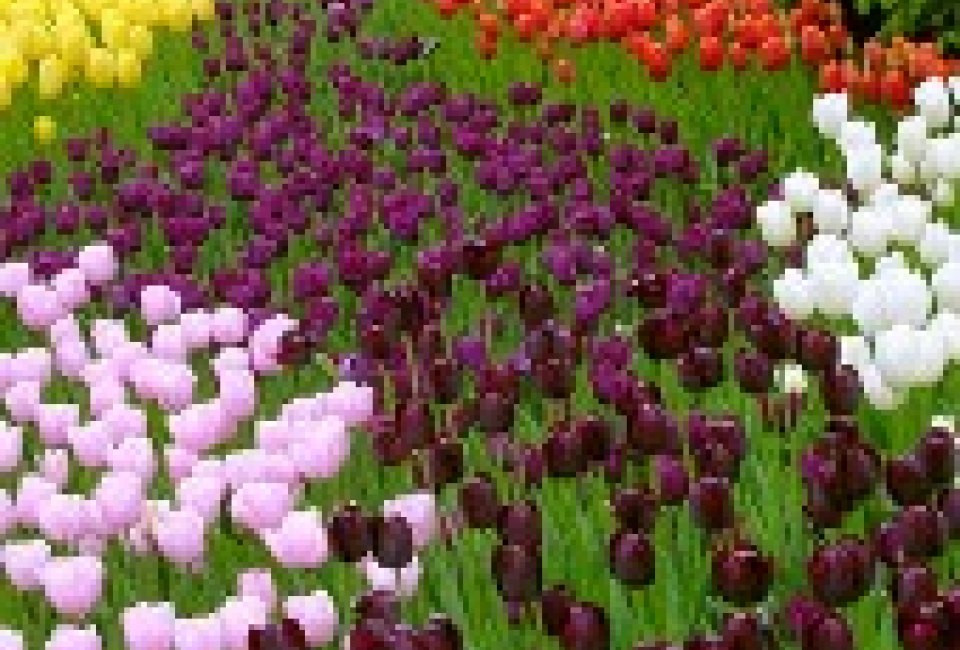 3/24/11
- By
Stephanie Ogozalek
Last week we told you how to get your city kids into growing and gardening. But we realize that some people don't have a green thumb. Families that prefer to watch Mother Nature do all the work can visit New York City's gorgeous gardens, green spaces and other fantastic flora-filled spots.
From the Brooklyn Botanic Garden's Cherry Blossom Festival in late April to the New York Botanical Garden's current Orchid Show to Macy's Flower Show, which debuts this Sunday, to less well-known buds and blooms, we've got the scoop on where to get your flower fix in the city this Spring.
Botanic Gardens

The New York Botanical Garden - Bronx

This 250-acre jewel boasts 50 themed flower-and-plant-filled plots to explore. My favorite is the native Forest, which features indigenous plants and trees, and a waterfall that give families a glimpse of what the city looked like once open a time. Visit this Spring and you'll find lilacs bushes, cherry trees and tulips. Check the Garden's website before you head over to verify what's in bloom.

What's Growing On: This year, the magnificent Orchid Show, which is on view through April 25, has a very NYC theme: Broadway! The Everett Children's Garden is offering hands-on activities related to the exhibit, including a bunch of great events over Spring Break.

In May, the NYBG will celebrate the debut of its brand-new azalea garden with an old-fashioned garden party (Saturday, May 7-Sunday, May 8), which looks like a lot of retro fun. Families can sip lemonade, fly kites and play croquet, and kids can dress up in Victorian-era costumes and make Mother's Day cards.

In Spring, the Children's Adventure Garden is abuzz with insects, creatures and plants. In the Family Garden, kids can see all the work the junior gardeners have accomplished. If that inspires your brood to get down and dirty, check out a hands-on Dig, Plant, Grow! drop-in class.

Admission and Transportation: There are two different packages: All Garden ($20 for adults, $8 for children ages 2–12, under 2 free) gives you access to everything, including special exhibits and the Children's Garden. Grounds Only ($6 for adults, $5 for adult Bronx residents, $1 for children under 13, free to all on Wednesdays and Saturdays 10am-noon) only gets you entrance to the grounds. See exclusions here. Although you can travel by car or bus, the Metro-North Harlem line from Grand Central will get you to the Garden in about 20 minutes.


Queens Botanical Garden - Flushing

Like many of the attractions in Flushing Meadows Corona Park, the Queens Botanical Garden was built for the 1939 World's Fair. Relatively under-the-radar, this lush locale features cherry trees, a pinetum and woodlands as well as exhibits on small-space gardens and an 8,000-square-foot green roof garden. The cherry trees and springtime flowers are starting to bloom but as always, check the website to confirm what's on view.

What's Growing On: Green in multiple ways, the QBG is dedicated to creating a more sustainable environment. One initiative is its Parking Garden, which reopens on April 1. This eco-friendly parking lot doesn't look anything like the black tar spaces you're used to. Instead, it's dotted with trees and plants, and specially designed to manage storm water and minimize heat.

For Arbor Day (Saturday, May 1), the QBG will throw a festival featuring gardening demos, special tours, local artisans, environmentally friendly vendors and organic foods. There will also be activities for kids, including arts and crafts, and live performances by Bash the Trash and the Charanams. FREE with garden admission.

While there is a Children's Garden, it's only open to kids enrolled in QBG's education programs. Click here to see what kinds of classes are available.

The 39-acre garden is home to more than 50 species of bird, so it's a great place to go bird watching.

Admission and Transportation: Until 2010, the Queens Botanic Garden was free year-round. But due to financial strain, the garden now charges a nominal entrance fee from April 1-October 31: $4 for adults, $2 for students and children, free for kids under 3 and free for all Wednesday 3-6pm and Sunday 4-6pm. Take the 7 train or the Long Island Rail Road to Main Street-Flushing, then walk eight blocks south.

Snug Harbor Cultural Center and Botanical Garden - Staten Island

This 83-acre botanic garden and park features two specialty mini-gardens and a number of restored 19th- and 20th-century buildings that now house cultural institutions. The New York Chinese Scholar's Garden evokes the Far East with walkways, pavilions, pools of water, lush greenery and delicate cherry blossom trees. The Tuscan Garden boasts formal landscapes, a one-acre vineyard, topiaries, and potted olive and lemon trees.

What's Growing On: Cherry trees, tulips, daffodils and other spring flowers are currently in season.

Kids will love the Connie Gretz Secret Garden, seemingly built just for them, and exploring the huge park with paths and public art. Plus, this is where the Staten Island Children's Museum is located.
Admission and Transportation:
Entrance to the grounds is free although there is a
fee to enter the Chinese Scholar's Garden
: $5 for adults, $4 for seniors and children ages 6 to 17, under 6 free. However, if you're planning on hitting some of the galleries, you can purchase a combo ticket for $6 for adults, $5 for seniors and students 12 to 17, and free for children under 12. You can reach Snug Harbor by taking the Staten Island Ferry, then transferring to the S40 bus. It's about a 10-minute ride.
The Brooklyn Botanic Garden
- Prospect Heights
Carved into a small triangular piece of urban ruin over a century ago, the
Brooklyn Botanic Garden
is one of the best displays of gorgeous gardening, anywhere. Two highlights of the 52-acre expanse are the
Cherry Esplanade
and the
Japanese Hill-and-Pond Garden
. Other gardens include the Native Flora Garden with plants indigenous to the Eastern seaboard, a wild English Cottage Garden inspired by plants name-checked in Shakespeare and an amazing conservatory brimming with bonsai, tropical plants and orchids.
What's Growing On:
Daffodils, tulips, peonies and the BBG's famous cherry trees are all starting to bloom. A quick trip to the
website
will confirm what's on view. There's also a cool
Cherry Status Map
, which shows which specific trees are budding, blooming and at peak.
The BBG's
Sakura Matsuri
or
Cherry Blossom Festival
(Saturday, April 30-Sunday, May 1) is a true NYC rite of spring. This year's schedule has yet to be released, but expect live performances, food and gardening demos, and lots and lots of people, many in Anime costumes. You can get a good sense of all the fun to be had by checking out a
slide show of last year's bash
.
Kids love to meander through the Cherry Blossom Esplanade, the only place in the BBG where you're allowed on the grass.
The Flatbush Avenue entrance is the closest to the
Discovery Garden
. This interactive spot encourages hands-on exploration of plants and creatures via a touching garden, butterfly bushes and a water table full of aquatic plants. Hit a
free workshop
for a particularly enriching experience, and be sure to visit the nearby
Children's Garden
to see what kids are up to in the
gardening classes
.
Admission and Transportation:
Entrance is $10 for adults, $5 for students and seniors, free for children under 12 and free for all on Tuesday and Saturday between 10am-noon. The BBG is easily accessible by multiple subways lines: Take the B or Q to Prospect Park, or the 2 or 3 to Eastern Parkway.
Smaller Gardens and Parks
The Conservatory Garden
- East Harlem
A trio of serene, meticulously landscaped gardens in Northeastern Central Park make for an enchanting afternoon stroll. Behind the huge wrought-iron gates at 105th and Fifth Avenue, visitors will find three separate and distinct gardens done in three different styles, French, Italian and English, each one with its own exquisite fountain. My son and I visit the gardens whenever we're in this part of Central Park. We love exploring the twists and turns, and relaxing in the covered pergola toward back. Springtime is a magnificent time to visit, when the lilacs, tulips, crabapples and daffodils are bursting forth.
Tours
are available Saturday mornings at 11am April through October. Like the rest of Central Park, admission to the garden is free. But those with noisy children beware: This is a place of quiet repose. Happily, there are two playgrounds, the
Harlem Meer
and the
Dana Discovery Center
nearby. Take the 6 to 103rd Street then walk to 105th Street and Fifth Avenue.
Mount Vernon Hotel Museum & Garden
- Upper East Side
Located three blocks east of Bloomingdale's, this quaint 19th-century country hotel lives in the shadow of the Queensborough Bridge. In the backyard lies a small but beautiful period garden. For kids, it's probably best to visit when the spot is hosting a family event, like its
historical storytimes
, which take place alfresco, weather permitting. Admission to the museum and garden is $8 for adults and free for children under 12. Take the 4, 5, 6, F, N, Q, R to Lexington Avenue-59 Street then walk to 421 East 61st Street between First and York Avenues.
The Cathedral Church of St. John the Divine
- Morningside Heights

This legendary cathedral is surrounded by lush green plant life creating an urban oasis. The gardens are open daily during daylight hours, and include a small garden full of plants mentioned in the Bible. Kids will love roaming the grounds, and may even cross paths with a peacock or two. Consider visiting during a Saturday morning
Medieval Arts Workshop
. The Cathedral asks a $2 donation to use the grounds. Take the 1 to 110th Street. 1047 Amsterdam Avenue at 112th Street.
The Highline
- Chelsea

Urban renewal abounds in the gardens along this elevated-train-track-turned-park. There are five different landscaped sections on the rail bed, all featuring self-seeding plants and flowers that originally propagated the area. At this time of year, flowering trees and grasses can be found in the Tenth Avenue Square, Washington Grasslands and Gansevoort Woodland areas. The Highline offers
family art workshops
and
special programming for kids
throughout the year. Visit the
website
for the schedule. Admission is free. The park runs from Gansevoort Street to West 20th Street between Tenth and Eleventh Avenues. The
second section of the park
is slated to open later this spring. There are entrances at Gansevoort Street, 14th Street, 16th Street, 18th Street and 20th Street.
Wave Hill Garden and Cultural Center
- the Bronx
Perched high over the Hudson River is this lovely oasis filled with crocuses, tulips and flowering magnolia trees. It's a great day-long destination that features art galleries, a café, weekend art programs for families and awe-inspiring views of the Hudson and the Palisades. No car needed; just take
Metro-North to Riverdale and jump on the complimentary shuttle van
. Admission is $8 for adults, $4 for students and seniors, $2 for children ages 6 and up, free for kids under 6 and free for all on Tuesday and Saturday 9am-noon. West 249th Street and Independence Avenue.
Community Gardens

These once vacant lots now thrive with flowers and vegetables. There are myriad community gardens in New York City (many more than we can list here), and most of them are run by volunteers who put in long hours to make them beautiful and bountiful. Below are two of our favorites.
Founded in 1973, the
Liz Christy Community Garden
is NYC's first community Garden. Located on Houston Street between Bowery and Second Avenue, this block-long spot boasts a beehive and a shallow turtle and koi pond. You can visit (click
here
for hours) or volunteer.
6th & B garden
in the East Village is named for its location (East 6th Street and Avenue B). It's
open to the public
on weekend afternoons and for special events. Inside you'll find fruit trees, ponds, public art and a stage for concerts. If you live in the area, you can
apply
for a plot.
Macy's Flower Show
Each Spring, the famous department store is transformed into a flower-filled fantasy for its annual
Flower Show
. This year's theme is
Towers of Flowers
and the main floor will be draped in blooms from all over the world. Themed gardens include Japan, the American Southeast, the tropics and the desert. Don't miss a performance by
Japanese drummers
during the grand opening this Sunday, March 27. There will be other events on tap during the exhibit, including
life's special moments storytime and craft session
for kids on April 2. The Flower Shows is on view through April 10. Admission is free.