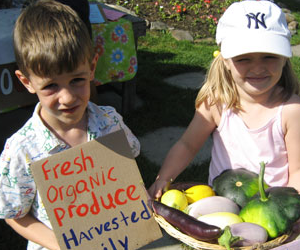 Growing in the City: Gardening Classes, Events, Farms and Community Gardens for NYC Kids & Families
You can't blame New York City kids for thinking that vegetables magically appear at the grocery store enclosed in plastic bags (or arrive at the door in a cardboard box), or that flowers sprout from the concrete every Spring. But it's not hard to teach them the real facts of nature. There are so many places for families to learn about and even grow their own bounty in this concrete jungle, from classes at the big gardens to working on plots in a community green space to visiting a working farm...within the city limits!
Here's how to get your kids growing this Spring.
Register in Advance Gardening Classes
Nothing drives the message home for kids like getting their hands dirty and doing some planting themselves. As of this post, the following programs still have spots open.
Naturally Curious at the New York Botanical Garden
Wednesdays, April 27–June 1, 10:30–11:30am. $120
Two- and three-year-olds explore nature at the garden's Education Center in midtown Manhattan. Tots and caregivers will learn through creative movement, songs, games and hands-on activities. In the final class, the whole gang goes on a trip to the Bronx garden. Click here for more information and to register for the class.
Children's Gardening Program at the New York Botanical Garden
Various classes from April through late October. $105-$180 (price depends on age group and season).
Kids ages 3 to 12 plant seeds, watch them grow and ultimately sample their own produce. They also read stories, make crafts and cook fresh vegetables. It's a wonderful opportunity for city kids to tend their own garden and learn about growing plants, and adults are encouraged to participate, too! Scholarships are available. Download the registration forms here. Click here for more information.
Spring Children's Gardening at the Brooklyn Botanic Garden
Various classes and camps from April to June. $125-$200
Children ages 3 to 12 exercise their green thumbs with a variety of activities. Older kids even get to farm their own plots and bring home the fruits and vegetables they sow. In addition to classes, there's a half-day spring break camp for students in first through eighth grades, and even a summer camp (info for that one coming soon). Classes are filling up fast, and some are already sold out. Click here for more information.
The Queens Botanical Garden Children's Gardening Program
Saturdays, March 26 to June 11. $325
The garden offers classes during Spring, Summer and Fall for kids ages 5 to 12-years-old. This season, participants will plant vegetables and flowers, and also harvest lettuce, spinach and radishes. They also tackle seasonal arts and crafts projects, like Mother's Day cards seeded with parsley and basil. Click here for more info.
Drop-In Gardening Programs
The New York Botanical Garden hosts Dig, Plant, Grow! a drop-in gardening program in the Ruth Rea Howell Family Garden every afternoon from 1:30-5:30pm during the April-October growing season. Kids can do hands-on activities with fruits and vegetables, and even themed crafts like wiggly worms and salad days. FREE with garden admission.
On the weekends (May 7-June 5, Saturday 11am-1pm, Sunday 1-3pm), families can explore the natural world through planting projects and other activities by dropping in at a Discovery Workshop at the Brooklyn Botanic Garden. The garden will also offer weekday workshops during spring break. Click here for more information. FREE with garden admission.
Prospect Park's Lefferts Historic House has an old-fashioned garden and frequently hosts kids' events, where they can learn to plant and harvest. The next scheduled program is Spring Sprouts during April's spring break, when children can drop in to pot their own herbs to take home. Daily April 18-22, 1-4pm. FREE
While the magnificent Wave Hill Garden and Cultural Center doesn't do gardening classes, it does offer family art projects every weekend, so kids can make a variety of garden-themed masterpieces like the upcoming My Green Heaven, where paint and collage are used to create a green garden. FREE with garden admission.


Upcoming Gardening Events
Wildflower Week
May 6-15. Citywide. FREE
Previous editions of this festival themed around NYC's indigenous plants and flowers have included free nature walks and tours of green spaces throughout the five boroughs. This year's events are still under wraps, but last year there were behind-the-scenes tours of cool green roofs, special kids' classes and volunteering opportunities for families. Read about Wildflower Week 2010 here, and visit the fest's website for updates.


Volunteer Opportunities and Events

Volunteering is a great way to learn about gardening. It's free and often lead by professional horticulturalists who teach you as you go. Plus you're helping to make our city more green and beautiful!

There are volunteer opportunities throughout the city courtesy of the NYC Parks Department, including gardening and parks beautification projects. Check out the calendar of volunteer events here.

The Friends of Van Cortlandt Park in the Bronx offers lots of volunteer opportunities in composting and community gardening, as well as reforestation and hiking trail maintenance. Visit the organization's website for information on how to get involved.

Show Prospect Park some love! Families are welcome to join the Volunteer Corps to help with reforestation, planting and cleaning. Attend an info session to learn more. Click here for the schedule.
Hands on New York Day 2011
Saturday, April 16, 9:30am-3pm. $20 per volunteer
Help give NYC a good spring greening by sprucing up one of 70 parks, gardens, and other public spaces throughout the five boroughs. Volunteers must be 12 and up. Click here to learn more.

Spring Volunteer Planting Day
Saturday, April 30, 2011
MillionTreesNYC is a campaign that's aiming to get a million new trees planted on city streets, and in parks and backyards. You can request a free tree for your street, volunteer to become a tree steward or donate to help plant more trees. There's also this cool event, Spring Volunteer Planting Day, when folks will help plant trees in Brooklyn, Queens and Staten Island. It's an amazing experience to plant a tree with your children that you can keep returning to as "your" family tree. Registration is a must and is currently open. If you can't make this one don't worry: There are additional volunteer events throughout the city at other times.


It's My Park Day
Saturday, May 21
Partnership for Parks supports neighborhood green spots by helping to organize It's My Park Days, when community groups come together to clean up their parks by planting, gardening, weeding, painting and restoring. You don't have to be part of a community group to help. Just find a park that is involved and head over that day. The complete list of participating parks won't be updated until early May, so check back.

Join a Community Garden

Many vacant lots around the city have been taken over and transformed into community gardens. Putting in volunteer hours is often the only way to get insider access or a plot. You can find a garden near you on the Green Thumb website. Be warned: It takes a lot of clicking to get basic information like opening hours and location.


Visit a Farm

Right in NYC you can visit the Queens County Farm, which is especially cool since it's the only working farm in the Big Apple and you don't need a car to get there. Visits are free unless there's a special event taking place, and kids can get up close and personal with the animals and the crops.

Hudson Valley, Westchester, Long Island and New Jersey are filled with farms where families can sample produce, learn how the farm operates, meet personnel and animals, and take tours.

Some of our favorite farms in the area are Stone Barns Center for Food & Agriculture in nearby Pocantico Hills, NY. It has amazing and inexpensive hands-on programs for families, where kids can collect eggs from the hens and lend a hand in the greenhouse.
Muscoot Farm in Westchester was the farm of the Hopkins family from 1880-1967. It's a great piece of agricultural history and has great kids' events, too.
On Long Island, there's Benner's Farm, a historical family-run farm located in suburban Setauket, which is open to the public for events during the growing season. It also offers fantastic farm classes and camps for kids.

More posts on local farms can be found in the Mommy Poppins Farm Guide.