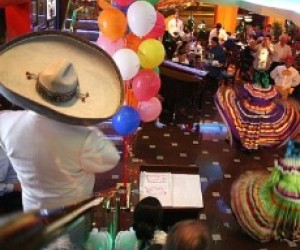 Celebrate Cinco de Mayo 2011 with NYC Kids
Here at Mommy Poppins, we love to party, so we never let a holiday go by without celebrating. That includes Cinco de Mayo, which takes place this Thursday, May 5.

Cinco de Mayo officially commemorates the day the Mexican Army defeated French forces at the Battle of Puebla back on May 5, 1862. But it's also a general celebration of Mexican heritage and pride.
Of course a lot of college students also use the holiday as an excuse to drink way too much tequila. (Pre-kids, we used to raise our margaritas on May 5 as well.) Now that we have families, we skip the bar crawl but still join in the fiesta. Here are some great ways to mark Cinco de Mayo with your family out on the town, or in your own home.
Celebrate in the city
There are a handful of family-friendly Cinco de Mayo events in New York City this year.

On Friday, May 6 from 10am-6pm, enjoy the Cinco de Mayo at Grand Central Station Fair on 43rd between Lexington and Third Avenues, featuring food, music and Mexican wares.

On Saturday, May 7 at 3pm, head to Soho's Scholastic Store to groove to the Latin beats of family band Moona Luna. The concert's free, but you must R.S.V.P. Call 212-389-3800.

On Sunday, May 8, take a break from Mother's Day activities and head to the Cinco de Mayo Mexican Parade. Running from 97th Street to 110th Street along Central Park West, the procession kicks off around 11am with mariachi bands, dancing and colorful outfits.

Teatro SEA, NYC's only Latino puppet theater for families, debuts its brand-new theater on Cinco de Mayo. Although that event is invite only, you can catch the troupe's bilingual production of Viva Pinocho! A Mexican Pinocchio! all weekend long.
Eat, drink and be Mexican
New York City is filled with Mexican restaurants. At the bright and lively Mama Mexico (click here for locations), you can enjoy live mariachis bands while you dine on traditional dishes like burritos, enchiladas and fajitas. The kids' menu features quesadillas as well as hamburgers for just under $8.
We love eating at Rosa Mexicano (click here for locations), but did you know the restaurant also offers a cooking class for kids? Budding chefs can learn how to make the high-end chain's drool-worthy guacamole in the Rock the Guac class. Everyone snags a souvenir "Rock the Guac" apron. Visit the website for more info. (FYI, there are no lessons on May 5.) If you prefer to munch rather than make, the kids' menu is pretty sweet. Options include Mexican pizza and a crispy tortilla roll, with soda or milk and a scoop of vanilla ice cream.
For a less expensive but still delicious meal, try El Paso, an Upper East Side/East Harlem mini-chain with serious food and a low-key atmosphere. In honor of Cinco de Mayo, patrons can choose from staples like chile relleno, enchiladas or the exotic sounding sincronizadas, which is actually akin to a quesadilla.
Down in the East Village, La Palapa offers lots of vegetarian options, like nopales asados(grilled cactus). Chef-owners Barbara Sibley and Margaritte Malfy co-authored a cookbook, Antojitos: Festive and Flavorful Mexican Appetizers, so you could try whipping up a few Cinco de Mayo eats at home.
Celebrate in your casa
Why go out? You can throw your own laid-back bash at home, with a Mexican meal and handcrafted decorations. Create a few chili pepper and sombrero garlands to hang on the walls. All you need is construction paper, yarn, glue and scissors. Then make a Mexican meal together as a family. Start with guacamole. Here's a great recipe from one of my favorite foodies: Alton Brown. (My tip: Don't forget the garlic or the lime, and you can never add too much cilantro.) While you do the knife work, have the kids mash the avocados. For your main dish, try chicken burritos. After you cook the chicken, make an assembly line for the toppings (lettuce, cheese, tomatoes), with each person manning a station.
At bedtime, break out a few Cinco de Mayo-themed books. For little kids, there's Cinco de Mouse-O by Judy Cox and Jeffrey Ebbeler about a mouse who comes across his neighbors' holiday festival. Tweens can read Cinco de Mayo: Celebrating the Traditions of Mexico by Diane Hoyt-Goldsmith and Lawrence Migdale about a girl celebrating the holiday with her family and community. The book features stunning photos, and a glossary of Spanish words.

Heading across the Hudson? There are a bunch of Cinco de Mayo events in New Jersey.

Don't forget: There's even more fun in the Mommy Poppins Events Calendar.
Image: Mama Mexico