Offbeat Holiday Events and Multicultural Celebrations for NYC Kids 2014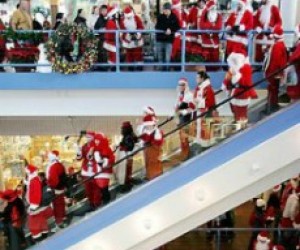 Editor's note: We're in the process of updating this post for 2015. Check back soon for the latest news. The holiday season is a great time to expose our kids to what it means when we say, "It takes all kinds."

From a traditional Mexican celebration to boombox Christmas caroling, you know you're in New York City when your family's holiday traditions include some of these fun, multicultural, artsy or just plain wacky events. Enjoy!
Click through to our listings for all the details, including address, time and recommended ages.

Santa Rescue – Soho
Sunday, December 7
FREE to watch the rescue; $8 for adults, $5 for children ages 3-12 for party
Enjoy an off-the-wall visit with the big red guy as old St. Nick gets stuck on the roof of the New York City Fire Museum and the firefighters get out their hook and ladder to save him. While watching the outdoor rescue is free, there is a charge for the indoor holiday party. This event is always super crowded, so we strongly recommend buying tickets in advance.

SantaCon – Citywide
Saturday, December 13
FREE
What started off a decade ago as a Santa version of the Mermaid Parade, sadly devolved into an annoying drunken bar crawl with 20-somethings in cheap red hats marauding around the city singing naughty carols and spreading holiday fear and mayhem. It's gotten so bad over the past few years that the NYPD encouraged bars to ban all the St. Nicks in 2013 and some Lower East Side residents have already made waves this year for discouraging bar owners from serving the Santas. Follow SantaCon via text to find out where they'll be starting. Note: The main SantaCon and its website are not for families!

Unsilent Night – West Village
Saturday, December 13
FREE
A musical mob meets at the Arch at Washington Square Park and parades to Tompkins Square Park carrying boomboxes to create a "sound sculpture." It's a really cool alternative to traditional Christmas caroling. Download the music online, download the free app or show up early to snag a free CD or cassette tape (assuming you still have one of those players). All participants should arrive at least 15 minutes before the kickoff.

East Meets West Christmas Celebration – Little Italy
Saturday, December 13
FREE
Although we were bummed to hear there won't be an East Meets West Christmas Parade this year, we are excited to check out this brand-new bicultural holiday fete co-hosted by merchants in the adjacent neighborhoods of Little Italy and Chinatown. Revelers can catch Italian and Chinese performances like Chinese Dragon and Lion Dances, animal acts and Christmas caroling in a heated tent. Santa will stop by to greet the kids and give out small gifts, and everyone can enjoy complimentary hot cocoa and cookies. Donations of new, unwrapped toys for the Wounded Warriors Project drive are encouraged.

Tuba Christmas – Midtown East
Sunday, December 14
FREE
It's the 41st anniversary of this kooky concert featuring 500 tuba players tooting holiday songs on the iconic ice-skating rink. It's truly a sight to behold...and hear. While this official performance is always crowded, if you show up at 12:30pm you can catch their rehearsal and avoid the hordes.

Posadas y Pastorelas – Sunset Park
Sunday, December 21
FREE
Mano a Mano, the organization behind the Day of the Dead festivities at Saint Mark's Church, hosts this annual Mexican holiday celebration. The event moves to Brooklyn this year. Enjoy music and eats, learn how to make your own piñatas, join a posada, a singing procession through the streets, and see a Pastorela, a traditional shepherds' play.

Klez for Kids – Lower East Side
Thursday, December 25
$12 for adults, $8 for children ages 3-17
If you don't celebrate Christmas, The Museum at Eldridge Street is the place to be. Clarinetist Greg Wall and his band Klezmerfest will lead a musical tour of Eastern European Jewish culture, culminating in a festive interactive shtetl wedding. There will also be family-friendly scavenger hunts and Yiddish workshops throughout the day from 10am to 3pm.

Kwanzaa 2014: Our Brightest Lights – Upper West Side
Saturday, December 27
Free with suggested admission: $22 for adults, $12.50 for children ages 2-12
The seven guiding principles of Kwanzaa are celebrated at this vibrant annual festival at the American Museum of Natural History. Savion Glover, the Tap Dance Kid, will make his museum debut and encourage families to move with the beat. Buy traditional gifts and special food at the international marketplace, and enjoy a film screening under museum's big blue whale.

Three Kings Day Parade – East Harlem
Tuesday, January 6, 2015
FREE
Who doesn't love a parade, especially one with camels and giant puppets? El Museo del Barrio sponsors this lively procession of music, colorful dancing and floats that fills the streets of East Harlem in honor of Epiphany. It's a jubilant community celebration and a fitting close to the holiday season.
Check out our Holiday Guide for lots of other ways to celebrate the season in NYC and find great gift ideas in our NYC Shopping Local Gift Guide.
This post originally published in December, 2009.