Best Off-Broadway Shows for Kids: Affordable Children's Theater in NYC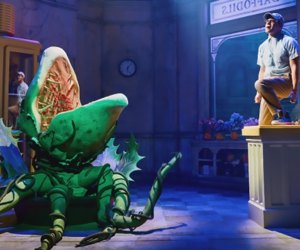 1/2/23
- By
Raven Snook
Taking kids to a Broadway show is an exciting and memorable experience. It's also a pricey one. That's why it's worth looking beyond Broadway, where you'll find some long-running, kid-friendly shows that are less expensive, more offbeat, but just as special.
From a bubble-filled, surefire toddler hit to a hilarious slapstick comedy to those world-famous blue dudes, there are options for all ages and interests. We've even shared ways you can snag deeply discounted tickets. All of these Off-Broadway productions make great birthday party activities, too.
Subscribe to our newsletters to get stories like this delivered directly to your inbox.
Before purchasing tickets, be sure to check with each production for its COVID rules.
Best for tween musical comedy lovers: Little Shop of Horrors – Midtown West
Westside Theatre
Save on tickets: TheaterMania has a discount code.
Sure, Little Shop is a staple of schools and community theater that you can catch on stage frequently. But this production presents the camp classic the way it's meant to be experienced: in a small theater with big stars giving hilariously broad performances. It follows the story of Seymour, a nerdy flower shop worker who's manipulated into murder by a man-eating plant who promises him fame, fortune, and love. It's like Macbeth but with a lot more laughs. With iconic songs by Alan Menken and Howard Ashman, including "Somewhere That's Green," "Suddenly, Seymour," and "Feed Me," plus amusing special effects, this Little Shop is worth a visit.
RELATED: Score Big Discounts on Broadway Show Tickets When Broadway Week Deal Returns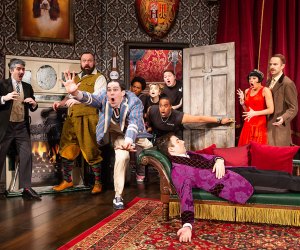 The slapstick comedy in The Play That Goes Wrong keeps kids in stitches! Photo by Jeremy Daniel
New World Stages
Save on tickets: BroadwayBox has a discount code.
A slapstick comedy that's as featherbrained as it is funny, this show was imported from London by J.J. Abrams (!!), the writer-director-producer behind the Star Wars and Star Trek franchise reboots. It played on Broadway for almost two years before transferring Off-Broadway, and my kid and I are tickled to report that it's as uproarious as ever. A university drama club attempts to put on an old-fashioned whodunit, but the members are definitely not up to the task. If your family enjoys watching actors convincingly pretend to get knocked out, drink paint thinner, botch their lines, destroy the set, and just generally fail, then this show's for you. Note: There is some salty language, catfighting, and an actress ends up getting stripped down to her undies in a sequence some have deemed sexist. But this isn't a thinking show. Turn off your brain and enjoy the pratfalls.
RELATED: Times Square with Kids: What To Do Beyond the Usual Tourist Spots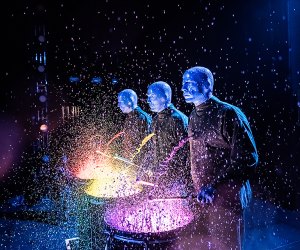 Blue Man Group gets messy fast. Photo courtesy of Blue Man Group
Best for kids who embrace silliness: Blue Man Group – East Village
Astor Place Theatre
Save on tickets: Goldstar has a discount code.
Three literal blue men engage in a series of wacky, laugh-out-loud antics without ever uttering a sound—although they do play some mean music on tubes that seem to be hanging everywhere. Although some bits have been updated to reflect 21st-century life (giant iPhones make an appearance), the show still feels like something that came out of the downtown '80s performance art scene (which it did), and I mean that as a compliment. Even if you've seen their gags before, either on stage or TV, your children probably haven't. Kids always crack up as the three guys make spin art by spitting paint, ooze Twinkie dough from their chests, cover the audience in toilet paper, and manipulate volunteers into doing whatever they want without saying a word. Note: Blue Man is definitely the messiest show on this list, which is why there's a "poncho section." If you don't want to get hit with various liquids, request tickets further back. Children under age 5 aren't allowed in the theater. Read our full Blue Man Group review, which we first caught in Boston!
RELATED: Best Puppet Shows and Theaters for NYC Toddlers and Kids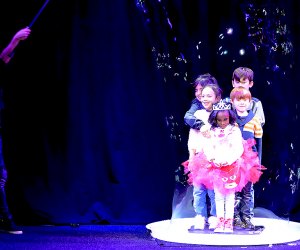 Gazillion Bubble Show is catnip for preschoolers. Photo by Thien Nguyen August
Best first show for toddlers: Gazillion Bubble Show! – Midtown West
New World Stages
Save on tickets: BroadwayBox has a discount code. Also note that $20 cash-only lap seats are always available for children under age 3 at the box office. Stroller check is $1.
So the title pretty much tells you everything you need to know: It's 60 minutes of bubble mania. High art it's not, but this was the first Off-Broadway show my daughter saw at age 18 months and she was enthralled. Me? I was happy seeing the expression on her face. To be fair, some of the tricks are pretty neat, like when audience volunteers are engulfed in a giant bubble. And of course, it ends with a big bubble finale that spills out into the seats. It's the perfect first show for very young theatergoers, giving them a chance to experience the wonder of live entertainment without being shushed by other theatergoers. After all, they're probably there with their toddlers, too. There's no minimum age and special birthday party packages are offered. Read our full Gazillion Bubble Show review.
How To Score Discount Off-Broadway Tickets
In addition to searching for discount codes on sites such as Goldstar, BroadwayBox, TheaterMania, and Playbill, there's an excellent deal that happens twice a year for Off-Broadway shows:
Twice a year for two weeks (usually in February and October), this deal allows you to snag two-for-one tickets to a host of Off-Broadway shows. Seating restrictions and black-out dates may apply. Avoid additional fees by going directly to the box office. Winter 2023 Off-Broadway Week dates are Monday, February 13-Sunday, March 5. To be alerted about future Off-Broadway Week deals, sign up for the email list.
Another bi-annual ticket deal, 20at20 allows theatergoers to score $20 tickets to select Off-Broadway shows 20 minutes before curtain. The popular ticket promo returns from Monday, March 20-Sunday, April 9. Guests hoping to score these discount Off-Broadway tickets can purchase them directly from participating shows' box offices beginning 20 minutes before curtain. Take note: This deal is cash-only.
This article was first published in 2013, but was revised and updated in 2022.