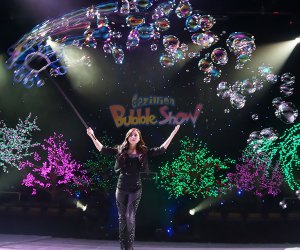 Best Off-Broadway Shows for Kids: Affordable Children's Theater in NYC
Taking kids to a Broadway show is an exciting and memorable experience. It's also a pricey one. That's why it's worth looking beyond Broadway, where you'll find some long-running, kid-friendly shows that are less expensive, more offbeat, but just as special.
From a surefire toddler hit to a Harry Potter parody for tweens to those world-famous blue dudes, there are options for all ages and interests. We've even shared ways you can snag deeply discounted tickets. All of these Off-Broadway productions make great birthday party activities, too.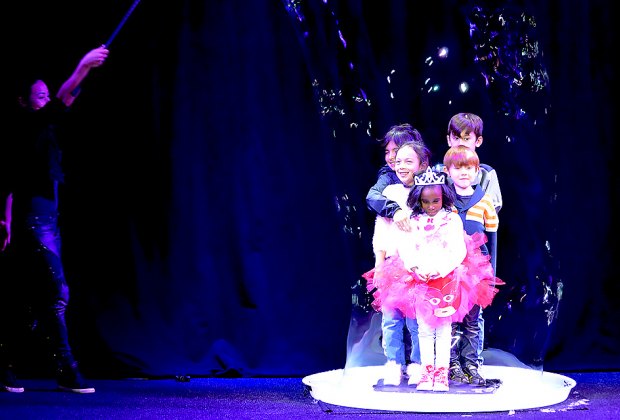 Gazillion Bubble Show is catnip for preschoolers. Photo by Thien Nguyen August
Best first show for toddlers: Gazillion Bubble Show! — Midtown West
New World Stages, 340 West 50th Street between Eighth and Ninth Avenues
Save on tickets: BroadwayBox and Goldstar both have discount codes. Also note that $20 cash-only lap seats are always available for children under age 3 at the box office. Stroller check is $1.
So the title pretty much tells you everything you need to know: It's 60 minutes of bubble mania. High art it's not, but this was the first Off-Broadway show my daughter saw at age 18 months and she was enthralled. Me? I was happy seeing the expression on her face. To be fair, some of the tricks are pretty neat, like when audience volunteers are engulfed in a giant bubble. And of course it ends with a big bubble finale that spills out into the seats. It's the perfect first show for very young theatergoers, giving them a chance to experience the wonder of live entertainment without being shushed by other theatergoers. After all, they're probably there with their toddlers, too. There's no minimum age and special birthday party packages are offered. Read our full Gazillion Bubble Show review.

Beome an "assistant explorer" in Pip's Island. Photo by Paul Mariano
Best interactive show for kids: Pip's Island — Midtown West
400 West 42nd Street at Ninth Avenue
Save on tickets: BroadwayBox and Goldstar both have discount codes.
We raved about this high-tech, immersive adventure for kids a few years back. Now it's back in a custom-built space with an all-new adventure. Young audiences are designated "assistant explorers" as they try to help Pip and his island pals save their home from the evil Joules Volter. No seats here—families are guided through various environments and challenges by actors, and the story line is enhanced by animated sequences. It's a one-of-a-kind journey with tons of interaction aimed at children ages 4 to 10 . Read our full Pip's Island review.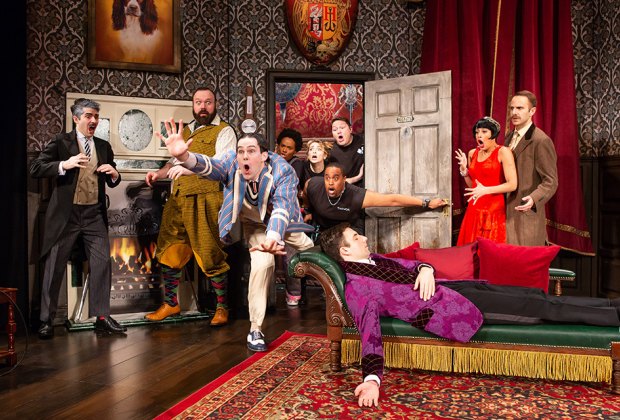 This slapstick comedy will keep kids in stitches! Photo by Jeremy Daniel

Best for tween comedy lovers: The Play That Goes Wrong — Midtown West
New World Stages, 340 West 50th Street between Eighth and Ninth Avenues
Save on tickets: BroadwayBox and Goldstar both have discount codes.
A slapstick comedy that's as featherbrained as it is funny, this show was imported from London by J.J. Abrams (!!), the writer-director-producer behind the Star Wars and Star Trek franchise reboots. It played on Broadway for almost two years before transferring Off-Broadway, and my kid and I are tickled to report that it's as uproarious as ever. A university drama club attempts to put on an old-fashioned whodunit, but the members are definitely not up to the task. If your family enjoys watching actors convincingly pretend to get knocked out, drink paint thinner, botch their lines, destroy the set, and just generally fail, then this show's for you. Note: There is some salty language, catfighting, and an actress ends up getting stripped down to her undies in a sequence some have deemed sexist. But this isn't a thinking show. Turn off your brain and enjoy the pratfalls.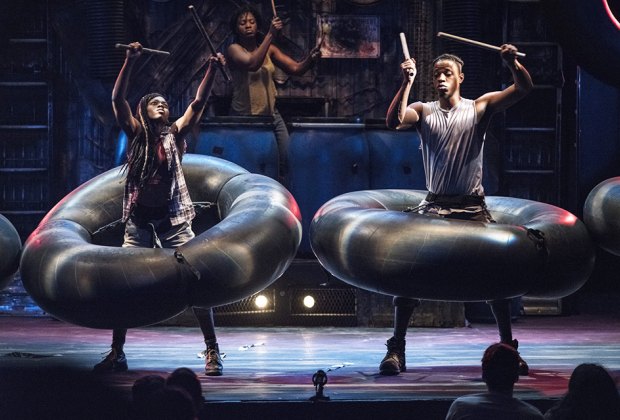 Enjoy this fun, loud and downright amazing show. Photo by Steve McNicholas
Best for kids who love everything loud: Stomp — East Village
Orpheum, 126 Second Avenue between 7th Street and St. Marks Place
Save on tickets: BroadwayBox has a discount code.
You don't have to worry about your kids making a ruckus. This 100-minute cacophonous celebration of percussive music and dance will drown out any sounds they make! Plus there's lots of audience interaction so come prepared to clap and snap to the beat. Many of its famous routines—like performers jumping around with garbage can lids on their feet—have been seen on late-night TV talk shows, but the athletic feats are even more impressive in person. Because the volume is turned up to 11 throughout, it's best for school-age children who aren't sensitive to noise. Even if you think your preschooler can handle it, children under age 4 aren't allowed in the theater. Read our full Stomp review.
RELATED: Best Broadway Shows for Kids and Families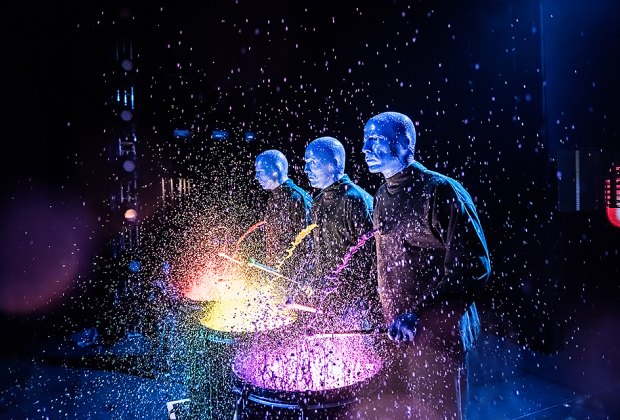 Blue Man Group gets messy fast. Photo courtesy of Blue Man Group
Best for kids who embrace silliness: Blue Man Group — East Village
Astor Place Theatre, 434 Lafayette Street near Astor Place
Save on tickets: BroadwayBox and Goldstar have discount codes.
Three literal blue men engage in a series of wacky, laugh-out-loud antics without ever uttering a sound—although they do play some mean music on tubes that seem to be hanging everywhere. Although some bits have been updated to reflect 21st-century life (giant iPhones make an appearance), the show still feels like something that came out of the downtown '80s performance art scene (which it did), and I mean that as a compliment. Even if you've seen their gags before, either on stage or TV, your children probably haven't. Kids always crack up as the three guys make spin art by spitting paint, ooze Twinkie dough from their chests, cover the audience in toilet paper, and manipulate volunteers into doing whatever they want without saying a word. Note: Blue Man is definitely the messiest show on this list, which is why there's a "poncho section." If you don't want to get hit with various liquids, request tickets further back. Children under age 5 aren't allowed in the theater. Read our full Blue Man Group review, which we first caught in Boston!
RELATED: Best Puppet Shows and Theaters for NYC Toddlers and Kids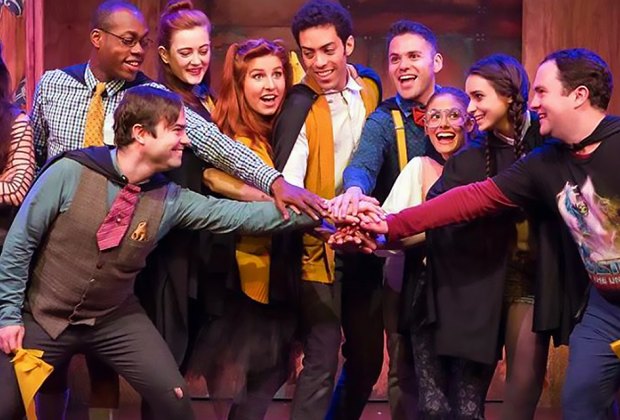 Puffs sends up Harry Potter. Hunter Canning
Best for kids who love Harry Potter: Puffs, or: Seven Increasingly Eventful Years at a Certain School of Magic and Magic — Midtown West
Note: Closing on August 18, 2019
New World Stages, 340 West 50th Street between Eighth and Ninth Avenues
Save on tickets: BroadwayBox and Goldstar have discount codes.
Attention all muggles: You don't want to miss this long-running Harry Potter-inspired romp about the aspiring wizards who toil in the bigwig's shadow. Although it's an original story about the also-rans at the Hufflepuff House, it's filled with inside jokes for Potterheads that reference both the books and the movies. While the show is normally a bit risqué for the series' youngest fans, Puffs has instituted special kid-friendly matinees on weekends that are rated PG, with toned-down language and less sexual innuendo. Even so, this fast-paced, in-your-face comedy is best for tweens and up. Read our full Puffs review.
Best for STEM geeks: That Physics Show, That Chemistry Show, and That Inventions Show — Midtown West
Playroom Theater, 151 West 46th Street between Sixth and Seventh Avenues, 8th Floor
Save on tickets: Goldstar has a discount code for That Physics Show; BroadwayBox offers discounts for That Chemistry Show.
Performed in rotating rep at the same theater, these shows demonstrate the "magic" of science live onstage. Physics and Chemistry are led by charismatic educators who really know how to get kids (and their parents) excited about their subjects via cool "tricks," like a candle that moves water, a paper cup that won't burn, balloons bursting into flame, and lasers lighting up the room. That Inventions Show is a bit different, with Museum of Interesting Things curator Denny Daniel inviting audiences to try out items in his vintage technology collection, such as box telephones, typewriters, and nickelodeons. Admittedly, these shows are higher on enthusiasm than production values, but the demos are pretty cool. Sure, you can see this stuff on YouTube, but experiments and antique inventions are more impressive in the flesh—and better than sitting through summer school. Read our full That Physics Show review.
Two Big Biannual Off-Broadway Deals
In addition to searching for discount codes on sites such as Goldstar, BroadwayBox, TheaterMania, and Playbill, there are two excellent deals that happen twice a year for Off-Broadway shows:
20at20
For three weeks every January/February and September/October, you can buy $20 tickets 20 minutes before curtain to participating Off-Broadway shows. There are some caveats: You must purchase the tickets in person at the box office, and if the performance is sold out you're out of luck. Bring cash as many box offices won't accept credit cards for this deal. To be alerted when the next 20at20 is taking place, sign up for the email list.
Off-Broadway Week
Usually occurring just before or after 20at20, this deal allows you to snag two-for-one tickets to a host of Off-Broadway shows. Seating restrictions and black-out dates may apply. Avoid additional fees by going directly to the box office. To be alerted when Off-Broadway Week tickets go on sale, sign up for the email list.
This article was first published in 2013, but was revised and updated in 2019.