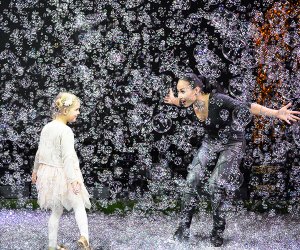 The Gazillion Bubble Show Delivers Magical, Soapy Fun for Kids
Few things can make a little kid smile faster than a burst of bubbles floating in the air. The Gazillion Bubble Show, playing north of Times Square at the New World Stages, brings that playful magic to the stage with its long-running show that aims to impress the young and the young-at-heart with bubble fun and tricks.
This off-Broadway production is a favorite among families looking to introduce their kids to theater. Read on for our review...all about the bubbles.
Since 2007, the Yang Family has been entertaining and astonishing New Yorkers with their soapy feats in the Gazillion Bubble Show. But even though the show has garnered some well-earned praise, my 5-year-old son and I wanted to experience it firsthand. And sure enough, he was nothing short of astounded.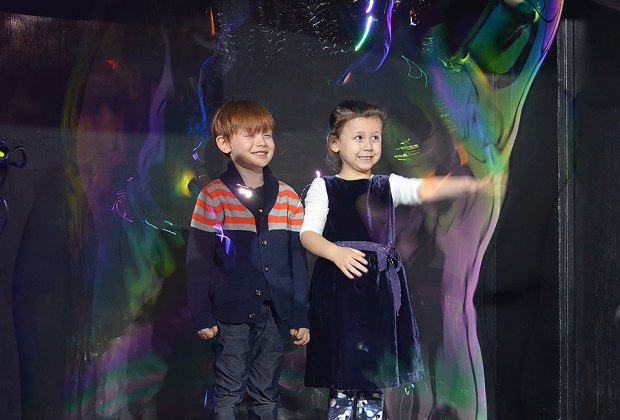 The bubbles in this show come in all sizes!
Each show is hosted and performed by a single Yang family member. Our show starred Melody Yang, the youngest daughter of the group. The performance is broken up with a few video segments and musical overtures. The Yangs are Guinness Book World Record holders for the longest soap bubble wall: more than 166 feet! You don't get to see the longest bubble performed on stage, but you do get to watch a short video about it.
RELATED: Best Broadway Shows for Kids and Families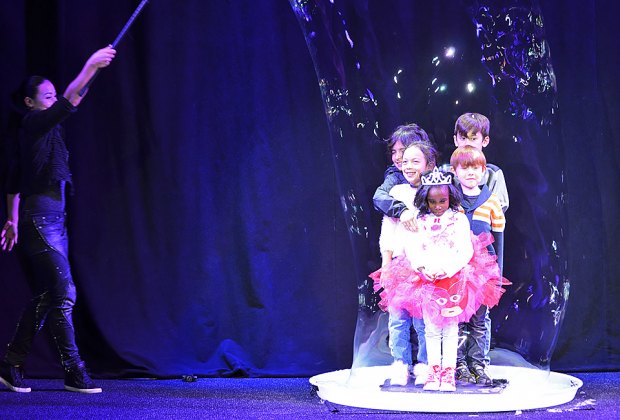 Volunteering for some larger-than-life tricks.
Our favorite part of the performance was when volunteers were pulled from the audience. Among the volunteers were a birthday girl all dolled up in a tutu and tiara and my son. Our Bubble Artist, Melody, was incredibly kind, funny, and sweet with the children.
Melody went on to perform various tricks, like blowing smoke into bubbles, turning them into mystical white orbs, and creating orbits of small bubbles INSIDE of giant ones. Even the most hardened adults in the audience were impressed.
RELATED: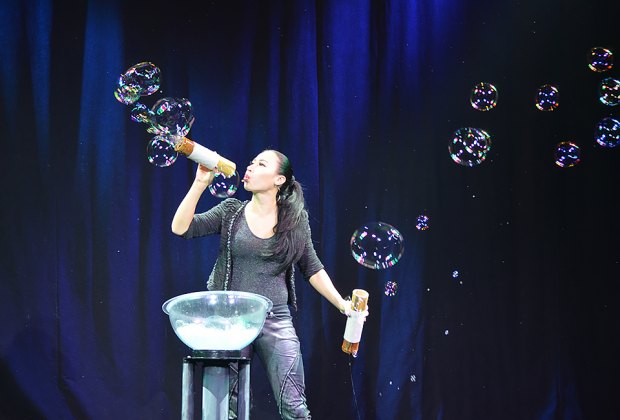 Melody working her magic.
The show runs a kid-friendly 60 minutes or so. I was concerned a Friday 7pm show would be too much for my kindergartener, but he stayed awake (and mesmerized) for the entire performance.
There are a handful of awkward video, music, and product-placement marketing moments. The children didn't seem to notice, but as an adult, they stood out to me. Also, before the show begins, children (and adults) have the opportunity to take a picture inside a giant bubble. A single, professional photo (printed and delivered to your seat in a cardboard frame) will run you $20. But that's per bubble, not per person—both my niece and son fit inside at the same time.
The show is recommended for ages 2 and up, but it might not be suitable for those more nervous tots. There are bubbles, lasers, lights and wind—all shooting toward you during the performance.
The price of the show can feel a bit daunting. Seats range from $55–$75, but check Goldstar, Groupon or BroadwayBox.com for significant discounts. The more expensive tickets get you a better view (front row), which also means your kids are more likely to be chosen as volunteers, and they get the best bubble popping opportunities. But if you're not looking to shell out for the pricier seats, don't worry: all sections are immersed in the amazing bubble moments.
While we think the show might be best for kids 4 and up, lap seats for children 2 and under are available for $20, through the box office only. Strollers must be stored at the theater's coat check for the duration of the show, for $1 per item. This is also a great birthday option, with birthday packages available including a chance to be on stage.
As for my family, we had a wonderful experience that we will surely remember for years to come.
All photos by the author.
The Gazillion Bubble Show @ New World Stages
340 W. 50th St.
New York, NY 10019