Supersized Bouldering Gym Opens in Harlem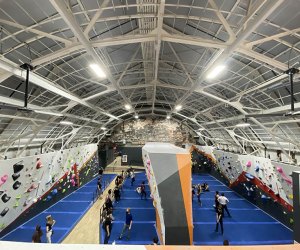 If you're tired of your kids climbing the walls inside the apartment, we've got some good news: The Cliffs at Harlem is now open, bringing with it the city's largest bouldering gym, conveniently housed in a historic building smack dab in the middle of 125th Street.
The Cliffs at Harlem is the newest addition to The Cliffs' family, which already includes locations in Long Island City, Gowanus, and the seasonal outdoor bouldering wall in Brooklyn Bridge Park, plus locations in Westchester and Philadelphia.
Read on for our review of NYC's newest—and largest—kid-friendly rock climbing gym.
Editor's note: While we are trying to promote safer activities that occur outdoors or with social distancing guidelines in place, please keep your family and others safe by always wearing a mask and maintaining an appropriate distance.

The Cliffs at Harlem is housed on the second floor of a spacious, historic building and the exposed brick walls give it an ultra-cool industrial vibe.
As a long-time Harlem mom, we've seen the signage for The Cliffs at Harlem many times, but from the unassuming street-front view, my son and I weren't prepared for the sprawling space that awaited us.
Upon entering, we followed the signs to the second floor and were greeted first by a contact-free temperature check and sanitizing station, then by the friendly staff. Once my son was fitted for climbing shoes, we were given a tour of the sprawling space, which opens into a huge 15,000-square-foot facility with soaring rounded ceilings in what was once a grand beer hall catering to massive crowds. The exposed brick walls lend a cool cache to the space.
RELATED: Adventure Parks, Zip Lines, and Ropes Courses Near NYC

Bouldering is a mostly gear-free sport, with participants relying on strength, agility, and determination to scale walls.
To get to the main bouldering gym, you first pass through a training section, where smaller walls await, plus a section to work on grip strength and another wall where tablets help you plot routes and light them up as you climb.
The main bouldering section features one towering wall in the middle with 360 degrees of surfaces to climb, and smaller walls sandwich it on either side. One end of the space features a smaller wall too, where my son felt the most comfortable trying out his rusty bouldering skills.
There are almost 150 bouldering problems to solve, and all the walls are labeled with easy-to-follow route markers ranging from the easiest—V0—and increasing from there.
RELATED: New York Ninja Academy in Midtown Lets Kids Live Out Ninja Warrior Dreams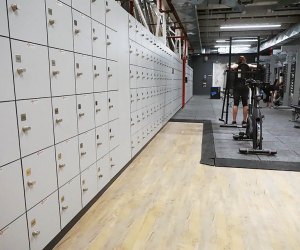 Free weights and cardio machines are available to visitors at The Cliffs at Harlem.
Throughout the space, you'll find convenient cubbies to stash shoes, jackets, and other belongings while you climb. Another nice perk at this location: There are both free weights and fitness machines available for use, eliminating the need for a traditional gym membership.
While there's no age-minimum to participate, keep in mind, bouldering is a harness-free climbing experience, so kids should only climb as far as they're willing to fall. If they do, gymnastics pads line the floors to cushion them.
Though most programming is on hold due to the pandemic, expect to see classes—including kid-specific programming—in the future.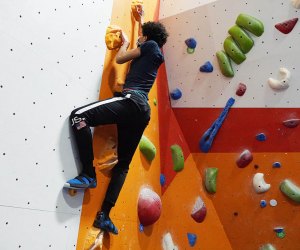 Climb as high as your skills and comfort level allow.
My son thought the space was very cool—high praise from a 15-year-old—and hopes to go back with friends. Indeed, one thing that struck us both was the camaraderie evident in many of the visitors climbing while we were there, spotting one another and helping to figure out the next moves as they ascended walls.
Serious climbers can sign up for a membership, but drop-in climbing passes are also available, and no experience is necessary to give it a go yourself (or set your kids loose on the walls). A cool perk for locals: Residents of select Harlem zip codes can enjoy a free first visit on weekdays before 3pm or all day on weekends. Climbing shoes are available to rent ($6) if you don't have your own.
COVID-19 protocols are outlined on its site and include limited occupancy and a live climber count constantly updated on the website, plus masks are required at all times, and liquid chalk is encouraged and available for use.
Photos by the author