10 Things To Do at the Brooklyn Salt Marsh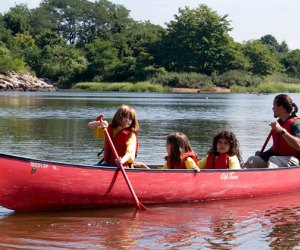 5/8/16
- By
Mariko Zapf
It's easy to forget that living in New York City doesn't have to mean severing ties with Mother Nature. After years of exploring outdoor spaces in our urban landscape, we had a blast putting together our top 25 places to thrive outside.
On that list is the Brooklyn Salt Marsh, 530 acres of a grasslands ecosystem located within Marine Park. The marsh is home to birds, including egrets, red-winged blackbirds and the impressive marsh hawk, and is such a treasure the Urban Park Rangers have established one of its 10 citywide nature centers there. So on your next visit, stop by the nature center and let a friendly ranger educate your children on the powerful role the marsh plays in the local environment.
In the meantime, here are 10 great things we discovered during our recent visit.
1. Visit the Nature Center. If you were not aware that a salt marsh is where salt and freshwater meet; if you thought an osprey was only a type of car; or didn't realize how dependent the fishing industry is on the marsh, start your visit at the Nature Center. Exhibits are limited, but are educational and will bring a novice up to speed.
2. Go on a hike. There is a fairly flat loop less than one mile long meandering by Gerritsen Creek and around the marsh. Relax on the benches to spot birds and drink in the views. The path isn't paved but can still accommodate most strollers.
3. Make friends with a ranger. Check out the schedule of activities, including ranger-led tours and events. The Urban Park Rangers don't lead tours every week. However, between noon and 4pm Saturdays and Sundays, one is on hand to answer your questions. If you can time your visit with an official tour, your ranger likely will provide a rich education of the marsh, complete with binoculars.
RELATED: 25 Ways for Children to Get their Hands Dirty in NYC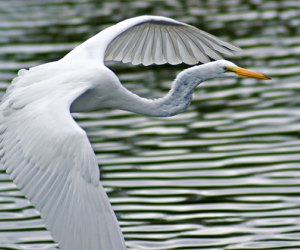 A great egret at the Brooklyn Salt Marsh. Photo by Jeff Kirsh via Flickr.
4. Spot a bird. Some second-grade curricula in NYC include bird study; my son emerged as a bird lover. Aspiring ornithologists will find that the marsh is home to ducks, geese, cormorants, sandpipers, herons, egrets, blackbirds, hawks and more. Bring your own binoculars if you are not planning to join a tour.
5. Flex your mussel muscle. Did you know that a single mussel has the ability to clean 100 gallons of water per day. In visiting the Brooklyn Salt Marsh, you'll learn how crucial this bivalve is to the ecosystem. When the tide is out, mussels are easy to spot from the bridge along the trail. If marine biology is your kid's thing, check out these terrific ways to enjoy it.
6. Explore Gerritsen Creek. Views from the hiking paths that run along Gerritsen Creek do not disappoint. Best to enter at the Burnett Street and Avenue U side of Marine Park. Some walking trails lead right to the water.
RELATED: 25 Spring Day Trip Ideas for NYC Families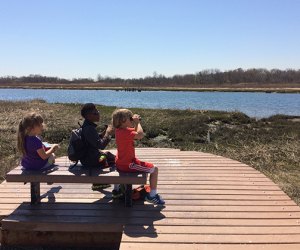 Soak up the scenery with friends. Photo by the author.
7. Pull up a bench. On our ranger-led tour, kids and grownups took full advantage of the benches, strategically placed along the trail for optimum bird-watching. Our favorite spot was under a handful of large trees at the halfway point. We were instantly transported to a distant land, far from the chaos of New York City.
8. Seine! OK, I admit it. We did not know what seine fishing was until we visited the marsh. It's catch-and-release fishing done via nets. Join an Urban Park Ranger youth program for kids 8 and older and check the calendar for seine fishing. Pole fishing is permitted with a DEC license.
9. Paddle a canoe. The Urban Park Rangers lead canoeing programs for kids 8 and older on Gerritsen Creek from April through October. If their schedule doesn't match yours, check out the adjacent Wheel Fun, which rents canoes and kayaks to the whole family.
10. Keep the salt marsh beautiful. We all teach our children to give back. Once a month, the Salt Marsh Alliance welcomes families to help beautify the area through cleaning and gardening. It provides the supplies, and you can stop by between 9am and noon to do your part. All ages are welcome.
If you live close by, the salt marsh is likely to become a favorite place to escape the city experience. If you live in a distant borough, we recommend parlaying a visit to the marsh with a special event—perhaps a ranger-led walk.You might visit the marsh after a weekend of family camping at nearby Floyd Bennett Field. Adjacent Marine Park has playgrounds, picnic areas and loads of sports fields that might complement a visit to the marsh. Note: There are large bathrooms in the Salt Marsh Nature Center, but no changing tables for babies.
The Brooklyn Salt Marsh is located at Avenue U and East 33rd Street, which is accessible by public transportation, though it's a long way from any subway stop.
Top photo: Kids can go canoeing with The Urban Park Rangers. Photo by Jeff Kirsh via Flickr.