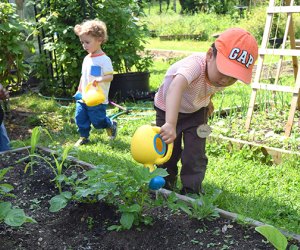 13 Summer Camps for Preschoolers in Brooklyn and Queens
Summer camp is definitely more challenging for parents of preschoolers.
Just when the kids have got the routine down at their "regular" school or at home, they find themselves in a new environment, doing new things. As Martha would say, that's a good thing—although it may be hard to keep that in mind while you deal with a meltdown at first-day drop-off. That's why it's important to know your little one is under the supervision of experienced counselors who know how to work with that delightful but sometimes—ahem—difficult age group.
We've been there. To help out a fellow parent, we've created a list of some of the best summer camps for preschoolers around the city, and now we're zeroing in on options in the booming boroughs of Queens and Brooklyn. As you'll see, some have specialties, like music or wildlife, while others are general camps geared for more traditional camp fun. The best news of all? This list means summer's coming! (Eventually.) And you'll be totally ahead of the game.
Remember, you can always search our NYC Camp Directory for more options. Just use the handy filters to sort by location, age, and interest. The list below is just a sampling of the many NYC summer camps available.
Note that summer camp information for the 2020 season is changing daily. Please click the links to the individual camps below to see which ones are offering programs this year.
Aviator Sports Summer Day Camp — Jamaica Bay, Brooklyn
Ages 3 and up
A traditional day camp with lots of outdoor space, this camp keeps campers busy by rotating five activities per day. While sports are a camp focus, the little ones keep busy in other ways, too. Campers enjoy nature activities, meditation and yoga, STEM projects, and more. Full days of 9am-5pm, with extended hours available, make it a great option for working parents.
Brooklyn Heights Montessori Summer Program — Brooklyn Heights, Brooklyn
Ages 3 and up
Campers here enjoy the Montessori educational approach, with games and free play, arts and crafts, music, gardening, and cooking. The littlest campers, ages 3-3.5, attend a morning session only, while the others attend from 8:30am-3pm with extended care options. Twice a week they go swimming at a local pool.
Garden School — Jackson Heights, Queens
Ages 1.5 years and up
Full disclosure: my daughter has gone to this camp for years. The excellent swimming program, which begins when kids are 3, is the main reason she became a strong swimmer. The nursery program here is a play-based program led by a certified teacher. Kids get playground time, crafts, library visits, and other age-appropriate activities, including rest time. Things I liked? Lunch and snacks are included, and there's early drop-off and late pickup, plus the option of half days or full day.
Kings Bay YMCA — Windsor Terrace, Brooklyn
Ages 2 and up
The preschool camp here is an extension of JCC Brooklyn's year-round program and is based on the Bank Street progressive educational approach. Children have daily walks, outdoor play, music, art, and naptime. They also engage in Jewish cultural activities. Starting at age 4, children can opt to enroll in sports-specific camps, like basketball or soccer. Full day and half day options are available, as well as early drop-off.
RELATED: Free and Inexpensive Summer Camps Around NYC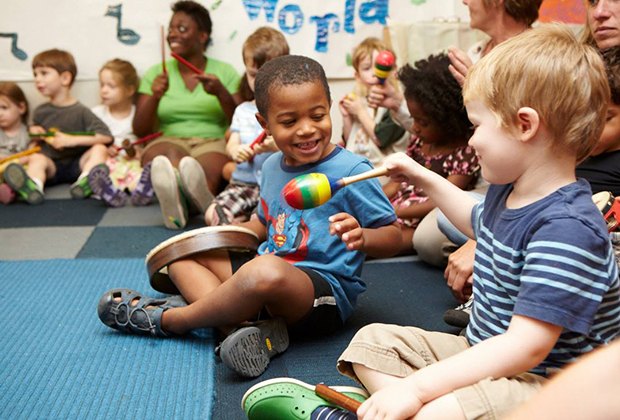 Music comes naturally to many preschoolers.
Musication Camp — Prospect Park South, Brooklyn
Ages 3 and up
This camp is perfect for fostering a love of music and movement. Children participate actively through hands-on instrument playing, dance, singing, music-related crafts, and general exploration. After all, what kid wouldn't want to be part of a drum circle?
Kinder Zoo at Prospect Park Zoo — Prospect Park, Brooklyn
Ages 4-5
Young campers get a taste of the rainforest, temperate forests, wetlands, and desert regions, all available for exploration at the Prospect Park Zoo. Kids get to meet the animals up-close, go on scavenger hunts, and learn about the natural world through games and crafts. These week-long camps run 9am-3pm with an extended day option. The zoo also offers Stroller Safari Camp, for babies and toddlers with caregivers in tow.
Oasis Early Start Imagination Camp — Bayside, Queens
Ages 3-5
Oasis, a popular day camp for older kids, which has locations around the city, also offers an Early Start Imagination Camp, a modified version of its high-energy activities for the preschool set. Tots enjoy arts and crafts, dancing, music, and sports in shorter periods accompanied by snacks and nap breaks. Participants also have swim lessons daily.
Park Slope Day Camp: Pee Wee Camp — Multiple Brooklyn locations
Ages 3.5-5
With four Brooklyn outposts, this program's Pee Wee Camp strikes a balance between indoor and outdoor activities in Prospect Park. Along with weekly swimming lessons and field trips, campers enjoy music, arts and crafts, gymnastics, and even learn circus skills.
Trail Blazers — Prospect Park, Brooklyn
Ages 4 and up
Trail Blazers campers spend most of their time outdoors, exploring Prospect Park, connecting with nature, and learning through play and hands-on experience. Each week has a different theme, such as Up in the Sky, Under the Sea, and Ready, Set, Grow, and there are field trips too. This camp runs from 8am-3:30pm with an extended day option. Fees are based on income.
RELATED: NYC Preschool Guide and Directory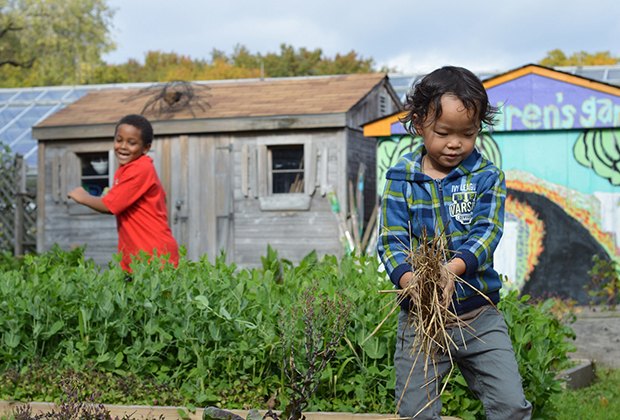 Preschoolers playing and planting at the summer Children's Garden. Photo by Anne Tan-Detchkov/courtesy of QBG.
The Queens Botanical Garden — Flushing, Queens
Ages 2-6
The Forest Explorers program now takes kids as young as 2 for its six-week summer drop-off program where kids have a blast playing and learning outside. This half-day program is based on the Forest School model and is for kids who are comfortable spending a lot of time outdoors. It includes sensory learning in nature as well as storytelling, arts, and free play.
Queens Zoo Camp — Flushing, Queens
Toddler Time Camp, ages 2-3 with adult supervision; KinderZoo, ages 4-6
Toddler Time Camp is designed to ease little ones into a week-long experience with parents by their side for an hour each day. KinderZoo is the next step up for slightly older children who are becoming more independent. They'll enjoy animal guests, crafts, and hands-on activities.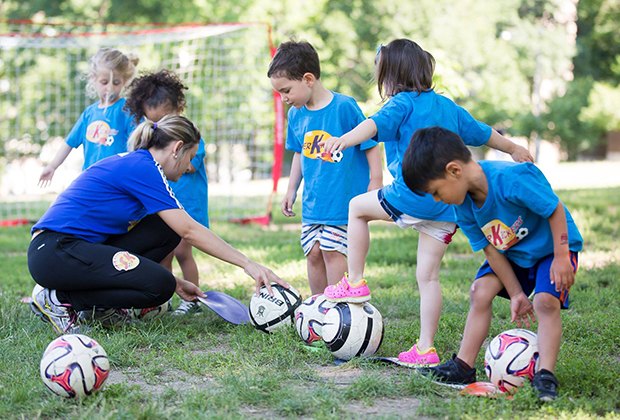 It's never too early to get your game on at SuperKickers.
SuperKickers — Jackson Heights, Queens
Ages 3 and up
This camp is a neighborhood staple, founded by a local mom. It's grown into a mini-empire, with other branches, which is a testament to how beloved this camp (not to mention the afterschool program) is. As you might guess from the name, there's a focus on soccer, but kids also have water play, arts and crafts, field trips, and playground time. There's even a bouncy house. Part-time schedules are available or kids can go for the extended day until 6pm.
YMCA Early Childhood Camp — Various Locations
Ages 3-5.8
The YMCA's beloved camps provide an affordable option for families across the city, and some of the branches offer an Early Childhood Camp for the littlest campers, including Greenpoint in Brooklyn and Cross Island, Long Island City, Ridgewood, and Flushing in Queens. Activities vary from branch to branch but always include plenty of physical activity such as sports and sometimes swimming.
Top photo: The Queens Botanical Garden's Garden Buds program runs through the beginning of summer. Photo by Anne Tan-Detchkov/courtesy of QBG. Photos courtesy of the camps.