SPONSORED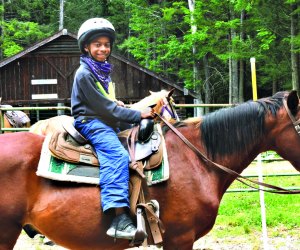 YMCA Offers Affordable Day Camps, Sleepaway Camps, and Specialty Summer Programs for All Ages
With more than twenty locations that proudly served a combined total of over 12,000 young New Yorkers last year alone, you're unlikely to make it through all those parenting listserv threads about summer coverage without coming across YMCA's much-loved camps. Offering fun-filled early childhood options for tots, traditional sleepaway options for tweens and teens, and specialty programs focusing on everything from STEAM to soccer, it's no surprise the popular programming has been a hit with parents and kids across the city since 1885.
Built on the mission to empower youth, improve health, and strengthen community, the Y offers a range of high-energy summer camp options that have been designed to accommodate all families. Not only are there day camp locations across all five boroughs, making pick up and drop off a dream come true for busy moms and dads, but there are programs available for kids ages 2 to 17. These action-packed camps combat the dreaded "brain drain" by keeping kids engaged with activities like theme-based arts and crafts and outdoor physical fitness for the youngest campers, and journaling and STEM activities for the older kids, just to name a few. Campers of all ages participate in games designed to develop self-esteem, to foster teamwork, and to promote cultural diversity. And because this is New York City, kids also have the opportunity to scope out some of the best zoos, science centers, and museums around on regular field trips.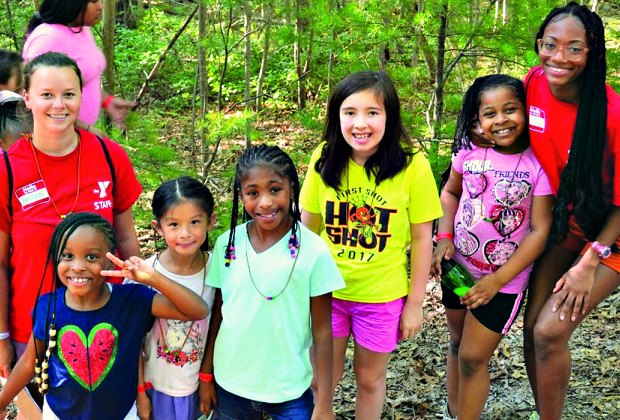 For parents in search of more specialized day programs — for budding actors and all-star athletes-in-training — many YMCAs also offer Swim Camp, Multi Sports Camp, and Arts Camp. At select locations, you can even sign up for options like Robotics Camp, where kids design, build, and program their own mini-machines; Tennis Camp, with a focus on rules, regulations, and basic strokes; and Circus Camp, which concentrates on tumbling, gymnastics, and performance. For children with special needs, Lisa Beth Gerstman Camp and Inclusion Camp are fun-filled options staffed with counselors who are specifically trained to support campers of different abilities.
Meanwhile, for kids itching to get out of the city for the summer (or parents itching to gets their kids out of the city for the summer...), the Y offers sleepaway camp programs in Huguenot, New York. At 86 miles northwest of NYC, between the Delaware Water Gap and the Catskills, it's close enough to make for an easy car ride but far enough away that campers quickly forget all about the concrete jungle. The camp sits on over 1,000 acres, featuring a beautiful lake for swimming and boating, a large athletic field, a spacious dining hall, an archery range, and a medical center staffed with a full-time nurse. Other highlights include hiking trails, an organic garden, high and low ropes courses, and even a petting farm.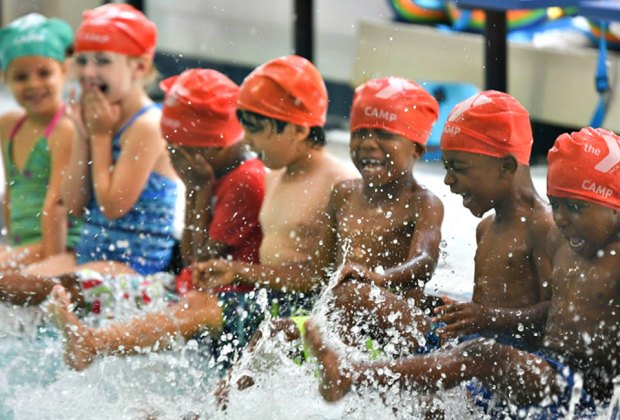 The Huguenot facility is home to Camp McAlister and Camp Tallcot, which give boys and girls ages 7 to 14 that good old traditional sleepaway camp experience. Campers take part a wide range of activities including swimming, archery, arts and crafts, field games, canoeing, hiking, and special all-camp evening entertainmet. Small cabin groups foster fast friendships, and low camper-to-staff ratios (3:1) ensure that everyone has fun and stays safe. As campers get older, those who are interested learning the ropes can join the Leaders-In-Training Program at 15 and the Counselor-In-Training Program at 16. Those who aren't quite ready to give up the full-time camper life can opt for Tallcot BOLD/GOLD, which takes teens out of the cabins and off on adventures like white water rafting, rock climbing, and overnight backpacking.
Two specialty sports camps round out the sleepaway options. In Summer 2018, World Volleyball Training Center will be offered for girls ages 10 to 17, and International Judo Camp will be open to kids ages 7 to 17 (with a program for adults too, if you're really missing your camp days...).
Registration is now open for all YMCA Summer Camps, and a 10% Early Bird discount is available for all registrants who pay in full by April 21. Financial aid is also available for those in need. To learn more about the huge selection of camps, mark your calendar for the city-wide open houses on February 10th, March 24th, and April 21st at your local YMCA. You can also visit ymcanyc.org/camp for more information.
Photos courtesy of YMCA