NYC Kids and Family Pool Guide: What to Know Before You Swim at NYC Pools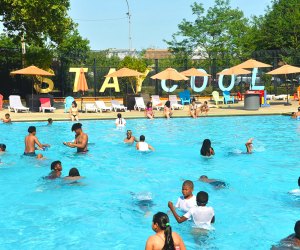 In New York City we have plenty of pools to choose from: outdoor public pools, indoor pools, private pools and even pop-up pools. During the summer, NYC's FREE outdoor public pools are very popular, but they have their drawbacks, too. First and foremost, they all adhere to very strict rules so your visit won't be a day at the beach if you're not prepared.

Read on to find out everything you need to know before you go to a free NYC public pool.
Every summer, the New York City Parks Department runs free outdoor public pools in every borough that open the day after school ends. They open for the season on Wednesday, June 29 and will be open daily until Sunday, September 11. Each pool has its own vibe depending on the neighborhood: Some are bustling with moms and tots in the wading pool, others are full of competitive swimmers sharing the lap lanes and still others attract groups of teenagers frolicking and splashing around. You can find a comprehensive list of outdoor public pools on the Parks Department's website however we also have a post about the best NYC public pools for families in case you're looking for ones that are particularly kid-friendly.
No matter which pool you choose, they all adhere to the same rules. These regulations are strictly enforced, so don't count on slipping by on your good looks and charm.
Here are the things you need to know when planning to visit a NYC public pool.
All pools are open to the public every day from 11am-7pm, with a break for cleaning between 3-4pm. Select pools offer extended hours for adult lap swimming and free swimming lessons for kids, but both programs require registration, you can't just drop in.
You must bring your own combination lock for the lockers so you can store your shoes, bags and other belongings. The lockers aren't huge, so bring as few items as possible or a second lock so you can use two.
You must be wearing a bathing suit to enter the pool area. If you like to cover up, a plain white T-shirt is the only article of clothing allowed.
Rubber flip-flops or water shoes are the only kind of footwear allowed.
A book or magazine are the only things you can bring into the pool area outside of your person—no purses, no wallets, no phones, etc.
No water toys or flotation devices are allowed, so leave the swim wings at home.
You cannot bring your cell phone, camera or other electronic devices into the pool area.
You cannot bring food or drink into the pool area, although many pools do have places for eating outside of the pool deck.
If you bring a stroller, you'll have to park it somewhere, most likely out of your sight.
You can see all of the NYC Parks Department pool rules on the website.

If all of these restrictions sound like too much for your family, consider trying these private pools which offer pay for the day rates.
Find out about other water fun in NYC or check out our Summer Fun Guide for more seasonal activities.
This post originally published in June 2009.