21 Signs You Have a NYC Toddler
Let's be honest. Raising a toddler is a handful, but raising a NYC toddler comes with its own unique challenges—and rewards—like trying to carry their tantruming little bodies up the subway stairs, but knowing they'll come out of it with some awesome values. It also means they develop some pretty distinctive NYC habits at an early age. Watching a toddler in NYC is both hilarious and hilariously frustrating, because they're right at a crucial development phase in terms of language, basic skills and learning—and they're doing it on full display of your building, block or, basically, the entire city.
Does your tyke display these quintessential NYC kid quirks?
You know you have a NYC toddler if they...
1. Know to properly fold their slice.
2. Can tell the difference between a fire truck and an ambulance siren.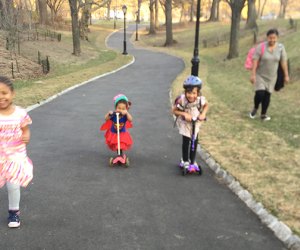 Photo by Jody Mercier.
3. Graduated directly from the stroller to a scooter.
4. Their first complete sentence was, "Can we get a taxi?"
5. Think the stairs at grammy's house are a type of exotic playground equipment.
6. Graduated from your room to their very own closet.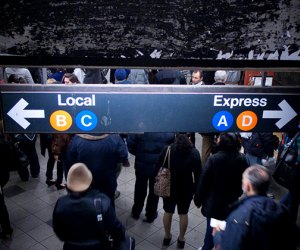 Photo by Steve Lambert via Flickr.
7. Memorized letters and colors thanks to the MTA: The B line is orange, Mom!
8. Got stuck under the corner bar's sidewalk sandwich board. (Tell us we're not alone.)
9. Peed on the sidewalk during potty training.
10. Threw up on your borrowed car seat headed back from JFK.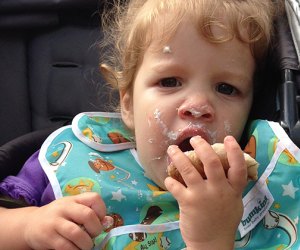 11. Can eat a bagel like a boss—on the go.
12. Watch BQE traffic like it's a parade.
13. Damp grass freaks them out to the point of tears.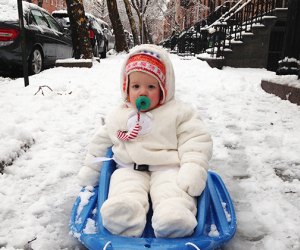 14. Think sledding on the sidewalk is normal.
15. Consider sheep an exotic zoo animal.
16. Think Christmas trees always come in tabletop size.
17. Melted down in a crosswalk—as the light changed, while you were carrying the baby, the stroller, a bottle of wine and that night's dinner.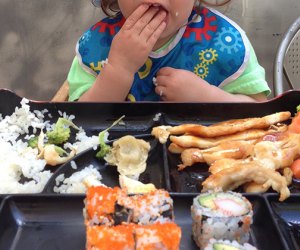 18. Have a preferred sushi spot.
19. Their daily sprint to the curb made you seriously consider the whole toddler leash concept.
20. One of their first friends was your coffee bodega guy.
21. Visited the ER—via taxi.
Photos by author except where noted.