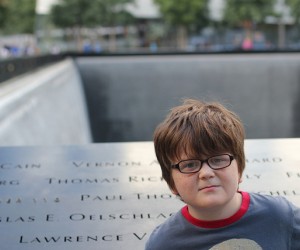 10 New York Values NYC Kids Could Teach Ted Cruz
Last week Ted Cruz accused the Queens-born Donald Trump of having "New York values" and the Internet went crazy. He meant it as an insult. Senator Cruz seems to think that New York is made up of a homogenous type of person who is ultra-liberal, uber-rich and values wealth above all else. Maybe he's never been to New York.
As parents raising our kids in NYC, we have to admit we agree with one part of the GOP presidential hopeful's sentiment: New Yorkers are different from others. We won't dispute you there, sir. But here's what you missed. One of the big draws to raising kids in New York City is that they will possess New York values.
We can count many more, but here are 10 values every NYC kid has that maybe Ted Cruz could take a note on.

1. Experiences trump things. With teeny tiny apartments, being materialistic isn't really an option for most. NYC kids learn to weigh richness as it relates to amazing experiences. They learn those are the most valuable possessions after all.
2. Strangers aren't actually that strange. When you fall into a conversation on the subway with the tattooed, pierced, pink-haired, leather-clad guy and his boyfriend about your mutual love of cronuts, you realize we all have a lot more in common than it appears on the surface.
3. It's cool to be cultured. Public school programs that expose kids to opera, ballet, fine arts and ballroom dancing mean NYC kids know it doesn't make you a snob to be aware there's culture beyond Miley Cyrus.
4. Bring your A game or go home. From the simple things like snagging Hamilton tickets to reaching big life goals, New York is competitive. NYC kids learn fast that if you want it, you need to get your hustle on.
5. Immigration is something to celebrate. Why is NYC home to the best food, the most incredible people and the most amazing experiences? Because we're a city full of immigrants (past and present) who bring new ideas, cultures, languages and boundless energy to make it in the Big Apple.
6. It's worth it to ride the subway for 45 minutes for a great meal. In a city that celebrates rats fighting over pizza slices, New Yorkers get that sometimes it's worth it to go the extra mile for some amazing food—and that it might take a little patience. Kids are exposed to a range of cultures and food that many of their underage brethren elsewhere might turn up their noses at.
7. Money and quality are not always synonymous. From amazing cheap street food to world-class free museum programs, NYC kids learn that some of the best things really are free.
8. Never pay retail. Where bargain hunting is a competitive sport, New York kids learn to become expert negotiators.
9. Pizza-etiquette. You can eat your pizza standing, sitting, walking, with or without toppings, but never, ever with a knife and fork. Please don't embarrass yourself with this one Mr. Cruz.
10. Live and let live. When you're packed in with nearly 9 million strangers, you learn to accept, ignore and just keep going. Kids have their birthday parties in public parks, share shoebox rooms with siblings and ride the subway or share the sidewalk with thousands every day. If New Yorkers can do it, there's hope the rest of the world will learn to do it too.
Photo by Mommy Poppins.